Description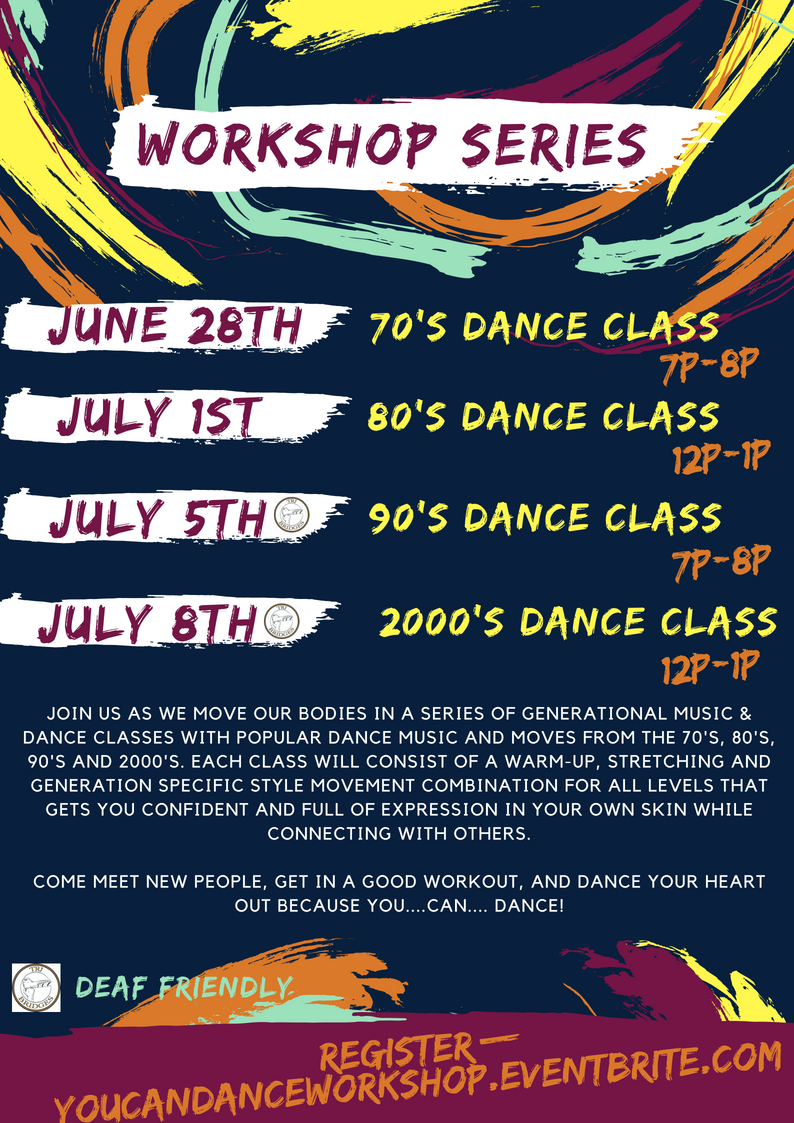 ***Additionally, we are so excited to have TRJBridges Interpreting services available to interpret for dancers from the deaf community for the July 5th and July 8th classes.
Come meet new people, get in a good workout, and dance your heart out because You…Can….Dance!
For more information, please contact youcandancefitclass@gmail.com
FAQs
What are the transportation options?
Fitness Snob studios is less than a 5 minute walk from the Rhode Island Metro Station. Free parking is available as well.
What should I wear to class?
Please wear comfortable workout attire and sneakers.
Can I bring a friend?
Of course! We encourage everyone to bring a friend, family member or colleague and offer special rates for two people as well. See price listing for more information.
Who may attend the class?
Anyone in any level of dance who just wants to move, have a good time and reminisce on the amazing music from the 70's until the 2000's is welcome to attend
Meet the Instructors:

OreOfe "LadyFit" Iluyomade - You Can Dance! Founder

Growing up in Nigeria, dancing has always being a big part of my life and culture. As far as I can remember, I was always a member of a dance group. My love for dancing has granted me over 15 years of experience in various genres such as contemporary, hip-hop, african, reggea, and stepping as well as choreography and teaching dance routines to both children and adults. My other love is fitness, and as an certified personal trainer and health coach, I am meshing both my love for dancing and fitness into one amazing, calorie burning, so fun you forget you are working out dance workshop.

Whether you have two left feet or you got rhythm, music is a universal language that needs no explanation; you simply "feel it". You Can Dance provides you with the platform to learn simple moves as you feel the music down in your soul, bringing forth your inner dancer.

Briana Ashley Stuart- Guest Instructor

Originally from Detroit, MI, Briana received her BFA in Dance from the University of Michigan and has since performed and taught, nationally and internationally. Her teaching experience with many organizations including Joy of Motion, Catholic University, CityDance, and Capitol Hill Arts Workshop showcases her work with children and adults of all ages and dance levels. Briana has been dancing since she was a child and she LOVES to pass on the energy and love of dance to others.
She believes that it's through movement that we learn more about who we are and what we can become. Currently, she is a professional dancer that lives and works in Brussels, Belgium teaching performing, and choreographing. She looks forward to sharing her love for movement and dance while building a strong community of movers in the YOU Can Dance! Summer Workshop Series. More info about Briana @ stuartsdance.com.