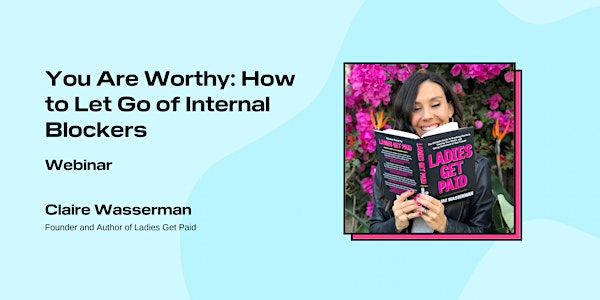 You Are Worthy: How to Let Go of Internal Blockers
Learn to release things like imposter syndrome and perfectionism, so you can reach your goals and achieve your full potential.
Refund Policy
Contact the organizer to request a refund.
Eventbrite's fee is nonrefundable.
About this event
Does any of the following sound familiar?
Downplay achievements or discount praise
Spiral when receiving critical feedback
Dwell on mistakes
Overwork or over commit
Procrastinate
Feel like nothing is ever good enough
Doubt your ideas
Worry that you're not as good/smart/competent as you've presented yourself to be
Unsure if you deserve to be in the room
Unreasonably afraid of being fired
Struggle with self-confidence
Whether we want to admit it or not, many of us experience some - or all - of these feelings. In large part, that has to do with how girls are socialized. We're brought up to be the "good girl", to not disrupt, to get A's, to put others before ourselves. Then, when we grow up, we look at leadership and well, it doesn't look like us. It's hard to be what you can't see. And so we go above and beyond, often working to the point of burnout.
In this webinar, you'll learn to let all of that go. Ladies Get Paid founder and author, Claire Wasserman*, will give you tangible tools to deal with those internal blockers when they happen, and make a plan to prevent them from happening in the first place. Takeaways include:
Understand your internal blockers and where they come from
Identify patterns of how they manifest and what the consequences are
Explore ways to take up space and set boundaries
Practice self-compassion, especially when things don't go as planned
*About the instructor
Claire Wasserman is an educator, author, and founder of Ladies Get Paid, a platform, global community, and book that teaches women to level up professionally and financially. She is also the host of the John Hancock podcast, "Friends Who Talk About Money".
A highly sought-after expert for Fortune 500 companies working to improve diversity, equity, inclusion, and belonging, Claire has traveled the country teaching thousands of women how to negotiate millions of dollars in raises, start businesses, and advocate for themselves in the workplace. Claire was chosen as one of Marquis Who's Who 75 Most Influential Financial Leaders of 2021, as well as Entrepreneur Magazine's 100 Most Powerful Women. She has spoken at places such as Harvard Business School, Facebook, NASA, and the United Nations, and has appeared on Good Morning America and in the New York Times, among others. Claire's book, Ladies Get Paid, is available at ladiesgetpaid.com/book and wherever books are sold.
*This event will be recorded