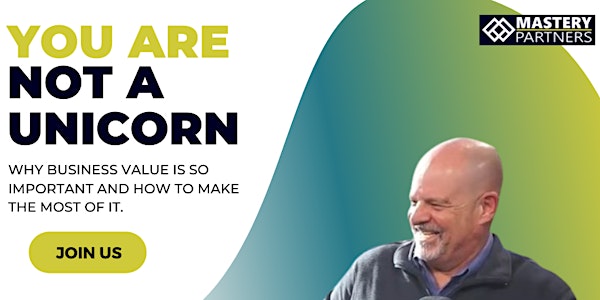 You Are Not a Unicorn - Maximize Business Value Webinar
Learn all about value and why it's so important to you and your business.
About this event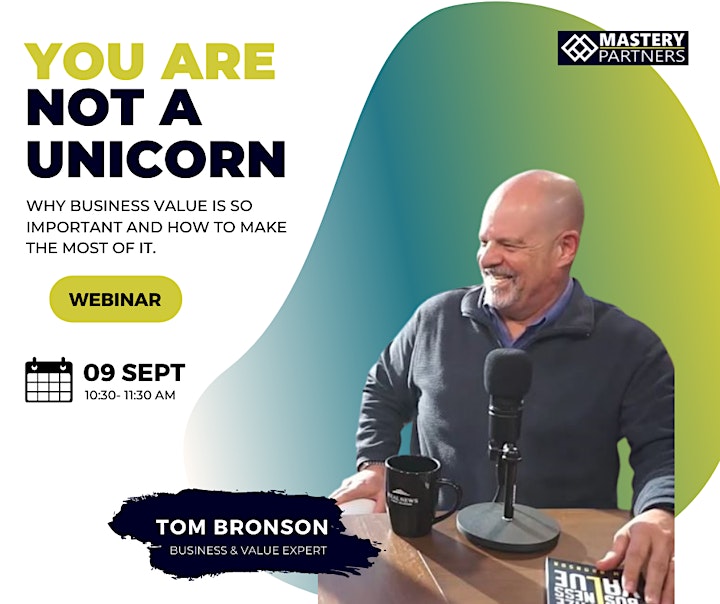 You are not a Unicorn. I'm not trying to burst your bubble but it is true. We all can't have billion dollar valuations, just like there is only one valedictorian of a high school class, one SuperBowl MVP, one President. But there is enough value out there to go around. Plenty to help you achieve your big audacious dreams. We have a tool that helps you - the business owner - maximize business value so that you can grow a thriving business that is ripe for a buyer or well-positioned to hand it off to the next generation. Join us at our next webinar on September 9th to see why Business Value is so important and how you can make the most of it to transition on your terms.
Tool? You mentioned a tool? I have developed over my career and over 100 transactions a breadth and depth of knowledge that I have compiled into a Transaction Readiness Assessment (TRA). I know what buyers want and what sellers need to do to get across the finish line. How? Because I have been there...a LOT. I have learned the hard lessons and made the mishaps. I want to help you.
Why? I've lived the entrepreneur life. I know the hours, the hard work, the tough decisions, the sacrifices it takes to make a business thrive. And honestly, too many businesses leave value on the table and don't cash in on that investment or can't. Only 17% of business owners successfully transition their business to a buyer or the next generation. That's not okay in my book. This tool helps you unmask the value. Let you know where you are leaving value on the table. A way to determine what to FOCUS on with our heatmap of issues.
Join us. Do you feel like you are losing value and opportunity but don't know where to start? Do you feel overwhelmed by the mountain of things to do and are they really generating value? Are you unsure of your value and where your business stands? Don't feel like you have time to dedicate to this? Where do you start?
Start here. Come to this webinar. Get educated on how value works. See a glimpse of the tool we use to unmask the value in your business. Then join us for the next 5 days for the TRA 5 day challenge where we will inform and give you ways to take massive action to maximize your business value.
We are all about equipping business owners to maximize business value. It drives what we do every day. Hope to see you there!
Maximize Business Value!
ABOUT TOM BRONSON: Tom Bronson is the founder and President of Mastery Partners, a company that helps business owners maximize business value, design exit strategy, and transition their business on their terms. Mastery utilizes proven techniques and strategies that dramatically improve business value that was developed during Tom's career 100 business transactions as either a business buyer or seller. As a business owner himself, he has been in your situation a hundred times, and he knows what it takes to craft the right strategy. Bronson is passionate about helping business owners and has the experience to do it. Want to chat more or think Tom can help you? Reach out at tom@masterypartners.com or check out his book, Maximize Business Value, Begin with The Exit in Mind (2020).
Mastery Partners, where our mission is to equip business owners to Maximize Business Value so they can transition their business on their terms. Our mission was born from the lessons we've learned from over 100 business transactions, which fuels our desire to share our experiences and wisdom so you can succeed.