Description
NYC Theatrical Premiere, One Week Only!
*** Writer-Director DANIEL COCKBURN in person Fri. 5/11 ***
After viewing YOU ARE HERE, if you need to sort through the clues and figure out what just happened to you… We're happy to help. If you want to SEE IT AGAIN, REPEAT SCREENINGS ARE FREE.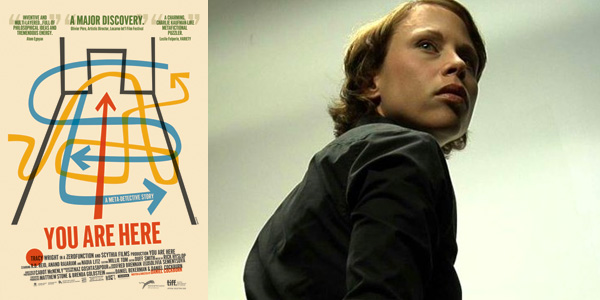 "[YOU ARE HERE] has been likened to the work of Charlie Kaufman, although its playful and uncanny engagement with the machinery of postmodern life feels more like an 'X-FILES' episode that's been hijacked by a subversive conceptual video artist."
- Steve Dollar, THE WALL STREET JOURNAL
"Inventive and multi-layered, YOU ARE HERE is a brilliantly organized first feature full of philosophical ideas and tremendous energy."
- Atom Egoyan, director of THE SWEET HEREAFTER and EXOTICA
"Genuinely affecting and smartly visualized! One of this very ambitious and ultimately rewarding film's best jokes involves the gradual revelation of the word 'headache.' That tingle in your frontal lobe means that it's working."
- Adam Nayman, CINEMA SCOPE
"A revelatory cinematic experience... It's safe to say that Cockburn delivers a more advanced rumination on the fragility of human consciousness than the levels in INCEPTION."
- Eric Kohn, INDIEWIRE
WATCH THE TRAILER:
vimeo.com/14612551
YOU ARE HERE is a funny, brainy and disturbing detective story that Variety called "a charming, Charlie Kaufman-like metafictional puzzler." A cult fave at the Toronto and Locarno film festivals, video artist Daniel Cockburn's feature debut makes its NYC theatrical premiere with a week-long run, May 11 - 17.
YOU ARE HERE is a Borgesian fantasy composed of multiple worlds, circling and weaving around each other in always-unexpected ways. At the center of this narrative labyrinth is a reclusive woman (Tracy Wright, ME AND YOU AND EVERYONE WE KNOW) who searches for meaning in the mysterious documents that keep appearing to her. Her investigation begins when she finds a tape recording of a man giving a bizarre lecture: calming and sinister at the same time, he instructs how to "get where you need to go." Is this a random find, or a message to her?
Another strange document presents itself, and another... Swiftly her home becomes an archive brimming with enigmatic texts, images and sounds. She forms deep connections with the people contained in these documents (the lecturer, a prisoner, an inventor), each of them, like her, struggling with the unknowable laws of their own worlds. But the organized becomes the organizer when her meticulous system turns on her; the archive is a trickster threatening to pull her mind apart. As realities collapse and intersect around her, she must make a final choice: is she a free agent, or just a tool of the archive?
77 minutes. In English. Presented in Blu-ray. Unrated.

SHOWTIMES:
FRIDAY, May 11 (7pm, 10pm) * SPECIAL GUESTS IN PERSON *
SATURDAY, May 12 (3pm)
MONDAY, May 14 (8pm)
TUESDAY, May 15 (8pm)
WEDNESDAY, May 16 (10pm)
THURSDAY, May 17 (7pm, 10pm)


Organizer of You Are Here
(March 2011) ENTERTAINMENT WEEKLY called reRun one of 8 nationwide theaters "redefining the moviegoing experience."
(April 2011) EVERY DAY WITH RACHAEL RAY praised reRun's gourmet popcorn as one of 4 nationwide theaters "giving their classic snack an upgrade."
(October 2011) TIME OUT NEW YORK singled out reRun as a "DIY trailblazer," saying they "love reRun's laid-back vibe" and "friendly staff."
(December 2011) TRAVEL AND LEISURE hailed reRun, among 9 others, as one of "The World's Coolest Movie Theaters."
(February 2012) VARIETY says reRun "raises bar for indies" and is "among the only theaters in the U.S. that provides newfound theatrical and ancillary opportunities to films without a [distributor]."
reRun is reBar's independent cinema, located just down the hall from the restaurant. Featuring 48 reclaimed car seats, full bar, gourmet snack counter, and a 12-foot screen, reRun offers just the kind of intimate art-house theater experience you'd expect from the creators of the funky gastropub reBar.
reRun provides a large theater AV experience. An all-digital 1080p HD projector, coupled with a monstrous JBL 7.1 surround pro-audio sound system make the movies projected on the twelve foot screen come alive in a sparkling show. The bar features two rotating draft taps, a broad selection of bottled craft beers, a selection of sustainable, organic, and biodynamically farmed wines, a full liquor cabinet for your imbibing pleasure, and traditional and creative snacks created by reBar's Executive Chef Jeremy Leech.
During off-hours reRun is available for private rental. Children's birthdays, corporate off-site meetings, and private get-togethers are all possible in the theater. Call the reBar and reRun Special Events Department at (718) 797.3025 for private bookings. Catering available for your parties through reBar.