You ARE College & Career Bound / ESTÁS vinculado al Colegio o a una Carrera
Description
The Del Mar International Baccalaureate Parent Organization invites you to a Parent Education Talk on College & Career Planning!
An informative and open forum discussion will provide valuable information, guiding families as they prepare for their students' college and career future. Together, we will deMYTHify the road to post secondary education and help parents and students understand the exploration, research, application and admission processes.
This Talk can benefit all grade levels - students are most welcome and encouraged to attend!
We're pleased to feature a panel of College & Career Specialists, including:
Evelyn Beas - Guidance Counselor at Del Mar High School, former College & Career Specialist at Del Mar, and recent Master's Degree in Education graduate from San Jose State University. As a first generation college student, Evelyn offers a fresh perspective on striving for college and a successful career, as well as a relative appreciation for countering the myths along the college planning process.

Jay Ehret - College & Career Specialist at Del Mar High School, bringing eight years of experience in working with 9-12th students and assisting them with his extensive knowledge in college and career planning. At the high school level, Jay has specifically helped students with college and financial aid (FAFSA) applications, military service education options, career planning via Naviance and other exploratory options, has served as a Scholarship and PSAT/AP Coordinator, and has specialized ROP Contact Training (Attendance, Policies & Standards.)
Katie Bennett - Career Readiness Coordinator at Campbell Union High School District, bringing expertise in both college and career success as a former high school and college counselor. Katie has over 10 years of college and career advising experience, at both the high school and college level. Most recently she has developed a passion for Career Technical Education (CTE), as she has seen the impacts CTE has on student achievement, including the positive growth these programs have in preparing students for both college and career.
If you have a question and would like to submit it for discussion, please email us at ibatdelmar@gmail.com and we'll make sure to address it during the Talk!
The Talk will be held at Del Mar High School and Spanish translation will be available.
Registration is kindly requested as seating is limited.
Let's IB #collegebound and #careerready!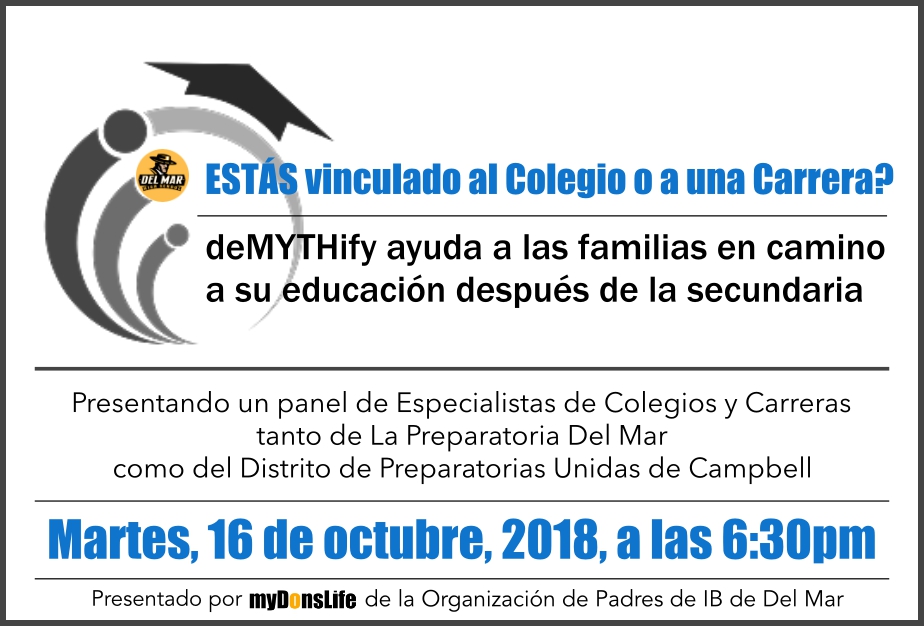 La Organización de Padres de Bachillerato Internacional (IB) de Del Mar, les invita para planear las Pláticas Educativas sobre Colegios y Carreras!
Una conversación informativa de foro abierto proveerá valiosa información, servirá de guía a las familias que se preparan para el futuro universitario o profesional de sus estudiantes. Juntos desvaneceremos los mitos hacia el camino de la educación después de la secundaria, y ayudaremos a los padres y estudiantes a entender la exploración, investigación, aplicación y proceso de admisión.
Este evento puede beneficiar a alumnos en todos los niveles - Los estudiantes son bienvenidos y se les invita a asistir!
Nos complace tener un panel de Especialistas de Colegio y Carreras que incluye:
Evelyn Beas - Consejera Académica de la Preparatoria Del Mar, previamente Especialista de Colegios y Carreras de Del Mar, quien recientemente obtuvo su Maestría en Educación el la Universidad Estatal de San José. Quien al ser la primera generación en su familia que se gradúa del colegio, nos ofrece una nueva perspectiva sobre la búsqueda de la universidad y una carrera exitosa, así como una apreciación relativa para contrarrestar los mitos a lo largo del proceso de planificación de la universidad.
Jay Ehret - Especialista universitario y profesional en Del Mar High School, que aporta ocho años de experiencia en el trabajo con alumnos de 9º a 12º grado y los ayuda con su amplio conocimiento sobre planificación universitaria y profesional. En el nivel secundario, Jay ha ayudado específicamente a estudiantes con solicitudes de ayuda financiera y universitaria, opciones de educación del servicio militar, planificación de carrera a través de Naviance y otras opciones exploratorias, ha servido como Coordinador de Becas y PSAT / AP, y ha sido entrenado como contacto entre estudiantes y el Programa de Centro Ocupacional (ROP) (asistencia, políticas y estándares)
Katie Bennett - Coordinadora de preparación profesional en El Distrito de Preparatorias Unidas de Campbell, brindando experiencia tanto de universidad como en el éxito profesional ya que fue consejera académica de escuela secundaria y universidad. Katie tiene más de 10 años de experiencia en asesoría universitaria y profesional, tanto en la escuela secundaria como en la universidad. Más recientemente, ha desarrollado una pasión por la Educación Técnica Profesional (CTE), ya que ha visto el impacto que CTE tiene en el rendimiento estudiantil, incluido el crecimiento positivo que estos programas proporcionan a los estudiantes en su preparación para la universidad y el campo profesional.
Si tiene alguna pregunta y desea enviarla para su discusión, envíenos un correo electrónico a ibatdelmar@gmail.com y nos aseguraremos en incluirlo durante nuestra conversación!
Las Pláticas se llevará a cabo en Del Mar High School y la traducción al español estará disponible.
Le agradeceremos que se inscriba con anticipación ya que los asientos son limitados.