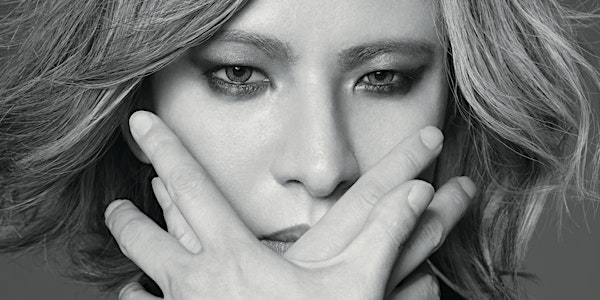 Yoshiki Masterclass at the Frost School of Music
When and where
Location
UM Maurice Gusman Concert Hall 1314 Miller Drive Coral Gables, FL 33146
Description
Please join us for this FREE masterclass on June 27 at the Frost School of Music with one of the world's most prominent recording artists, composer, pianist, rock drummer and leader of the rock group X Japan, Yoshiki.
Yoshiki was named by Consequence of Sound as "one of the most influential musicians and composers in Japanese history" and is described by Billboard Magazine as "prolific" and "a musical innovator." He received the Asian Icon Award from UK's Classic Rock Magazine and in 2017 was chosen to be the first-ever Japanese man on the Vogue Japan cover.
Yoshiki and Frost School of Music Dean, Shelton Berg have worked on several projects together which include:
"Yoshiki Classical Special" at Carnegie Hall, including 2 sold-out performances and a PBS special

"Anniversary" - a piano concerto performed at the Imperial Palace for the 10th anniversary of the Emperor's coronation
"Art of Life" with the Royal Philharmonic Orchestra
"Golden Globes" Theme
"Yoshiki Classical" album and Classical Tour with the Tokyo Philharmonic
"I'll Be Your Love" - Theme for the World Expo in Nagoya
"Black Diamond" with the American Symphony Orchestra for the KISS Tribute Album
"Foreign Sand" with Roger Taylor from "Queen"
"Red Swan" Theme for "Attack on Titan" Anime series
"Miracle" with Sarah Brightman
If you are unable to attend the event in person, you can watch the livestream video on June 27 starting at appx. 2:00pm USA EDT.
Frost School of Music Facebook
https://www.facebook.com/FrostSchoolUM/

Frost School of Music YouTube
https://www.youtube.com/watch?v=dANEgcvex0A

Yoshiki Channel International (YouTube)
http://bit.ly/YoshikiChannel_Intl

Yoshiki Channel (Japan) (Nico Nico Video)
https://ch.nicovideo.jp/yoshikiofficial
[日本語]
マイアミ大学、フロスト・スクール・オブ・ミュージックでのYOSHIKIマスタークラスについてご連絡頂き、ありがとうございます。 イベントへご出席頂けない場合、米国東部夏時間(EDT)の6/27午後2時頃から、ライブストリーミングをご覧頂けます。
1. フロスト・スクール・オブ・ミュージック Facebook
https://www.facebook.com/FrostSchoolUM/
2. フロスト・スクール・オブ・ミュージック YouTube
https://www.youtube.com/watch?v=dANEgcvex0A
3. Yoshiki Channel International (YouTube)
http://bit.ly/YoshikiChannel_Intl
4. Yoshiki Channel (日本) (ニコニコ動画)
https://ch.nicovideo.jp/yoshikiofficial