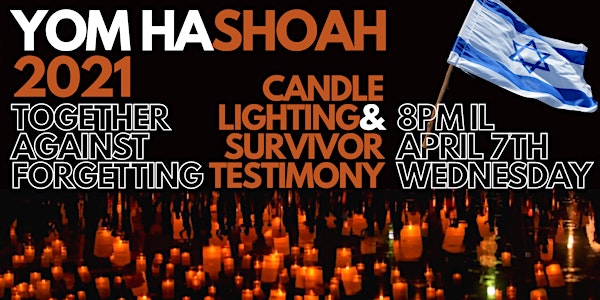 Yom HaShoah Global: Holocaust Survivor Testimony & Candle Lighting, April 7
Yom HaShoah Global Event: Together Against Forgetting
Refund Policy
Contact the organizer to request a refund.
About this event
Yom HaShoah 2021 - Together Against Forgetting
Holocaust Survivor Testimony & Memorial Candle Lighting
"To forget would be not only dangerous but offensive; to forget the dead would be akin to killing them a second time." - Elie Wiesel
What: Join us from all over the globe online to be unified as one people as we hear live from Holocaust Survivor Sally Frishberg about her incredible story. Let's also get inspired together by a special Yom HaShoah candle lighting in Israel in memory of our six million lost and say Kaddish.
RSVP: Please register above
When: Wednesday April 7th 2021, 8pm IL // 1pm EST
Who: Your Jewish Community Worldwide
Link: https://fb.watch/4JCnsp6L__/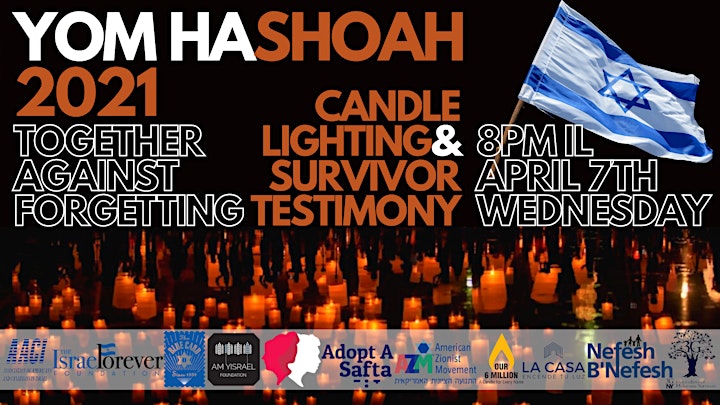 About Our Partners:
American Zionist Movement (AZM) is comprised of 33 national Jewish Zionist organizations and works across a broad ideological, political and religious spectrum linking the American Jewish community together in support of Israel, Zionism and the Jewish people. Known as AZM since 1993, it is the Zionist federation in the United States affiliated with the World Zionist Organization (WZO). The AZM and its constituent organizations represent American Zionists within the National Institutions of Israel, including the WZO, The Jewish Agency for Israel and Keren Kayemet L'Yisrael. AZM works to promote and defend Zionism in the United States; to deepen and expand the active relationship of the American Jewish Community to Zionism in a contemporary context; to facilitate dialogue and collaboration among Zionist organizations through and with the AZM; and to be a central hub for Zionist resources in America.
Israel Forever Foundation is an Israel Engagement Organization that develops, supports and promotes virtual experiential learning opportunities to celebrate and strengthen the personal connection to Israel for people around the world. They place Israel at your fingertips through our innovative programming and initiatives. They hope to encourage a global exchange of ideas, goodwill and generosity between the peoples of the world and Israel without regard to religion, race or partisan politics through the highlighting of the rich contributions of Israel and the Jewish People to the arts and sciences, history and heritage, and democracy and civilization.
The iCenter advances excellence in Israel education by serving as the North American hub and catalyst for shaping and strengthening the field. In collaboration with hundreds of partner institutions, The iCenter supports educators across settings with training, tools, and resources to bring Israel into their students' lives. Through content that draws on Israel's richness and diversity, delivered by passionate and knowledgeable educators, learners develop meaningful relationships with Israel and understand Israel as core to their Jewish identities.
Americans & Canadians Abroad in Israel (AACI) is a nonprofit organization that was established in 1951 to help North American immigrants acclimate to Israeli society and to build strong ties between North American Jewish communities and Israel. AACI's services are available to all English speakers.
Nefesh b'Nefesh was founded in 2002 with the mission to make the Aliyah process easier facilitate the integration of new Olim into Israeli society and to educate the Jews of the Diaspora as to the centrality of Israel to the Jewish People. By removing professional, logistical and financial obstacles, and sharing the Aliyah story of Olim actively building the State of Israel, they encourage others to actualize their Aliyah dreams. We are dedicated to making each Oleh, and every Aliyah, a success.
The Blue Card serves to provide Holocaust Survivors in the U.S. and their families with financial assistance and genuine support. Many of their committee members owe their very existence to relatives who survived the horrible atrocities of the Nazis and the Shoah. Getting involved with The Blue Card is an amazing way to honor them and give back to those who are still living.
Our Six Million (Shem v'Ner) organization exerts efforts to keep the memory of the Holocaust alive by establishing a custom of lighting a personal memorial candle in memory of one of the six million who perished, each year. Focusing on the life that a particular individual led before they perished creates an engaging connection, especially with the younger generation, who may feel somewhat removed emotionally from the Holocaust. The goal is to keep the memory of our six million alive as a national custom for all generations to come.
3GNY is an educational non-profit organization founded by grandchildren of Holocaust Survivors. As a living link, they preserve the legacies and the lessons of the Holocaust. Their mission is to educate diverse communities about the perils of intolerance and to provide a supportive forum for the descendants of Survivors.
La Casa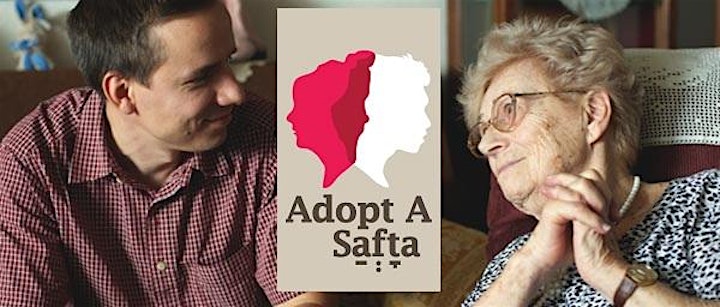 About Our Organization: Adopt-A-Safta
Adopt-A-Safta is a nonprofit initiative that honors Holocaust memory & pairs young adults with lonely elderly, having a special focus on Survivors of the Shoah. Working off of the Big Brother/Big Sister model, our young volunteers "adopt" a grandmother or grandfather in Israel (and soon globally) that is in need of love and attention. Our goal is to train as many volunteers as possible and to connect these two communities; young adults seeking to make meaningful contributions, and the Survivors in need of warmth and connection, while we still are blessed with the presence of this holy generation. www.AdoptASafta.com
The Problem: 50,000+ lonely Holocaust Survivors in Israel
Even one hungry or lonely Holocaust Survivor on Passover eve is a failure for the State of Israel. The next generation will never forgive us if we fail to care for the older generation with the respect it deserves.
At Adopt-A-Safta we do not believe that any citizen should ever wait for the government to act on social issues of this historical importance. Survivors of the Shoah are an invaluable treasure and they deserve for us to make any effort possible to alleviate their suffering.
We see no need to wait another day - too much is lost waiting for others to act, waiting for permission, waiting for money. We know that we can make a major dent in the problem of comforting lonely Shoah Survivors now; not to do so as a responsibility, but as a noble honor.
All volunteers will be responsible for visiting their "adopted" grandmother or grandfather every week, with regular reports on their well-being.
Those 50,000 that were lonely last year will not be alone anymore. Please join us in Adopt-A-Safta. With Corona continuing to devastate Survivors and the elderly in general, you can donate to and volunteer with our good works on their behalf here: https://www.AdoptASafta.com
Adopt-A-Safta was founded in blessed memory of Kathe Friedman (Kalya bat Feigel)
Web: www.AdoptASafta.com
Facebook: www.facebook.com/AdoptASafta
Email: Info@AdoptASafta.com
Donate: https://adoptasafta.raisegiving.com
We are generously supported by the Am Yisrael Foundation www.AmYisrael.com
& The Sephardic Foundation on Aging www.sfoa.org