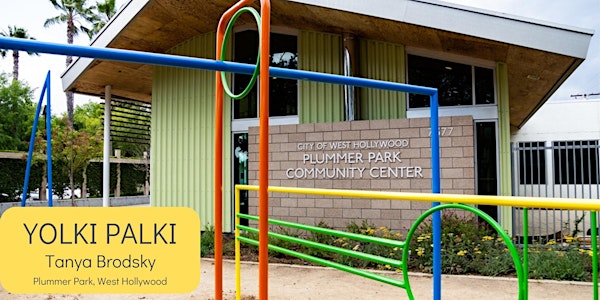 Yolki Palki: Conversation with Tanya Brodsky, Artist
Artist Tanya Brodsky presents her new public art exhibition, Yolki Palki, curated by Aurora Tang, at West Hollywood's Plummer Park.
When and where
Location
Art in Odd Places Pop-Up Space (below the Eveleigh Restaurant) 8752 Sunset Boulevard West Hollywood, CA 90069
About this event
The City of West Hollywood's Arts Division presents a Conversation with Tanya Brodsky, artist, and Aurora Tang, curator, about the new public art exhibition, Yolki Palki, at Plummer Park.
This installation presents a dynamic collection of sculptural elements that interplay with one another, engaging nearly the entire "front porch" of the Community Center at Plummer Park. It consists of several large-scale sculptures that, in their playful form and bright color, evoke a children's playground, of the kind ubiquitous during the Soviet era. The sculptures don't quite work as playground equipment: each one is too tall, too short, missing key elements, or installed at an absurd relationship to the one next to it. The installation's title, Yolki Palki, is a Russian nonsense phrase expressing frustration or alarm, commonly used in lieu of a curse word in the presence of children.
Yolki Palki is consistent with Brodsky's previous work – colorful, minimalist, playful, using industrial materials and techniques, imbued with humor informed by her Soviet upbringing. Brodsky's works often incorporate architectural elements, re-imagined in ways that expose and complicate their relationship to the human body, public space, and the social conventions that govern both.
About the Artist: Tanya Brodsky was born in Kiev, Ukraine, and earned her MFA from UC San Diego in 2016, and her BFA from Rhode Island School of Design in 2005. She lives and works in Los Angeles. In 2016, she was a fellow at SOMA Summer Program in Mexico City and in 2013 she participated in the Mountain School of Art. Brodsky's work has been exhibited at Ochi Projects, Materials & Applications, Over the Influence, CES Gallery, Commonwealth and Council, BBQLA, Elevator Mondays, Visitor Welcome Center, Vacancy, New Wight Gallery at UCLA, (all Los Angeles), Vacation Gallery, New York, SPF15, San Diego; Museum of Contemporary Art, San Diego; Bizkaia Aretoa, Bilbao, Spain; and Galeria Alternativa Once, Monterrey, Mexico. Upcoming projects include a solo exhibition at Ochi Projects gallery, fall 2019. Her work may be viewed at www.tanyabrodsky.com.
About the Curator: Aurora Tang is an independent curator and researcher based in Los Angeles. Since 2009 she has been a program manager at the Center for Land Use Interpretation. From 2011–2015 she was managing director of High Desert Test Sites. She has taught at Otis College of Art and Design, and is a founding board member of Common Field.
Saturday, May 18, 2019
4:00pm - 5:30pm
Plummer Park Community Center
Room 5+6
7377 Santa Monica Boulevard
West Hollywood, CA 90069
RSVP requested
Free parking is available at the park.