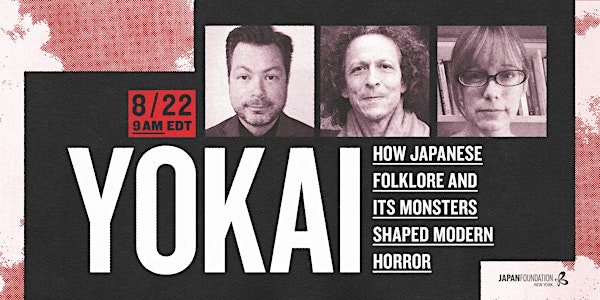 Yokai: How Japanese Folklore and Its Monsters Shaped Modern Horror
Join us as we explore the origins of Yokai, and how these monsters from Japanese folklore influenced the world of horror.
About this event
The Ring, The Grudge, Dark Water, Pulse, One Missed Call. Chances are you've probably heard or remember watching some of these titles from the early 2000s when Hollywood was remaking many Asian horror films. While a number of these Japanese horror films were remade with the American audiences in mind, often resulting in altered settings or characters, the monsters and vengeful spirits on screen were often kept very similar to its original Japanese counterparts. Many of them have endured the test of time, and have become instantly recognizable in American pop culture today.
For this episode focusing on the topic of Yokai, we will be joined by Dr. Michael Dylan Foster who will be taking us on a historical journey with his presentation; delving deep into Japanese folklore and the history of Yokai, specifically focusing on their origins. Dr. Lindsay Nelson and Dr. Michael Crandol will also be joining us, continuing the narrative of how these tales and creatures formed the template for J-horror, and we'll be taking a look at its impact and evolution through film and other media in this modern era.
The discussion moderated by Dr. Foster will be followed by a live Q&A. If you have any questions about your favorite kwaidan, hyakumonogatari, or yokai, now is your chance to ask the experts! Please ask your question when you register for the event via Eventbrite. Live commentary will also be enabled on the YouTube stream, so you can participate in the Q&A session on-air as well.
This is a FREE event. Registrants will receive the link to the stream via email.
We look forward to seeing you there!