Yoga Workshops Fundraiser with all proceeds for the Trinity Community Table
Sales Have Ended
Registrations are closed
Thank you for your support! This event is now fully sold out.
Sales Have Ended
Registrations are closed
Thank you for your support! This event is now fully sold out.
Let's spend the day moving together in support of feeding those in need in our community. We are looking forward to seeing you there!
About this event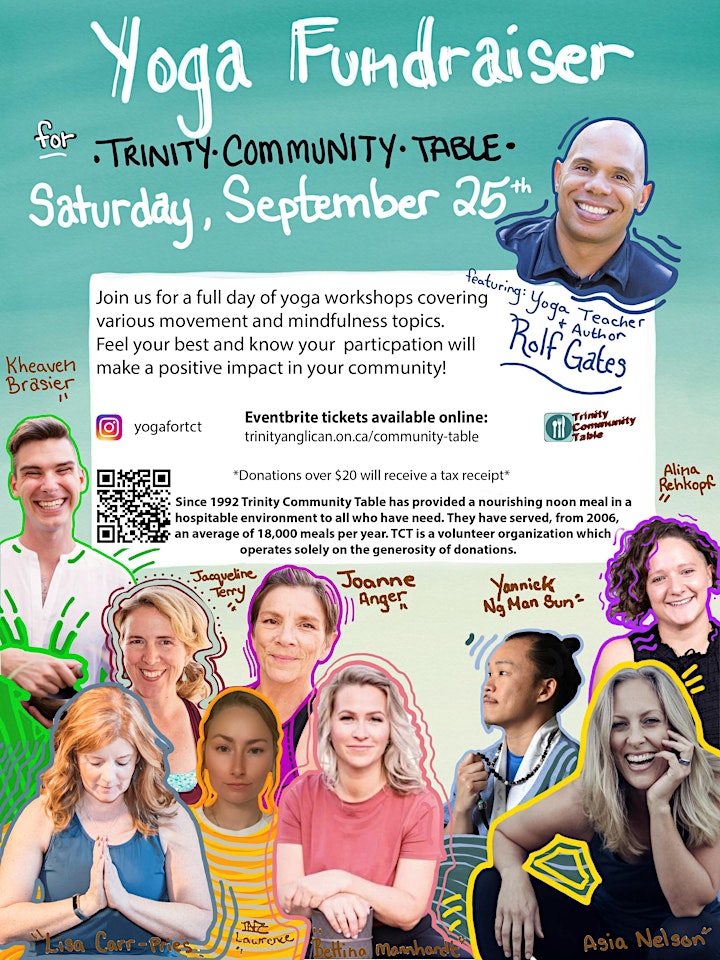 Join us for a full day of exciting virtual yoga workshops covering various movement & mindfulness topics. Browse the schedule below to find the workshops that suit you best!
Each workshop has been specially created for this day. They are all hosted on a volunteer basis by the 2021 Canadian Graduating Class of Rolf Gates' 300 hour Yoga Teacher Training program. This is a special opportunity to practice with this group of teachers and also Rolf Gates himself through the offering of several specialized workshops.
The schedule is full of unique topics and highly skilled teachers. There is something for everyone no matter your skill level or experience with yoga.
This event is being offered by donation. The best part is that 100% of your donation will go directly to feeding those in need in your community through the wonderful work of the Trinity Community Table.
Launched in 1992, Trinity Community Table (TCT) is a community outreach program that provides nourishing meals in a hospitable environment to all in need in Cambridge, Ontario.

9:00 AM - 11:00 AM: Chair Yoga: Gentle Movement and Meditation with Joanne Anger & Inez Lawrence
11:00 AM - 1:00 PM: Creating Resilient Movement: Approaches to Low Back Pain from Yoga and Traditional Chinese Medicine Perspectives with Asia Nelson & Alina Rehkopf
1:00 PM - 2:00 PM Pizza Themed Yoga for Kids (and kids at heart) with Bettina Mannhardt
2:00 PM - 4:00PM: Opening and Moving Energy Through the Channels with Kheaven Brasier & Yannick Ng Man Sun
4:00 PM - 5:00 PM Tools for Calmer Living for YOUTH
5:00 PM - 6:00 PM Tools for Calmer Living for ADULTS/CAREGIVERS with Lisa Carr-Pries & Jacqui Terry
7:00 - 8:30 PM Dharma Talk & Meditation - "One Posture, Many Shapes" with Rolf Gates

​There are many similar events happening right now, but none are quite like Yoga for the Trinity Community Table. Join our Virtual Fundraiser, where your satisfaction is guaranteed! Our team has been working really hard to adapt our offerings to an online format, and we have something very special for you! Get ready to learn, to enjoy, and to feel inspired. Please contact us with any additional questions.

​Participating in our Virtual Fundraiser from anywhere around the world is easier than ever before. Make sure to spread the word to friends near and far. Simply go online at the date and time of the event and follow the steps. Try all the links on our site beforehand to avoid technical difficulties, and get in touch if you have any issues.
Organizer of Yoga Workshops Fundraiser with all proceeds for the Trinity Community Table