Description
NOURISH in the ADIRONDACKS is a 3 day immersion retreat for learning and experiencing self-health.
The retreat weekend includes over 16 educational sessions, practices, classes, workshops and events; additional offerings expand the weekend possibilities to 30+ different opportunities for self-health experiences.
Surrounded by the natural beauty of the Adirondack Mountains, guests can partake in a variety of relaxing therapies aimed at reducing tension in the body and increasing health in a naturally soothing and restorative environs.
Our dedicated and authentic approach to self-care, healing and education ensures that guests leave profoundly changed and empowered to seek and master self-health.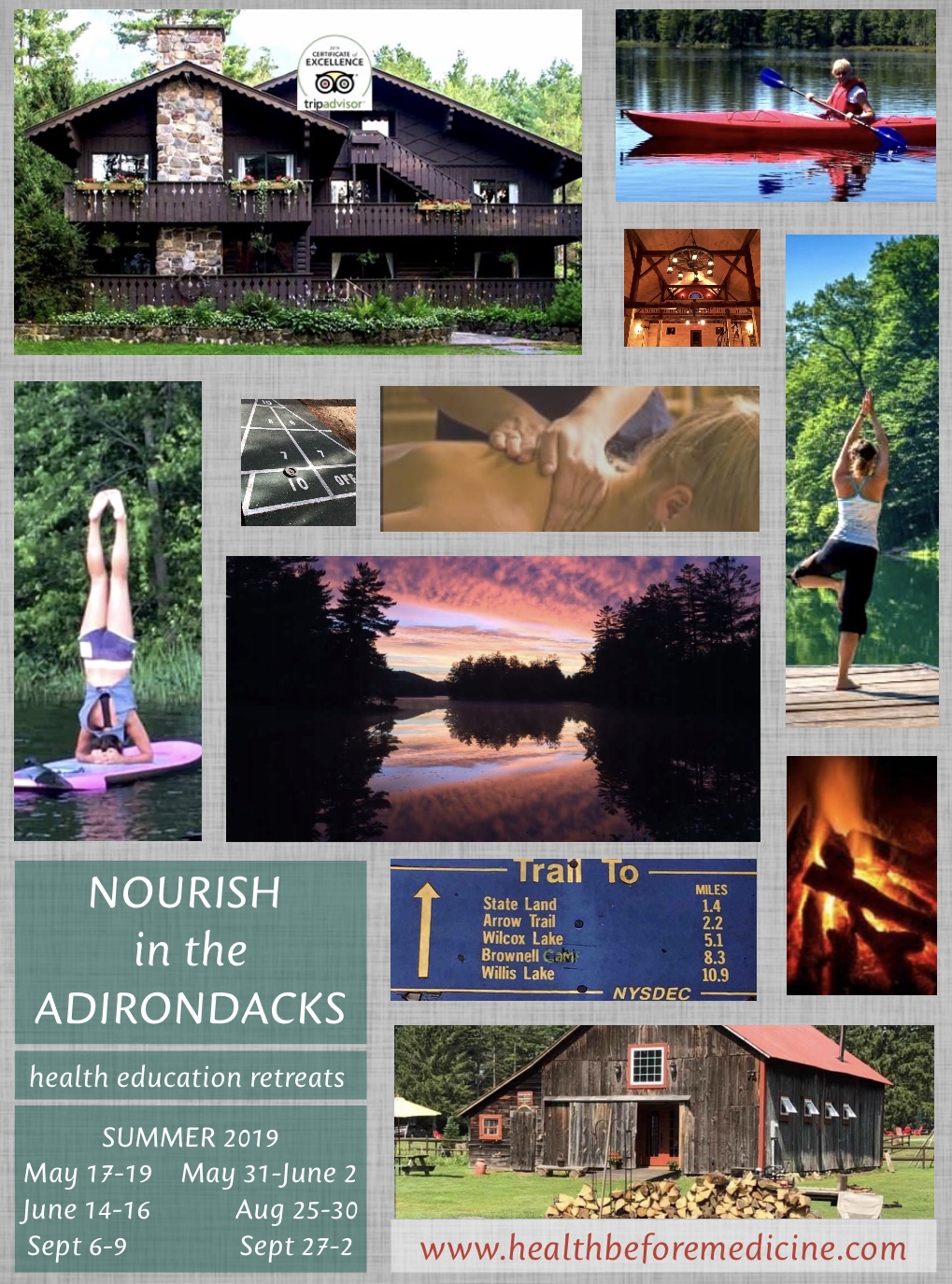 3 days of health education & experiences to empower you with lifelong Self-Health strategies
2 nights genuine ADK-Lodge experience with Inn-quality comforts
"Self-Health: Ease & Benefits"
"Ayurveda: Safe, Simple, Seasonal"
MINDFULNESS, FITNESS & NUTRITION
Minfulness-Based Stress Reduction
5 Garden- and Farm-to-Table Meals
SINGLE OCCUPANCY Queen Bed & Private Bath $595
DOUBLE OCCUPANCY 2

Queen Beds & Private Bath $385
QUAD OCCUPANCY 2 Queen Bed & Private Bath

best for families, teams and tribes $275
SMALL WORKSHOPS
Stand-Up Paddleboard Yoga $30
PRIVATE SESSIONS
Swedish Massage - 60 min $75
Deep Tissue Massage - 60 min $90
Abhyanga Massage - 75 min $145
Ayurvedic Consult - 60 min $90
Nutritional Consult - 45 min $60
Pilates Reformer - 45 min $60
GROUP ADVENTURES
menu planning, shopping insights, cooking instruction, and regional wine education
Mediterranean Sun 12-2 pm $75
Horseback Riding 10am-noon $65
River Rafting 10am-3pm $95