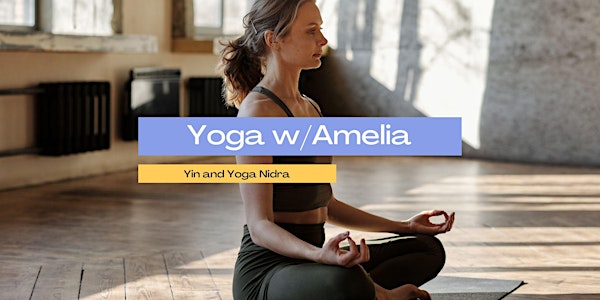 Yoga w/Amelia (Yin or Yoga Nidra)
Yogis will be guided through a Yin Yoga (on Fridays) or Yoga Nidra (on Sundays) class throughout the months of October and November.
About this event
Yin yoga is a quiet contemplative practice. It targets the deepest tissues of the body, our connective tissues – ligaments, joints, bones, the deep fascia networks of the body, and the meridians. This is in contrast to a Yang yoga practice such as Vinyasa yoga which targets the muscles. This class style will be offered on Fridays at 5:30pm CST. Please note that all classes will be recorded.
Yoga Nidra is a form of guided meditation also known as "yogic sleep" or "effortless relaxation". It's usually practiced lying down and draws our attention inward. We learn to surf between the states of wakefulness and sleep, where our body finds its natural state of equilibrium. The breath balances and becomes quiet, unconscious and conscious aspects of the mind reveal themselves, and we fall into an innate state of deep, blissful awareness. For the month of November, we will start classes with time for gratitude journalling so come with a notebook and pen ready. This class style will be offered on Sundays at 4pm CST. Please note that all classes will be recorded.
About the Teacher: Amelia is currently studying as a yoga teacher and will be providing free (karma) classes in order to obtain her 500-hour teaching certification. She currently holds a 200-hour teaching certification and is certified in Trauma-Informed Yoga, Yoga Therapy for Anxiety, and Yoga Nidra.