Description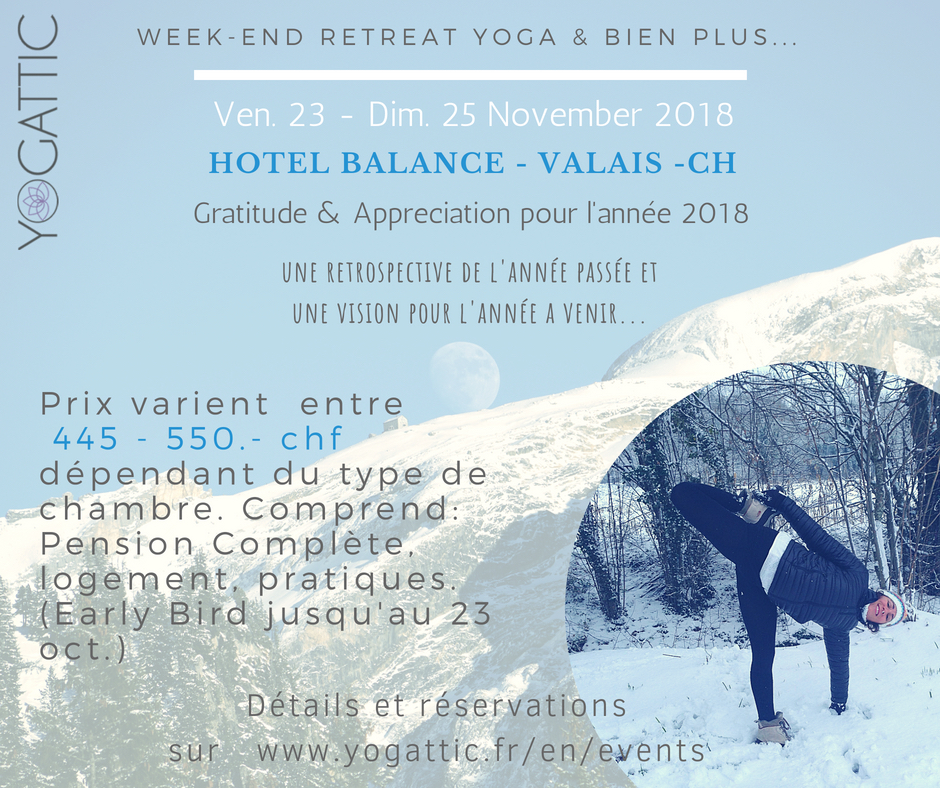 Le temps d'un week-end sur le thème de la Gratitude et l'Appréciation pour l'année 2018 qui vient à sa fin. Qu'importe votre année, incroyable, fâcheuse ou sans commentaires... Prenez le temps de bouger votre corps consciemment et pondérer avec Gratitude et Appréciation pour tous les bons moments que l'année vous à fait vivre (il y en a toujours...). Laissez-vous tenter par un massage (coût supplémentaire, infos ci-dessous), retrouvez vous dans la nature, reposez-vous.
Inclus un atelier d'une après-midi dédié a la création d'un plan pour créer nos journées, semaines, mois et l'année 2019 idéale. (*Life Blue Print*)
Prenez le temps pour une retospective de vos réussites et de vos difficultés, pensez à vos objectifs personnels, vos rêves et une créer un plan pour que tout vos désirs se manifestent en 2019.
PROGRAMME:
Arrivée à l'Hotel Balance. par vos propres moyens le vendredi 23 novembre entre 14h00 - 18h30. Dîner tous ensemble. Pratique de fin de soirée.

Samedi 24 novembre: Pratique, yoga, méditation, création de plan pour l'année 2019.

Dimanche 25 novembre: pratique du matin départ dans l'après-midi après le repas de midi vers 14h00.
Cliquez sur REGISTER , puis choissisez votre chambre et régler en utilisant les liens reçus dans l'email de confirmation.
TARIFS

CHF 590 chambre individuelle AVEC salle de bain/WC
CHF 510 chambre double AVEC salle de bain/ WC
CHF 484 chambre à 3-4 personnes AVEC salle de bain/WC
CHF 530 chambre individ. Sdb / WC sur l'étage
CHF 484 chambre double Sdb / WC sur l'étage
LE PRIX INCLUS:
Toutes les pratiques du vendredi au dimanche. Le logement et la pension complète.
Dîner Vendredi soir

petit-déjeuner, midi et repas du soir Samedi

Petit-déjeuner et repas de mid dimanche.

Café/Tisane pendant la journée
MASSAGE à réserver à l'avance:
Shiatsu chf 120,— (reconnu par les caisses maladie Suisse complémentaires)
Massage ayurvédique chf 130,— ( pas remboursé par les assurances)
Avec Toute Ma Gratitude,

Annulation & Politique de Paiement:
Paiement en totalité à la réservation pour sécuriser sa place.
Annulation pendant les 7 jours suivant la réservation : 100% remboursé
Jusqu'à 30 jours avant la retraite: 50% remboursés
30 jours avant la retraite aucun remboursement
---
A Week-end Get away on the theme of Gratitude & Appreciation for the year 2018 coming to a close. No matter how amazing, non eventful or how dreadful your year might have been. Take this time over a week-end to consciously move your body and ponder with Gratitude and Appreciation for all the good moments the year provided (you can always find some...) . Endulge in a massage (extra cost, details see below), be in nature, rest and restore, plan your year ahead with compassion.
Includes an afernoon workshop to create a Life Blue Print for an ideal year 2019. Creating a plan for our ideal days, week and months of the year to come.
Taking the time to restrospect on your success and challenges, yours personal goals and dreams.
PROGRAMME:
Arrive at Hotel Balance. by your own means on Friday 23rd November, between 14h00 - 18h30. Dinner all together and evening practice.

Saturday 24th November: Yoga Practice, meditation, creating a blue print for 2019,

Sunday 25th November: Morning practice. We depart in the afternoon after lunch. around 14h00.
Click on REGISTER then choose your room - PAYMENT details will be sent in the confirmation email.
PRICES
CHF 590 single room WITH Full Bathroom
CHF 510 Double room WITH Full Bathroom
CHF 484 Shared room 3-4 pers. WITH Full Bathroom
CHF 530 Single Room - Shared Bathroom on the same floor
CHF 484 Double Room - Shared Bathroom on the same floor
PRICE INCLUDES:
All practices from Friday to Sunday. Accommodation and Full Board.
Dinner Friday Night

Breakfast, lunch and dinner on Saturday

Breakfast and lunch on Sunday.

Coffee / Tea all day long
MASSAGE to be booked in advance:
Shiatsu chf 120,— (reconnu par les caisses maladie Suisse complémentaires)
Massage ayurvédique chf 130,— ( pas remboursé par les assurances)
With All My Gratitude,

CANCELLATION POLICY
Cancellation & Payment policy:
Payment in full upon booking
Within 7 days of booking: 100% refund
Up to 30 days prior to event: 50% refund
30 days prior to event there´s no refund