Yoga & Reiki Retreat (Myrtle Beach, SC)
About this event
Experience Yoga and Reiki ( Universal Life Force Energy) Healing on the beach with Earth Feathur Ptah of Healing Springs Farmacy. This retreat includes 3 vegan meals a day, relaxation, yoga, healing touch, and 1 private 1 hour session with Earth Feathur.
Reset your mind body and soul as you explore your inner guide to wellness. We will include a personalized essential oils and gift bag to each participant.
Share Rooms are $900 per person
Single Rooms are $1500 per person
All Food is included but you are free to purchase other options on your own.
Earth Feathur is a RYT200 Yoga instructor and Reiki Master Teacher. As founder of Healing Springs Farmacy her goal is to heal self and others with techniques she has learned from and adapted over the past 15 years.
Her website is at www.earthfeathur.com
All fees are non refundable and tax deductible as fees are given to enhance the programs of our non profit.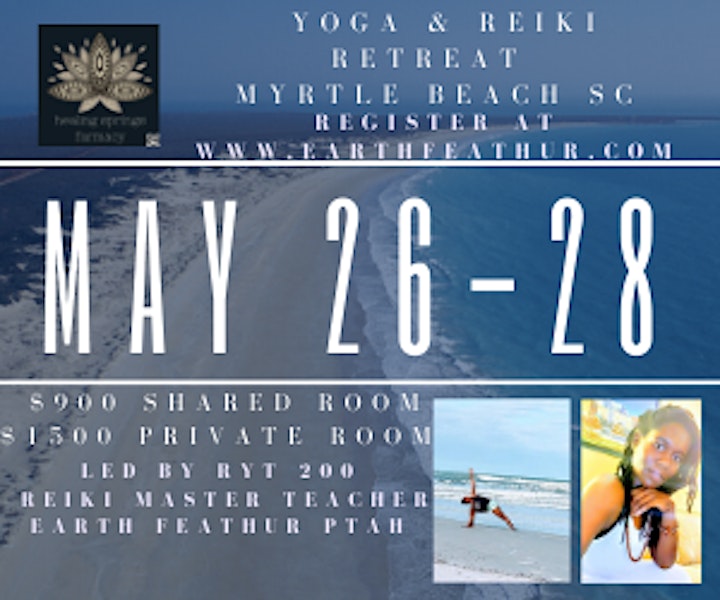 Organizer of Yoga & Reiki Retreat

We are a women run non profit focused on empowering and healing collectively and naturally.
Our mission is to create safe spaces and create self sufficient educational training to empower.
We train in self healing and natural living.
​
Our members are from a vast network of professional women in various healing fields.

Our Active Members participate in collaborative efforts to connect women to educational and natural resources that encourage and foster a positive impact on themselves and the world around them.

Our model is based on True Permaculture Principles and Core Values in The Ancient ways of The Matriarchal Kingdoms to Preserve Mother Nature and Protect The Woman. Our SISTARhood is based upon love, honesty, integrity, and truth. 
​Men in our Collective Groups Also Participate in Training and Healing Programs that train in various Natural Healing Modalities for Mind Body and Spirit.

Personal Co-Op Membership is a one time fee of $99 
Business Members Join for $450
Eco Village Member $12,000 per year- Share Space on Our 3 Acre Homestead and Participate In YEAR ROUND WORKSHOPS FREE
When you join you will get 10% of all of our services and handmade products.
Access to member only groups. Invites to special and private events, and a healing quartz stone hand selected and reiki infused from our Founder.
To join paypal healingspringsfaramcy@gmail.com
or Cashapp $healingspringsfarm
You may also request an invoice or pay in person during a visit.