YOGA OREGON HOUSE & DOBBINS | ESPAÑOL -or- ENGLISH

Tuesday, December 12, 2017 from 9:00 AM to 10:00 AM (PST)
Event Details
Book for Yoga Classes Today!
Anótese Hoy para Yoga Clases en Español! Llame a Horacio al 530-790-5167
Natural Regeneration with Yoga, for Arthritis, Pain, Digestion Problems, Headache, Allergies, and more!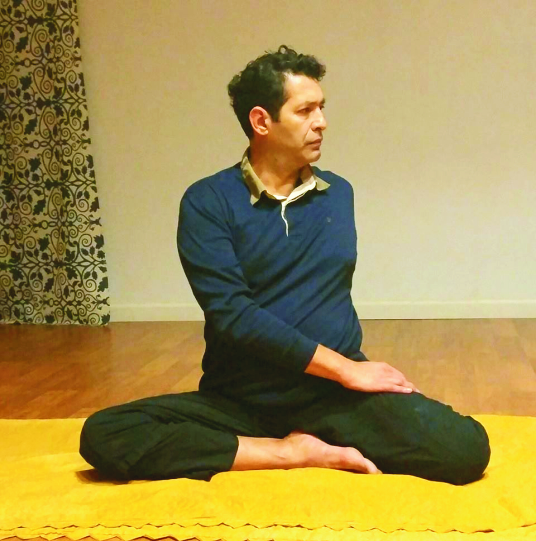 Geometric Self-healing Yoga with Horacio Roa.
GET YOUR HEALTH QUESTIONS ANSWERED!
After the class we welcome questions about Self-healing techniques.
With Reservation Only: For more information or to reserve contact Horacio at 530-790-5167
ABOUT HORACIO ROA, Director at Holistic Health Services and Focused in Self-healing Education and Coaching,
Horacio is Dietary Technician, Certified Massage Therapist, and Natural and Holistic Health Consultant. First session with Horacio includes Shiatsu Therapy, Emotional Counseling, and Holistic Healing Program.
...Coming from a line of family healers from Guarani South American natives, and graduated in chemistry, and nutrition, Horacio is an +30 years experienced intuitive healer who combines Shiatsu, oriental techniques, herbs, food, and water therapy into powerful holistic individualized programs for self-healing. Over the past 15 years, Horacio has developed E.N.T.E.R (Endocrine-Nervous Tracks Exercise Reprogramming) which is a self-healing technique created to heal in a deeper level by properly connecting areas of our body for a more definitive pain relief. He has worked in clinics and private practice in Argentina, Spain and the United States, and has been praised for the creativity, humanity, and life-changing nature of his work. 



Request Information about Yoga Classes Online

HABLAMOS ESPAÑOL
Classes en Español 
FOR MORE INFORMATION ABOUT SELF-HEALING WORKSHOPS AND EVENTS REFER TO OUR WEBSITE'S CALENDAR
https://holisticeye.com/calendar.html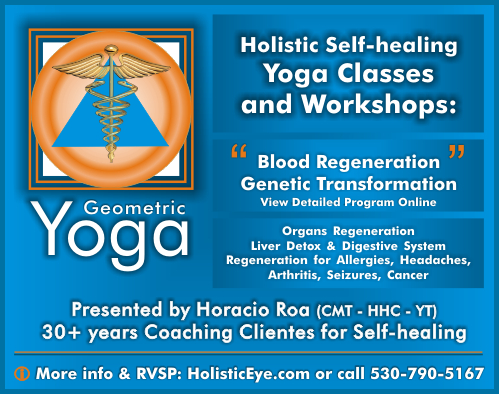 /Services and Classes are By Appointment Only: 530.790.5167 | info@holisticeye.com | 
Ask about Self-healing Health Coaching Retreats in Lake Tahoe 4 times a year to teach and assist people on the healing of chronic issues such as: Weight Loss, Depression, Chronic Fatigue, Allergies, Diabetes, Cholesterol, Headache, Skin Problems, Stroke Recovery, Tendinitis, Carpal Tunnel, Sports Injuries, Stress Management, Senior Health, Heart Health and more.
More information at https://www.holisticeye.com
When & Where

Alcouffe Center
9185 Marysville Rd.
Oregon House, CA 95962


Tuesday, December 12, 2017 from 9:00 AM to 10:00 AM (PST)
Add to my calendar
Organizer
Read about Holistic Health Services by Horacio Roa at https://www.holisticeye.com/about-us
Read our testimonials online https://www.holisticeye.com/testimonials