Description
Grab your mat and step back in time for this unique yoga experience!
Join us Saturday, April 30 from 9:00 a.m. to 10:00 a.m. for Yoga on the Train. This class will be taught in the same style as our weekly Saturday morning yoga class with the talented instructors from Studio925, but take place on the historic Golden Valley Baggage Car.
Tickets for Yoga on the Train are $10 (+ fees) and all proceeds go directly to the non-profit charity Friends of the 261. All purchases are tax deductible. Tickets are limited so reserve your spot now!
Participants are asked to arrive by 8:45 a.m. and meet in the far left corner of the Waiting Room at Gate C. From there we will direct everyone down to the train platform and onto the Golden Valley Baggage Car. The class will last approximately one hour and accommodate a variety of skill levels.
After Yoga on the Train, stay for Union Depot Train Days! The weekend event will include train equipment, musical entertainment, special events and activities for all ages.
History of the Golden Valley Baggage Car-
Pullman Standard built Baggage Car No. 220 in 1958 for the Northern Pacific Railway as a general service car. While the car was built for general service, it saw service on the North Coast Limited and the Mainstreeter. It was later acquired by the St. Louis Steam Train Association to use as a support car for Frisco 4-8-2 No. 1522 and named Black Gold.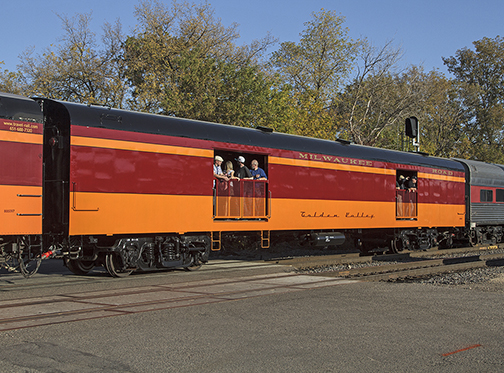 Photo credit: Steve Glischinski