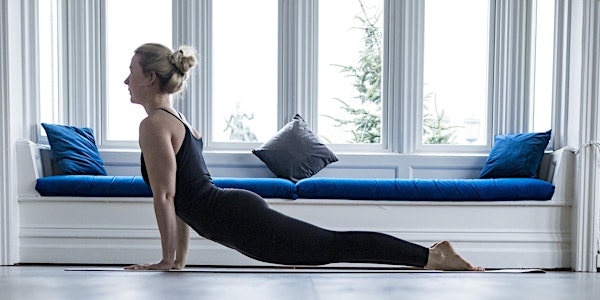 Yoga on the River @ Sarsfield Bridge Level 1 Vinyasa
Yoga on the River Shannon | Shannon Rowing Club | Level 1 Vinyasa
When and where
Location
Shannon Rowing Club Sarsfield Bridge Limerick Ireland
About this event
Level 1 Vinyasa Flow
Welcome!
Please make sure to read the disclaimer at the end.
This class is suitable for those with a foundation in the basics of yoga.
It is a strong class that builds strength, flexibility, mobility and provides a challenge, both physical and mental.
With a stronger focus on meshing breath and movement together, this class will help you to deepen your practice and cultivate a stronger connection between mind and body.
Join me every Wednesday @ 6.00pm in Shannon Rowing Club, Sarsfield Bridge.
Props are provided but please bring your own mat.
Cost:
Drop - in: €12 + booking fee.
Four Class Pass: €40. Because life often gets a little busy, you can use the 4 classes over 5 weeks.
Contact me directly to purchase a class pass at connectyogaire@gmail.com or
Instagram @connect_yoga_limerick.
Looking forward to seeing you on the mat!
**Disclaimer**
These classes aren't suitable for pregnant ladies – if you are pregnant and would like to try yoga I recommend contacting a specialised pregnancy yoga teacher or studio.
It's up to the individual to assess whether they're ready for the class that they've chosen. The practice of yoga requires you – the practitioner – to gauge the safety of your practice within your personal physical limitations. Keeping in mind that yoga might be challenging at times, but it should never be painful. It's important to always listen to your body and only work within your personal limitations.
Stop exercising and consult your physician if you feel dizzy, faint, light-headed or if you experience any discomfort. Only you can monitor your condition during your workout. You are responsible for exercising within your limits and seeking attention and advice as appropriate. Never force or strain.
If you suffer from specific injuries or disease it is best to consult with your doctor first.
The techniques and suggestions presented in these classes are not intended to substitute for proper medical advice. Consult your doctor before beginning any new exercise program.
Connect Yoga assumes no responsibility for injuries suffered while practicing these techniques and classes. Participation in any yoga class is at the participants own risk.