Description
"Yoga on Tap" with Asana Adventure Retreats
Ticket includes: 1 hour yoga class & your first pint of beer

Venue: Stoup Brewing in Ballard

Yoga class co-lead by Sarah Eshelman and Chelsea Currier
Attendees of "Yoga on Tap" will get a $200 Discount (if you pay $650 deposit by Aug 15th) on our Asheville Adventure & Asana Retreat in October! www.eshelyoga.com/retreats -- ONLY A FEW SPOTS LEFT! Don't miss this chance to Yoga + Beer with us!
Sarah & Chelsea are yoga teachers, friends, and co-founders of Asana Adventure Retreats. In October, they are leading a 7-day/6-night yoga and beer adventure in beautiful Asheville, North Carolina. This is so much more than a traditional yoga retreat. If you love exploring, love beer, love yoga, and want to make lasting memories and friendships -- this is the retreat for you. You'll leave feeling refreshed and rejuvenated, with so many stories from our adventures.

If you're interested in the retreat, but can't make Yoga on Tap -- send us an email at asana.adventure.retreats@gmail.com
Yoga on Tap Schedule
10am - Arrive to setup
10:15am - Class starts
11:15am - Class ends, we head upstairs to drink beers
11:45am - Chelsea & Sarah will spend a few minutes talking about their retreat, and answering any questions.
About Sarah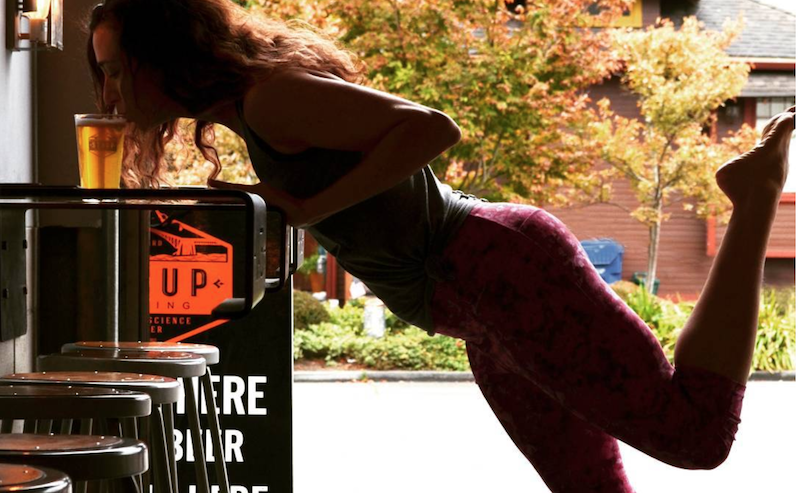 Sarah takes fun very seriously. She splits her time between a variety of exercises, hunching over her laptop while inhaling coffee, and drinking delicious craft beer with her Ladies' Craft Beer Meetup. She did her 200 hour yoga teacher training (alongside Chelsea) at Bohemian Studios. She leads a YogaRun at Road Runner Sports. She also teaches barre at Bohemian Studios and a bi-monthly event called "Beer Barre." She love empowering her students to feel confident, comfortable, and complete inside their own bodies.
Sarah grew up in North Carolina, then lived in Austin Texas for 11 years, before moving to Seattle. The Texas heat made her really appreciate autumn weather, fall colors, and the beautiful rolling Appalachians. Asheville encapsulates her 3 favorite things: mountains, craft beer, and fall colors. This retreat will be full of friendship, self-care, and lots of fun!
About Chelsea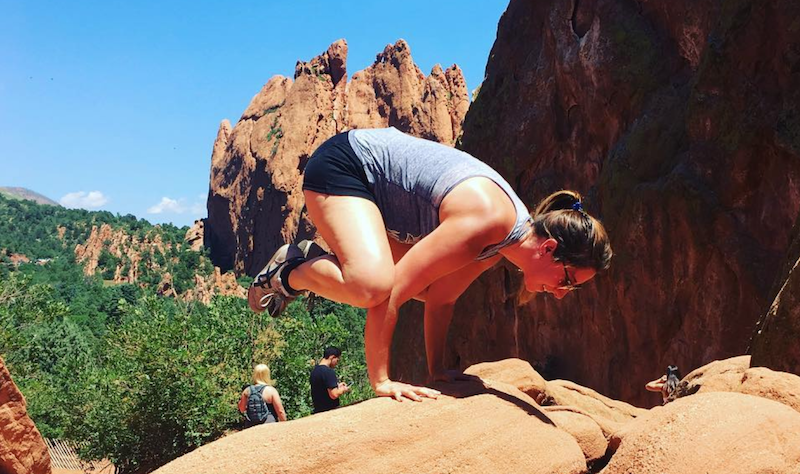 Ever the contrarian, Chelsea found yoga in college, largely as a way to avoid the craze around weight-lifting. She quickly realized the immediate mind body benefits and whisked off to India to learn more. Dabbling in many different styles from Bikram to Kundalini, she found that her heart lies in the creative intelligent sequencing of Vinyasa flow. As a forever student, she has completed over 400 hours of training, she delights in the art of incorporating Ayurvedic concepts in her yoga classes. She seeks to create an inclusive and authentic space for students to express themselves.
When not practicing yoga Chelsea can be found cuddling her dog, Kap, making kombucha, or eating delicious local foods. Despite not being native of the PNW she clearly has found her place.