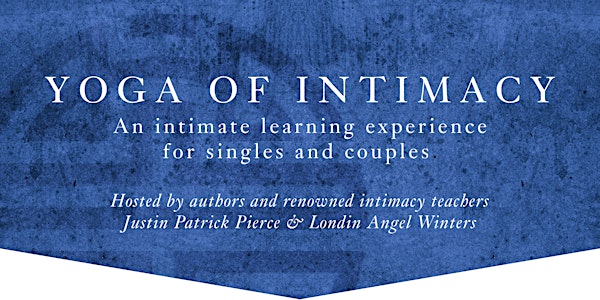 Yoga of Intimacy, Coed Weekend Intensive w/ JP Pierce & LA Winters
Grow spiritually and sexually alongside your lover.
Date and time
June 10 · 9am - June 11 · 9pm EDT
Location
Pineapple Yoga Studio 517 S Pineapple Ave Sarasota, FL 34236
About this event
1 day 12 hours

Mobile eTicket
Join authors and renowned intimacy teachers, Londin Angel Winters and Justin Patrick Pierce, for an immersive weekend of authentic intimate connection and spiritual growth.
Yoga of Intimacy is a high-end, private retreat for singles and couples, where 10 men and 10 women gather to explore the depths of intimacy, ecstasy, and sacred relating through safe, nonsexual partner practices.
If you are already in a relationship, come deepen your intimate connection, bring attraction back into the relationship, and grow spiritually alongside your partner.
If you are single, this workshop teaches you how to attract the right partner for you and break free from what's been holding you back from having the relationship you want.
*This event is by application only. If your application is approved, you will be contacted by our staff by phone to finalize registration. Click "Register" to apply now. Free to apply.
An intimate learning experience for singles and couples.
For Him...
Learn how your authenticity can be the sexiest thing to a woman… and how you can use this to inspire her authentic sexual desire.
Learn to shift the unconscious behaviors that are repelling and turning off women… and begin attracting them with confidence and ease.
Experience the power of polarity in practice, body-to-body... with practice partners who are committed to using their sexual energy in service of your spiritual awakening.
Learn how to navigate her body so she opens to you authentically… and bring your breath, speech and movement such that she is inspired to offer her full trust and devotion.
Bring your life's purpose + intimate relationship into harmony… and discover how your commitment to that purpose can turn on your partner and awaken the deepest gifts you have to give.
For Her...
Learn what it takes to inspire your man to cherish you like it's the first day you met... no matter how long you've been together.
Get back to that juicy, alive and "turned on" feeling that has come and gone in your life, but you've never known how to consciously control.
Learn to attract the right kind of man... and to inspire him to want to commit to you and give you his full presence.
Discover how you can apply sexual polarity to every area of your life—to consciously raise a family, run a business, and live a life together—without losing your romance and connection along the way.
Finally stop recreating the same limiting patterns from old relationship wounds, and repelling the love you so desire.
Prepare to be broken open in ways you didn't even know you needed...
In today's disconnected, distracted world, it seems like deep love gets harder to maintain every day. We spend more time looking at screens than at each other, cycle through new partners every time the spark starts to fade, and wall away our feelings until we become strangers who share a house and kids. But underneath all this, our souls long for an unbreakable love which deepens over time and lovemaking that gets hotter, not cooler, inside a lifetime commitment.
This bond we yearn for is not impossible. It's not even improbable. You can create it in your life right now—intimacy that opens both you and your partner to a divine awakening you could not create on your own, lovemaking that curls your toes, and a partnership where both people champion each other's best interests, where even the difficult moments bring you closer together. This is sacred relationship, and it's already within your reach.
If you are seeking a resource for attracting the right person, sustaining long-term passion, or deepening in authentic connection (whether you're single or in a relationship), you're in the right place. This workshop will teach you how to have a long-term, sexy, passionate, deeply fulfilling relationship with a partner who is as excited to be there as you are. Taught by both a man and a woman who have been living and teaching these principles for a decade, you will be carefully guided every step of the way and leave this experience transformed.
What is the Yoga of Intimacy?
Yoga of Intimacy is an embodied learning experience that will give you the tools to transform your love life. This workshop holds equal value for those already in committed relationships who are seeking clarity or transformation with their partner, and for those who are single and ready to attract the love they want… or finally break through what's been holding them back in their love lives.
In this course you will:
Learn the authentic embodiments of sexual polarity
Discover how every gesture you make is either turning your partner on or turning them off
Explore how to show up in your relationships to create deeper connection and resolve conflicts without sacrificing polarity
Discover how committing to your life's purpose can enhance your sexuality
Learn how to stop recreating the same limiting patterns from old relationship wounds, so you can attract the love you deserve
But, you may also come for one or more of these reasons…
You're ready for incredible, committed and devoted partnership… but you're scared that commitment means the slow but certain fading of hot, passionate intimacy.
Success and fulfillment in your life, business, friendships, and personal growth have always come easily to you… and yet, you feel "unlucky in love," or like romance is the one area you can never get right.
You're bored or unfulfilled in your current relationship. Or you're sick of the cycles of the dating game… you're ready for a total shift in your love life energetics, and nothing has done it for you yet.
You've tried tantra classes that made you a little uncomfortable, relationship books that felt theoretical and hard to apply, or therapists that only helped you analyze your past… but nothing has ever given you the true, lasting change you've been seeking.
You admire those people who seem to magnetically attract quality dating prospects… but you feel invisible in the dating scene, or like you are unable to attract the right kind of partner. 
Londin Angel Winters and Justin Patrick Pierce are authors and private coaches who educate men and women around the world on spiritual and intimate development. They know what it takes to keep passion alive against the typical odds—not only have they been in a loving relationship for nearly a decade, they are also the parents of a 3-year-old daughter. Therefore, they offer a unique hands-on approach where practicality is prioritized over theory. Working with Justin and Londin means learning what it takes to live and breathe real change into your daily life.
Justin and Londin have been studying and practicing spiritual intimacy for over a decade under the tutelage of world-renowned teachers. They run a successful coaching business together, are co-authors of their Amazon best-selling book, The Awakened Woman's Guide To Everlasting Love, and offer transformative high-end retreats like Yoga of Intimacy.
Before their journey as a couple began, both Justin and Londin lived lives full of success and accomplishments, but often felt their love lives were the one area that lacked true fulfillment. When they met, their relationship started out rocky. They were in different places in their personal journeys, and couldn't even imagine the powerful partnership they would eventually enter.
Eventually, through their study and personal practice, their relationship developed into one where they would ultimately learn to serve and support one another's highest purpose.
For Londin, she would discover that she didn't have to give up her career, her success, or her power in order to be adored and ravished by a super masculine man. And Justin would discover that this relationship was allowing, and even accelerating him, to become the man he felt he needed to be before he died. He discovered a new kind of freedom inside of relationship, where his purpose in life took on greater meaning.
And over the years, they've worked with countless individuals and couples who crave a life filled with purpose and unbridled love, and have showed them how life can come into balance -- and even be strengthened by -- a sacred intimate partnership.
Londin and Justin are thought leaders in their field and are truly walking their talk. This retreat is a rare opportunity to learn in the presence of a couple who have mastered the complex dynamics of modern relationships, turned the result into something beautiful and harmonious, and are experts at helping others do the same.
What People are Saying About the Yoga of Intimacy
"The practices we were given are lifelong tools that support not only our relationship but the ongoing deepening of intimacy between us. The practices show us exactly where we need to go and what we need to see in our relationship. Londin and Justin's gifts of insight, compassion and presence are a treasure! An essential experience for couples around the world." - Martina Hughes & Rod Gordon
"I am irreversibly changed. I am no longer the same man, satisfied in the status quo of what I thought was the perfect marriage, only to find out that it was far from that. It's as if Justin gave me the manual to how my woman thinks, sees, feels and acts. Where I was once a passive observer at best, thanks to Justin, I am now a powerful warrior, fully in control of my purpose in life and supportive of my beautiful goddess of a wife, with all of her rawness, passion and emotion. It's those stunning qualities in her that used to scare me away that I now desire the most. This is the most awakened I've ever felt, and I know this is just the beginning." - Thibault M
"Londin and Justin's Yoga of Intimacy weekend retreat changed my life and I feel even more excited for sacred partnership. Londin is the true embodiment of her teachings both as a woman and as the divine feminine in sacred relationship. I admire her honesty, realness and rawness. She holds nothing back. I admire her vulnerability and grace. She is sexy and down to earth. Londin is an incredible facilitator. If you have the opportunity to work with her or attend a Yoga of Intimacy experience, I definitely recommend it!" - Nikki S.
"I love how both Londin and Justin are so "no BS" but at the same time, have such deep compassion... When they give me feedback, they come from such a deeply loving space. And I also know they're going to give it to me straight. And I find that combination accelerates growth, deepening and healing in such a beautiful way." - Ronja S.
"After getting exposed to his work, my wife and I were hooked on the teachings. It had a profound effect on me as a man, husband, father and business owner. Powerful enough for me to ask Justin to create a custom workshop to teach my sales people the same masculine presence he teaches men in relationship workshops." - Josh S.
"This work has allowed me to gain a much deeper understanding of what it means to take some of the most charged areas of my relationship and use them to create magic, connection and intimacy. It's an extraordinary skill set not taught anywhere else, and it's totally changed my romantic relationship and how I approach every single relationship in my life." - Bob S.
FAQs
Where is the event?
It's held at a stunning, private yoga studio in the heart of downtown Sarasota, Florida called Pineapple Yoga Studio. The studio is conveniently located near dozens of hotels, healthy restaurants and convenience stores in the area; and is less than 10 minutes away from Lido Key Beach and St. Armands Circle. Although the studio located in the heart of downtown, the property is tranquil, quiet, and intimate. Lighting is adjustable and climate control provides the perfect environment to help your body relax and dive deep into practice.
What is included in this course?
This is a 2 day intensive with sessions from 9am-9pm both days. All participants are expected to be present for ALL sessions, without exceptions. There will be formal breaks for lunch, dinner and rest periods, but the majority of the time will be filled with teaching, Q&A and guided partner practices.
Is this a yoga class?
No. There will be no downward dog or triangle poses in this class. Much of what we will explore will be based on what is called "non-postural yoga" and you will be learning how to connect intimately with your partner through posture, breath, movement, sound, gesture, speech, and touch. Instead of learning theoretical concepts, you are learning to see how you can show up to a partner in a way that creates more connection and attraction.
Do I need to be in a relationship or actively seeking one to qualify?
Not necessarily. Overall, Yoga of Intimacy is about the energetic shifts in the way we interact that allow us to create and maintain passion in a long-term relationship. But that doesn't mean you have to be ready for one to get something out of this experience.
A lot of people come to this workshop because they've felt wounded from past experiences and need to work through blocks around love and intimacy before they are ready to fall in love again. Alternatively, many people also come to this work inspired to learn the art of growing spiritually and sexually alongside their lover. If this is you, we welcome you. The personal benefits you will get from this course alone are incredible, and when you're ready to apply them to love, you will.
What if I can only make it to part of the weekend, can I still come?
No. We expect you to clear your schedule while you are here and be present and on time for every session. That also means canceling any potential calls or distractions, and being willing to "unplug" during session hours to be 100% present.
How many people will be at the event?
We aim for a very intimate and exclusive environment. All coed weekend intensives are capped at 20 people to make for lots of one-on-one attention and a really deep and incredible experience for every single participant.
Each person is hand picked and selected through a careful application process. This ensures that only the highest caliber people are present and everyone can feel safe and show up as their true, vulnerable selves.
Will I have to take off my clothes or do anything sexual?
No. You will be doing non-sexual physical activities and partner exercises. It's still very evocative, but at no point will you be expected to break any personal touch boundaries or take your clothes off.
We enforce workshop rules strictly so that participants know they can count on the safest container possible for deep exploration.
Listen to a Live Talk with Londin & Justin
In this short audio excerpt, Londin and Justin teach us how our intimate relationships are the best spiritual practice we've got. Click here to listen now.
Still have questions?
Most of the details you need are covered in our FAQ section but if you're still on the fence and still need more information, feel free to email us at support@yogaofintimacy.co
Join our Facebook Community with over 3,800 members to learn about upcoming events, participate in monthly group calls, and connect with other men and women walking the path of the Yoga of Intimacy. Click here to join now.