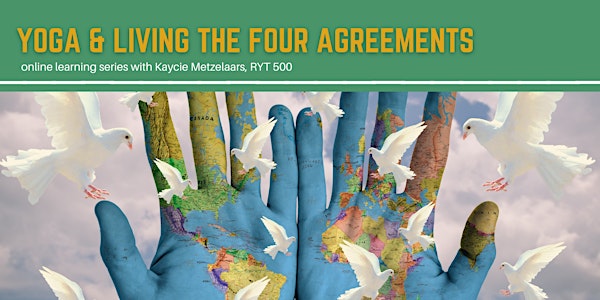 Yoga & Living the Four Agreements
This interactive class takes a close look at the agreements we have made with ourselves and with life itself.
Refund Policy
Refunds up to 1 day before event
Eventbrite's fee is nonrefundable.
About this event
This class series is perfect if you've read the book The Four Agreements by Don Miguel Ruiz, but want to know more about how to use them to transform your life. The agreements we make with ourselves can either trap us in a state of suffering or help us return to a our natural state of freedom, joy, creativity, and Love.
The structure of the class is simple. We meet every Sunday for 5 weeks via the Zoom app to talk about different topics from Ruiz's book The Four Agreements. Reading the book prior to the classes will be helpful to your understanding, but is not required.
BE PREAPRED TO JOURNAL. Writing prompts will be assigned after each class and keeping a journal is strongly recommended.
BE PREPARED TO MEDITATE. Meditation is a key component of this course, both in class and as homework.
BE PREPARED TO MOVE. Yoga asanas, or postures, will also be assigned as homework. Your instructor will provide training and modifications as needed. Don't make excuses, anyone can do this!
BE PREPARED TO FEEL DISCOMFORT. Growth does not happen in our cozy comfort zones. We will be discussing themes such as: judgment & fear, personal freedom, human perception, and the nature of reality.
BE CIVIL. Everyone taking this course will agree to treating one another with civility and respect. We will practice mindful listening to hold space for one another during discussions.
Outline of Weekly Topics:
Nov 8: Domestication & The Image of Perfection
Nov 15: The Judge & The Book of Law
Nov 22: Dreaming
Nov 29: The Power of the Word
Dec 6: Living the Four Agreements
Each class will begin at 11:00 am CST and last for approximately 90 minutes.