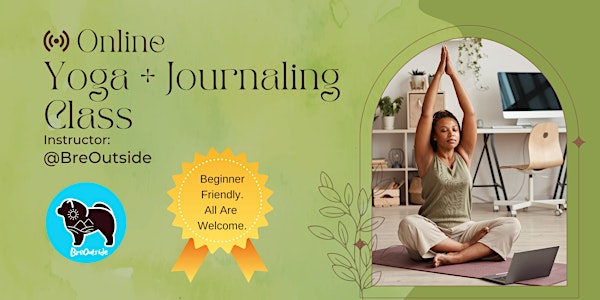 Yoga + Journaling (Beginner Hatha, Easy & Relaxing)
A gentle Hatha yoga stretch, followed by journaling and group discussion.
Refund Policy
Contact the organizer to request a refund.
Eventbrite's fee is nonrefundable.
About this event
Summary
We will do a 25-30 minute gentle Hatha yoga practice. Very gentle and reflective. There will be 15 minutes for journaling with a given prompt or whatever you choose to write. Then there will be a 15 minute group discussion where participants can share what they wrote if they choose.
The yoga portion of this class may be recorded to send out to participants (not guaranteed).
Class Rules:
This class is a safe space. No bullying, recording or harassing at any time.
You may leave your camera or microphone on or off. Yogi's choice.
No filming or recording via your own computer.
Be on-time. I can't see you in the waiting room once I start the class.
You are responsible for your own health and safety. I can't see you well enough to verbally correct you while teaching the class and I won't be with you in-person.
Waiver
CLASS TIMES
CLASS start at the time listed on the scheduling page. Arrive 5 - 15 minute before scheduled EVENTS. You may not be able to join the class or appointment after the scheduled time.
CANCELATIONS AND RESCHEDULING
BreOutside LLC does not accept cancelations or rescheduling.
REFUNDS
Once booked, you understand if you cannot make the EVENT you will not be issued a refund nor will you be able to reschedule your EVENT. No refunds.
EMAIL SUBSCRIPTION
You agree to receive emails from BreOutside LLC and its affiliates. You understand you can unsubscribe at any time.
LIABILITY WAIVER AND ASSUMPTION OF RISK
There are risks of injury or death when participating in an exercise class or program. Because physical exercise can be strenuous and subject to risk of serious injury or death, you should obtain a physical examination from a doctor before using any exercise equipment or participating in any exercise activity or program.
You agree that any participation in physical exercise or training activities, you do so entirely at you own risk. Any recommendation for changes in diet including the use of food supplements, weight reduction and/or body building enhancement products are entirely your responsibility and you should consult a physician prior to undergoing any dietary or food supplement changes. You agree that you are voluntarily participating in these activities and use of these services and content and assume all risks of injury, illness, or death.
You agree that you are responsible for yourself and assume all risks.
INDEMNIFICATION AND HOLD HARMLESS
You also agree to INDEMNIFY AND HOLD HARMLESS Coach Breanna Bang and BreOutside LLC from any and all claims, actions, suits, procedures, costs, expenses, damages and liabilities, including attorney's fees brought as a result of your involvement in Coach Breanna Bang's or BreOutside LLC's Running Coaching, Yoga Classes or any other service provided by Breanna Bang or BreOutside LLC.You agree to release BreOutside LLC, Part-Time Athletes Podcast, Breanna Bang, and any employees, instructors and its agents from liability concerning the application, processing, and/or consequences of the yoga, personal training, or running coaching services you elected to receive. You consent to have services of your choice applied.
You release and hold BreOutside LLC, Breanna Bang, and any employees, instructors and its agents harmless against any and all liability, damage, and/or expenses arising out of or in connection with actions, claims, and/or damages resulting in personal injuries and disabilities (physical and/or psychological) that you might incur as a result of the service provided. You understand and agree that any legal action pursued by you or your agent against BreOutside LLC, Part-Time Athletes Podcast, Breanna Bang, and any employees, instructors and its agents will be at your own expense. You understand and agree that you will also be responsible for paying for any and all legal expenses incurred by BreOutside LLC, Part-Time Athletes Podcast, Breanna Bang, and any employees, instructors and its agents.
ACKNOWLEDGEMENT OF UNDERSTANDING
You have read this waiver and fully understand its terms, and you understand that yo are giving up substantial rights, including you right to sue. You acknowledge that by signing up for this event, you are signing the agreement freely and voluntarily, and intend by your signature to be a complete and unconditional release of all liability to the greatest extent allowed by law.