Actions and Detail Panel
Yoga for your Mental Health ~ Meditation ~ Stress-Relief
Sat, February 11, 2017, 1:00 PM – 2:00 PM EST
Description
The SMR Counseling Services is now offering the opportunity for you to experience personal training for your mind, body, and spirit. Several activities will take place to help you center, relax, and manage those things that hinder your complete mental health, including stress, anxiety and anger. Sessions are small and intimate. There is a limit of 8 students per session. Each week will include yoga, meditation and some other form of mental health activity to help you focus on your optimal health for $20.00 a session!
Brought to you by your Mental Health Personal Trainers...SMR Counseling Services!
More about Yoga Specialist - Robin Bell: (Saturdays at 1:00 PM)
Robin Bell is a Yoga instructor, Reiki Master/Teacher and Thai Foot Reflexology Massage practitioner. She completed the Level 1 Yoga Teacher Certification, the 200 hour Jiivana Yoga Teacher Training and the Usui Reiki Level 1, 2 and Master Certifications at the Spiritual Essence Yoga and Wellness Center, in Upper Marlboro, MD. Robin received her Thai Foot Reflexology Massage training at the Thai Institute of Healing Arts, formerly located in Arlington, VA.
Robin is a devoted wife, a loving mother and a program management professional working in the technology field. As a native of Washington, DC and an alumnus of Howard University, many of Robin's deepest roots run throughout the Washington DC metropolitan area. With so much to do, in an often busy and overwhelming life, not only has Robin been blessed by the balance and healing yoga has brought to her, but she has also been a gift to the lives of so many. Because of her warm personality and natural ability to connect with people from all walks of life, Robin has been able to educate and provide instruction in diverse settings, cultures and faith traditions not commonly welcoming to yoga because of errant rumor or misinformation.
More about Yoga Instructor - Monica Harris (Saturdays at 10:00 AM)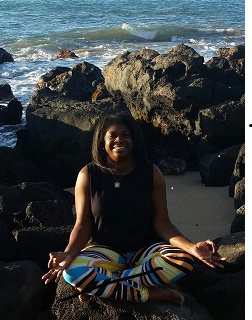 Monica Harris began her yoga journey searching for peace of mind and discovered complete joy. A student under Robin Bell, Monica is a graduate of Spiritual Essence Yoga and Wellness Center, in Upper Marlboro, MD. She completed the Level 1 Yoga Teacher Certification in 2015 and will begin Level 2 Yoga Teacher Certification at The Yoga Center of Columbia in January 2017.
Monica approaches yoga as an opportunity to find balance and stability in a busy life, cultivate flexibility of the body and mind, and reconnect to our innate joy. Monica is a stage 3 colon cancer survivor and believes in living life to the fullest. Yoga has given her special joy on and off the mat. She believes that you know your yoga practice is working when your life changes.
Monica lives in Laurel, MD with her husband Justin and daughters Amara and Adaora. She works for the Federal Government in the Office of Communications. When not practicing yoga, Monica enjoys cycling, painting, reading, and spending time with her family. She is also a native Washingtonian and a big fan of its NFL team.
Date and Time
Location
SMR Counseling Services
3909 National Drive
Suite 100 (outside entrance)
Burtonsville, MD 20866