Description

Awaken the child within and play, laugh, explore, learn and build a repertoire
of instructional activities designed to explore emotions, physical awareness, health
and fitness, environmental stewardship, social behavior and so much more. Teachers, activities directors, child care workers, yoga teachers or anyone else working with children whose role is to support the growth and development of responsible, compassionate individuals, will find this course comprehensive and inspirational. Theory, practice and hands
on experience prepare attendees to effectively teach yoga to children ages three to teen.

See our video at the link below.
https://www.youtube.com/watch?v=PT_DJ4wY5Aw
48 Contact hours of training includes:

Child development and age appropriate yoga postures and activities.

Games to reinforce self-esteem, camaraderie, self-awareness, compassion, environmental ethics, and creative thinking skills.

Methods to teach ethics, responsibility, and sensitivity for others through story time and positive discussion.

How to incorporate sound, scent, textiles and art projects into the yoga class to enhance creativity and self-actualization.

Class pacing, formatting and opportunities to promote educational growth.

Behavior modification, instilling self-control and tips for keeping students respectfully engaged.

Youth anatomy, physiology, and a review of medications and common physical or behavior challenges that make it difficult for many children to focus or interact successfully with others, with a focus on how yoga can forage greater holistic health and wellness.

How to involve parents and promote family bonding through yoga.

The business of youth yoga education.


A special three hour additional segment devoted to aerial yoga and acroyoga, fun ways to inspire youth to explore and adore movement discoveries.




Syllabus offering hundreds of exercises and class plans to support your teaching.




Browse a huge assortment of children's yoga resources, books and materials available today.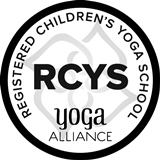 Heartwood Yoga and Heartwood Retreat Center are both Registered Yoga Alliance Children's Yoga Schools. Our Yoga for the Balanced Child: Children's Yoga Teacher Training Program partner's up with ReFlex Arts Dance and Yoga to assure our teachers have hands on experience working with kids who love to move. The course involves 5 days of in-class study with an ERYT-500 teacher (also RCYT), in our dedicated youth movement center equipped with children's props, mats, teaching aids and materials. This program is appropriate for anyone who wants to work with children - teachers, caregivers and parents, but yoga teachers desiring to complete the requirements to become RCYT (Yoga Alliance certified) will need to be an RYT-200 or above teacher and in addition, they need to fulfill the organization's 95 hour requirement by committing home study, reading, and an 18 hour practicum internship. The hands on experience internship can be organized through our facility with the age group of choice or through our school outreach program. You may also fulfill this element through an opportunity you design yourself in any avenue where you can introduce children to yoga (your child's school, youth center or other venue.)

Mentorship, supervision, and on-going support provide a nurturing atmosphere and ample opportunity to help new teachers gain the confidence and experience to become dynamic youth yoga teachers. Reflex Arts has over 250 youth students and a variety of camp and special event opportunities for teacher trainees to get hands-on experience and support for their studies.

Children's Yoga Teacher Training Seminar:

Fall Course: 8 evening sessions- Fridays 5:30-9:00 Plus four Saturday afternoons for a Children's practicum (working with kids) 1:00-6:00.

Fridays: Sept 23 & 30, Oct. 7, 21, 28, Nov. 4 & 18, Dec. 2

Saturdays: Oct. 8, Oct. 29, Nov. 19, Dec. 3

The course meets at Reflex Arts and at Heartwood so we can

t

ake advantage of both facilities and the unique qualities of each space.
A schedule of which days will be scheduled at each facility will be e-mailed to attendees upon enrolling.
Course Fee- $895.00 (includes syllabus, 45 hour onsite training, and mentorship and guidance for additional required practicum for yoga alliance certification if applicable)