Yoga for Scoliosis Workshop/ Yoga for Lasting Spine Health
Description
Donation rates apply.
Get long and clear spinal energy. Learn a safe, lengthening and envigorating practice with scoliosis even after spinal fusion surgery.
This is a workshop in 4 modules: Each one help give you tools for a life long yoga practice. Sign up for one module or all 4 (whole weekend) to become expert.
Mod 1 Saturday Sept 22 Morning- 10 am-1pm

The Physical Body (Annamaya Kosha): Learn the foundations of how to structure Asana to alleviate symptoms of pain and tension while working to reduce your curvature.
Mod 2 Saturday Afternoon- 2pm- 5 pm (for all levels)
Yoga for Scoliosis and Spinal Fusion Clinic: If you are a newer student, this is the time to come and be supported by our teachers. Teachers you will get a chance to practice supporting students in this experiential afternoon workshop.
Mod 3 Sunday Morning- 10 am-1 pm
The Psycho-emotional Body (Manomaya Kosha): Our curvatures affect more than just our physical body. Learn how to support the more subtle layers of our being, thoughts and emotions, energy and breath.
Emotional and Energetic Needs for Scoliosis/Spinal fusion:
Mod 4 Sunday Afternoon - 2pm - 5 pm :
Learning to Witness all Levels of our Being
The Witness Body (Vijnanamaya Kosha): Simple awareness can be the most lealing thing there is! Join this restorative and contemplative practice whether you are exepriencing scoliosi or ANY other conditions that require nurturing and space.
Teachers:
Katy Benjamin E-RYT 200, C-IAYT 1000
Certified 1000 hour yoga therapist, Katy is passionate about sharing what she has learned from her 16 years of experience as practitioner and then teacher with scoliosis and 12 inch spinal fusion. In addition to one-one work, Katy runs Big Island Yoga Therapy (BIYT), where her and a team of interns serve communities with scoliosis, anxiety/depression, and trauma, chronic pain, pre/postnatal and those in incarcerated settings on Moku o Keawe (Big Island of Hawai'i). A student of Maria Mendola and Functional Yoga Therapy, and an Integrative Yoga Therapist, Katy is thrilled to be stopping in Austin on her 2018 Turtle Island Teaching Tour.
Madeleine Reid E-RYT-200, Whole Mind Studio Owner
Madeleine Reid is passionate about the healing powers of yoga and uses it at her studio in a medically focussed way combined combined with transformative health coaching to master habit change. Whole Mind focusses on healing the mind by healing the body. The studio helps students recover from a number of musculoskeletal and other physical traumas. Whole Mind works in cooperation with Chiropractic care, Functional Medicical therapists and Rehabilitiative Therapists to ensure that students have all the necessary medically-trained support on their healing path.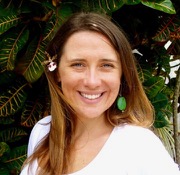 Katy Benjamin, Photo.