Description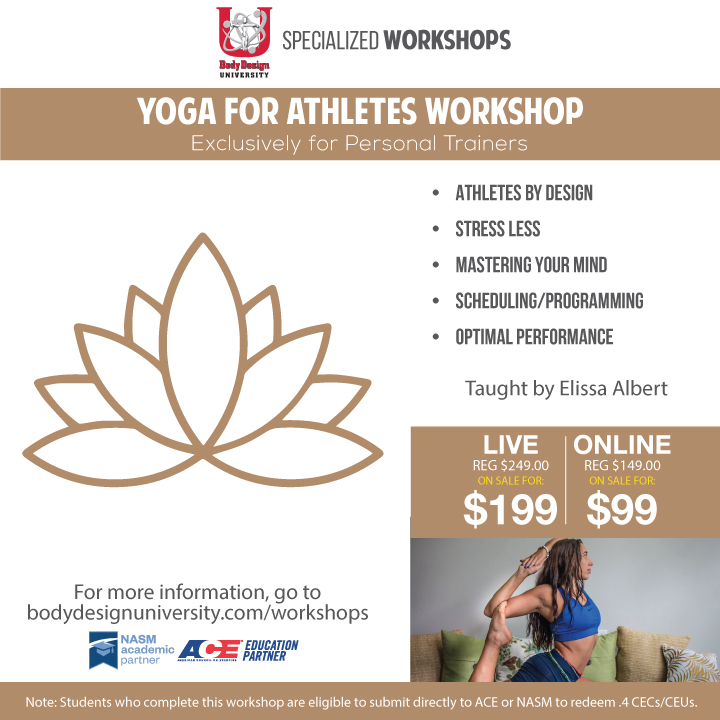 Want to use yoga to increase performance? Want to help your clients recover quicker?
By adding yoga to their routine, you will get them to improve flexibility and balance, lower stress levels, improve mental control and breathe properly, all of which will help them reach their goals faster.
In this workshop, you will learn how incorporating yoga into your daily routine is simple, how talking yoga to your clients is easy, and how your performance from the gym, to work, to home will improve!
You and the thousands of clients you will help in your lifetime will benefit immediately from the workshop!
This is an open workshop anyone can attend!
Live – Regular $249 — $199 SALE – Save $50
Online – Regular $149 — $99 – Save $50
Note: Students who complete this workshop are eligible to submit to ACE or NASM directly to redeem .4 CECs/CEUs.
Member and Student Promotional Codes:
"BDUGRAD " Graduates from our Personal Trainer Course get 50% Off.
"BDUSTUDENT" New Personal Trainer Course students receive TWO FREE workshops.
"BDMEMBER" Members of our Personal Training Club get 50% Off.
We only accept 20 students into each live workshop to maximize the effectiveness of the learning environment.
Read what other students are saying about this Workshop!
"The workshop was very well organized and better than I expected!" – Arturo Gonzalez
"The workshop was excellent and more than I expected. So glad I made the drive to attend it!" – Kelly Gay
"Great info – always love learning and the people at BDU" – Anna McBride
"Great explanations. I can't wait to use it." – Chase Leonard
"Got all the information I needed plus more." – Jonathan Gramby
"Learned a lot in this class and really enjoyed it. Great experience." – Shelby Boyd
Have questions about this Workshop? Email us at info@bodydesignuniversity.com or call 404-692-8220 now!
PARTNERS WITH ACE AND NASM