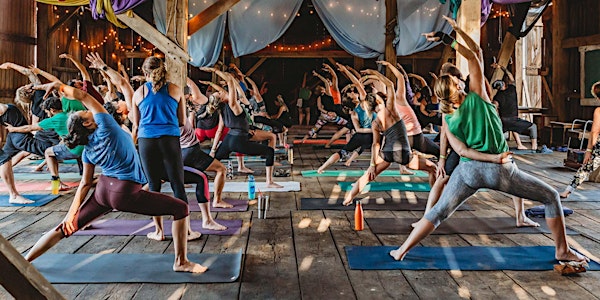 Yoga Farm Fest - Flex Yoga Wooster
When and where
Location
Emerson Farm 9786 Emerson Road Apple Creek, OH 44606
Refund Policy
Refunds up to 7 days before event
Description
Yoga Farm Fest is an indoor/outdoor celebration of all things yoga. Our schedule is packed with classes and workshops all day and doors open at 6am for early registration. We offer 4-5 classes for each hour of the day from 7a-5p and a final community class from 6-7p. You are encouraged to preregister for the classes of your choice to hold your space (some classes do sell out!). We have yoga classes of all types, specialty workshops (poetry, journaling, meditation, watercolor, speakers, live music) and more! In addition, vendors will set up booths in our "artist community" featuring art, apparel and specialty items for purchase. Three full vegetarian meals will be served throughout the day provided by Mike Mariola of @mikemariolarestaurants and Sarah Stoner and Adam Schweiterman of @umamibitestrailer, Roderick of Avery's Kitchen and are included in the ticket price (2 meals for the half day pass, and all three with a full day pass). Coffee will be provided in the morning by Boo Bears Brew. Parking will be off site and a shuttle will be provided. Bring items to make you comfortable- this is really on a real farm! Sunscreen, bug spray, your yoga mat and a journal are a few suggested items (please note your yoga mat will probably get dirty! Make sure you bring a mat you are comfortable with being on the farm). You are welcome to bring beach chairs and blankets to rest comfortably between classes and workshops.
PARKING will be off site at Waynedale High School 1 mile from the venue. There will be a shuttle running all day to the farm and back. The address for the High School is: 9050 Dover Rd, Apple Creek, OH 44606
Meal times:
Coffee and Tea Hour: 6:00 - 7:00am
Breakfast: 7:00 - 9:00 am
Lunch: 12:00 - 2:00pm
Dinner 4:00 - 6:00pm
Event Location: 9786 Emerson Road, Apple Creek, OH 44606
Parking Location: Waynedale High School 9050 Dover Road Apple Creek, OH 44606
No refunds due to weather.
Instructors:
Andy VanDeusen - Courtney Martinelli - Cat Bigley - Barrie Rosencrans - Annie Yoder - Kelli Hess - Rachel David - Andrea Zantopulus - Erin Ransom - Erin Rousch - Melissa Schultz - Holly Giague - Natalie Friedrich - Dee Black - Sarah Ouellette Albano - Carrie Aquino - Jarred Keener - Leigh Cordetti - Meghan Barnard - Jennifer Hernandez - David Finley - Kendall Ramirez-Sanchez - Mira Lowenstein - Marisa Ramsier - Eric Shoup - Melissa Borden - Liz and Tom DeWitte - Jackie Ward - Addie Grace Mehling - Kristie Leahy Comsia & Nick Comsia - Terri Dalessandro - Emily Mariola - Shanon Emerson - Jack Miller - Josilyn Gullifer - Nichole Studd - Abi Lynne - Elissa Myers

CLASS SCHEDULE
7-8am
Dharma Yoga with Barrie Rosencrans
Ashtanga ½ Led with Andy VanDeusen
Morning Meditation & Chanting with Annie Yoder
Yoga Nidra with Kelli Hess
Aerial Yoga with Elissa Myers
8:15-9:15am
Beginning Basics with Rachel David
Creative Dance Flow with Andrea Zantopulos
Acro Yoga with Cat Bigley
Beginners Hoop Flow with Jackie Ward
Unwind through the Elements with Addie Grace Mehling
9:30-10:30am
Vinyasa Flow with Erin Roush
Aerial Yoga Basics with Melissa Schultz
Budokon with David Finley
EveryBody Yoga with Dee Black
Watercolor Workshop with Natalie Friedrich
Self Massage with Andy VanDeusen
Dirt Therapy 101 with Ali Szymanski
10:45-11:45am
All Levels Flow with Sarah Ouellette Albano
bootybarre® with Carrie Aquino
Acro Yoga with Jarred Keener and Leigh Cordetti
Movement Medicine Vinyasa Flow with Addie Grace Mehling
Watercolor with Natalie Friedrich
How to Fail at Meditation Without Even Trying (which is the whole point) with Jack Miller
12-1pm
Creative Power Flow & Music with Meghan Barnard
Aerial Yoga with Jennifer Hernandez
Trauma Yoga with Eric Shoup
Mandala Making with Tiffany Leeper
Love, Reiki, Vibration: Reiki and Restorative Yoga with Cortney Martinelli
Slackline with Cat Bigley under the trees
Slow Burn with Arm Balances with Abi Lynne
1:15-2:15pm
Mobility Flow with Mira Lowenstein
Aerial Yoga with Carrie Aquino
Ritual Tea with Natalie Friedrich and Holly Giauque
Mandala Making with Tiffany Leeper
Handstand Practice with Erin Roush
Breath as Energy: The Science and Art of Pranayama with Nichole Studd
2:30-3:30pm
Yin Yoga with Kendall Ramirez-Sanchez
Graceful Strength Flow with Melissa Borden
Ritual Tea with Natalie Friedrich and Holly Giauque
Yoga and Essential Oils for Hormonal Balance with Marisa Ramsier
Acro Yoga with Liz and Tom DeWitte
3:45 – 4:45pm
Barre with Jennifer Hernandez
PiYo with Terri Dalessandro
Poetry with Josilyn Gullifer
Electric Soul - Yoga + Live Guitar with Kristie Leahy Comsia and Nick Comsia
Anatomy of Yoga Discussion with Erin Ransom
Find Your Voice and Start Telling Yourself a New Story: Discussion with Shanon Emerson
5-5:45pm
Drum Circle, open to all first come first serve, no signup needed!
Dinner and Free Time
6-7pm
COMMUNITY CLASS with Emily Mariola, Abi Lynne, Erin Roush and Flex Team. Sun A's and B's with live music by Annie Yoder