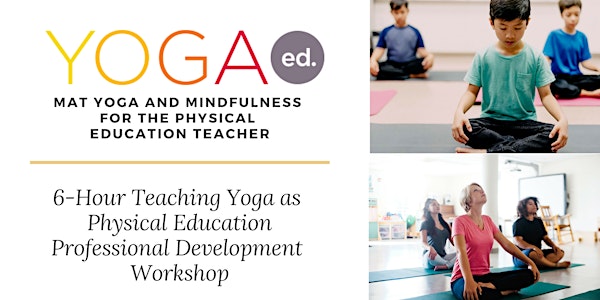 Yoga Ed.: Mat Yoga and Mindfulness for the Physical Education Teacher
Location
Hanahau'oli School Professional Development Center
1922 Makiki Street
Honolulu, HI 96822
Description
Yoga Ed.: Mat Yoga & Mindfulness for the Physical Education Teacher
Friday March 15, 2019
9:00 AM - 3:00 PM
Hanahau'oli School Professional Development Center
Registration fee: $160*
*If paying by school purchase order, please select the "Pay by Invoice" option upon checkout.

This 6-Hour Teaching Yoga as Physical Education Professional Development Workshop will help you create relevant, fun yoga classes to engage your students and promote health, wellbeing, and academic success. In this workshop you will learn the physical, mental, emotional, and social benefits of yoga for children and teens in order to develop age-appropriate lesson plans that go beyond the yoga mat to nurture life skills. You'll finish the workshop ready to create yoga lessons to meet your students' needs, all the while adhering to the National Standards for Physical Education.


OBJECTIVES
• Know the benefits of yoga breathing, poses, games, and relaxation for children and teens
• Design and develop lesson plans appropriate to the age group you are teaching
• Create yoga classes to fulfill the National PE and Health Standards
• Effectively utilize yoga tools in the classroom to meet your student's needs
• Teach yoga to children Pre-K through 5th grade and adolescents 6th grade through 12th grade
REQUIRED READINGS
Yoga Ed. Professional Institute 1 Curriculums: Overview / Teacher's Guide / Children's Guide
or Yoga Ed. Professional Institute 2 Curriculums: Overview / Teacher's Guide / Children's Guide
COURSE SCHEDULE
Overview and introduction to Yoga Ed. and Yoga Education
Embody the practice with a 15-20 minute mat yoga lesson plan
Discuss the utility and benefits of Yoga Ed. mat yoga tools
Practice and teach Yoga Ed. mat yoga breathing exercises, yoga poses, games, and relaxation
Create and practice teach a 15 minute lesson plan
ABOUT YOGA ED.

Yoga Ed. is an educational company dedicated to changing education through the practice of yoga. Our mission is to empower school communities with yoga to cultivate health and wellness in children and teens. Through evidence-based training, classes, and resources, Yoga Ed. equips educators with yoga tools to integrate yoga for children and teens into academic environments.

Since 2001, we have certified hundreds of individuals in the art and science of integrating yoga into educational environments. Our impact is global. We have equipped thousands of teachers with valuable skills to share yoga education with millions of children worldwide. Our programs have reached educational environments in 42 States and 16 Countries.