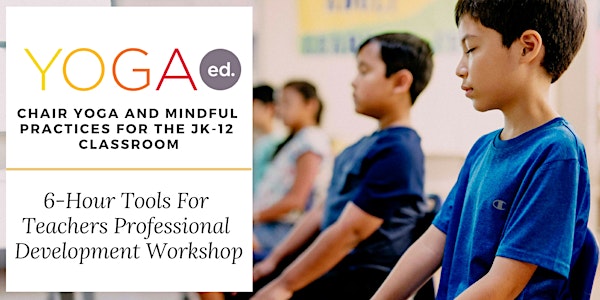 Yoga Ed.: Chair Yoga and Mindful Practices for the JK-12 Classroom
Location
Hanahau'oli School Professional Development Center
1922 Makiki Street
Honolulu, HI 96822
Description
Yoga Ed.: Chair Yoga & Mindful Practices for the JK-12 Classroom
Tuesday March 12, 2019
9:00 AM - 3:00 PM
Hanahau'oli School Professional Development Center
Registration fee: $160*
*If paying by school purchase order, please select the "Pay by Invoice" option upon checkout.
This 6-Hour Tools for Teachers Professional Development Workshop equips you with a broad variety of basic principles and tools to implement short yoga breaks with children or teens. You will learn and practice yoga tools to effectively promote health, learning, and achievement. This workshop will provide you with a deeper understanding of how to identify challenging times during your child or teen's day, and successfully utilize yoga tools to shift them into a more positive state of mind.


OBJECTIVES
• Understand the goals and benefits of chair yoga
• Utilize chair yoga as a resource to support children's or teens' health, learning, and achievement
• Utilize chair yoga as a resource for your health and wellness
• Recognize learning ready states and understand how to use yoga to access them
• Support brain based learning and social emotional learning through chair yoga tools
• Teach chair yoga breathing exercises, poses, games and relaxation
REQUIRED READINGS
Tools for Teachers Manual
COURSE SCHEDULE
Overview and introduction to Yoga Ed. and Yoga Education
Embody the practice with a 15 minute chair yoga lesson plan
Identify challenging times during your day
Learn how to use yoga tools to ease these times and transition children/teens back into more positive states
Discuss the utility and benefits of Yoga Ed. chair yoga tools
Practice and teach Yoga Ed. chair yoga breathing exercises, yoga poses, games, and relaxation
ABOUT YOGA ED.

Yoga Ed. is an educational company dedicated to changing education through the practice of yoga. Our mission is to empower school communities with yoga to cultivate health and wellness in children and teens. Through evidence-based training, classes, and resources, Yoga Ed. equips educators with yoga tools to integrate yoga for children and teens into academic environments.

Since 2001, we have certified hundreds of individuals in the art and science of integrating yoga into educational environments. Our impact is global. We have equipped thousands of teachers with valuable skills to share yoga education with millions of children worldwide. Our programs have reached educational environments in 42 States and 16 Countries.