Description
As part of NE Broadway Backstage Tour Health & Wellness, Wisdom Tree Yoga will lead you through this fun Hatha Flow focused yoga + laundry event that is welcome to all skill levels. The session also includes 1 FREE Wash and Dry in a two load machine, so don't forget your laundry!

Ritual Rug handwoven yoga mats by Ma Wovens available to demo (first come, first serve).
After your session, enjoy refreshments courtesy of Happy Mountain Kombucha to help cool down.

Cycle 1: 12-1:30pm
Cycle 2: 1:45-3:15pm
Cycle 3: 3:30-5pm

Suggested donation of $10 at time of the event.
Please plan to arrive 10 minutes prior to your session.
About the Instructors
Wisdom Tree Yoga is the collaborative and co-creative soul child of Acacia Blackwell and Sophia Archibald. While training together as yoga teachers, Sophia and Acacia discovered a kinship in their philosophies and styles of practice and teaching based in curiosity, intuition, self-led discovery, and a sense of humor and humility. In 2016 they formed Wisdom Tree Yoga, a unique style of collaborative teaching which allows them to offer in-depth asana and alignment instruction with the attention and intention that comes with two instructors working in tandem. Acacia and Sophia consider themselves collaborators, co-conspirators, and lifelong Yoga wifeys.
They both hold 200 hour YTT certifications from The People's Yoga and continue to study under the guidance of their brilliant teachers, Suniti Dernovsek and Sarah Robinette.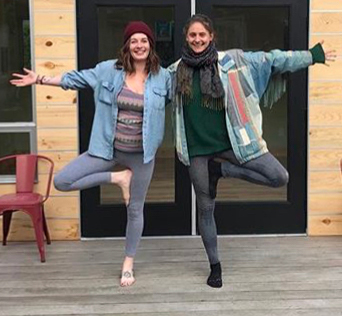 About Ma Woven

Ma Wovens, is a conscious, handwoven goods brand, and designs products that facilitate a more present and mindful daily lifestyle. Ma's premier product, The Ritual Rug, is a handwoven and versatile yoga mat, made up primarily of organic hemp fiber and non-toxic TPE rubber.