Yoga Class inside our Gathering Room heated area. Visit yoga goats after class up front at the barn!
About this Event
THIS IS FOR OUR GOAT YOGA CLASS PARTICIPANTS AND NEW FRIENDS.....
BELOW WE ARE OFFERING A WINTER SPECIAL CLASS AT THE GATHERING ROOM!
PLENTY OF ROOM FOR SPACING 6 FEET APART AND RESTOOMS FOR HANDWASHING . CDC guidelines and hand sanitizer as you enter.
JUST A RELAXING CLASS AND AFTERWARDS ON YOUR WAY OUT STOP AND SEE THE YOGA GAOTS AND BABIES.
Bring your yoga mat! (beach towel if desired for under mat) we have mats also.
Bring your mind ready to relax and forget about the long week you have had!
Bring your water bottle.
Bring a friend to regain some sanity during this past covid 2020 year!
BELOW NOTES APPLY TO GOAT YOGA ONLY CLASS
Children over 6 may come with their mat if participating with an adult.
Everyone must sign a waiver that you realize you will be doing yoga with animals and that you understand they are farm animals and may get up close. Our goats our trained not to jump on you for safety reasons. Instructors will do poses after class with our baby goat on your back if desired! Create an awesome yoga pose with you and your friends with the goats all helping with that moment.
Everyone realizes that other people and the farm may take pictures that could be on their or our social media. Many pictures at each!
Everyone agrees to go at their own pace and ability with their yoga skills. This class is for beginners to advanced.
Laughter and relaxation is required to attend! Yoga is not necessary!
Thank you for your support and we will continue to social distance and have small classes till restrictions are lifted .
Thank you for coming to Benton Farm Agricultural Learning Farm
We promise that you will learn a new farm fact on your visit and meet other cute animals after yoga!
Our Certified Instructors are @saradaweyoga and @ashley.wilmhoff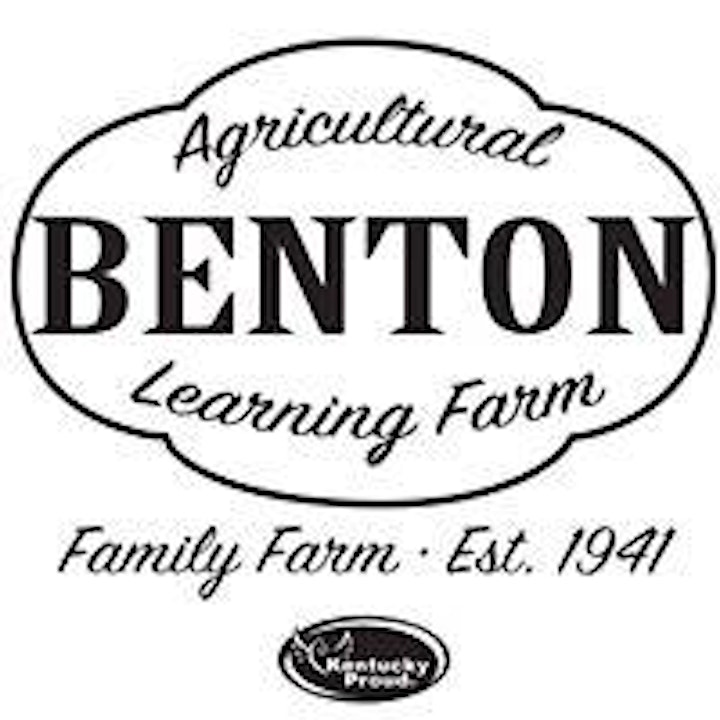 Extra classes will be offered rest of the year at the Gathering Room inside with air and heat! No goats just different types of YOGA will be offered.
Looking for a fun party idea do a yoga friends party. Bachelorette or birthday parties.
Children's party they will love it!
Want private one on one training ask our Instructors. Or a small group of close friends we can schedule your group at the gathering room.
TEXT Mary 859-240-4552 for room availability and then we can contact Sara our instructor.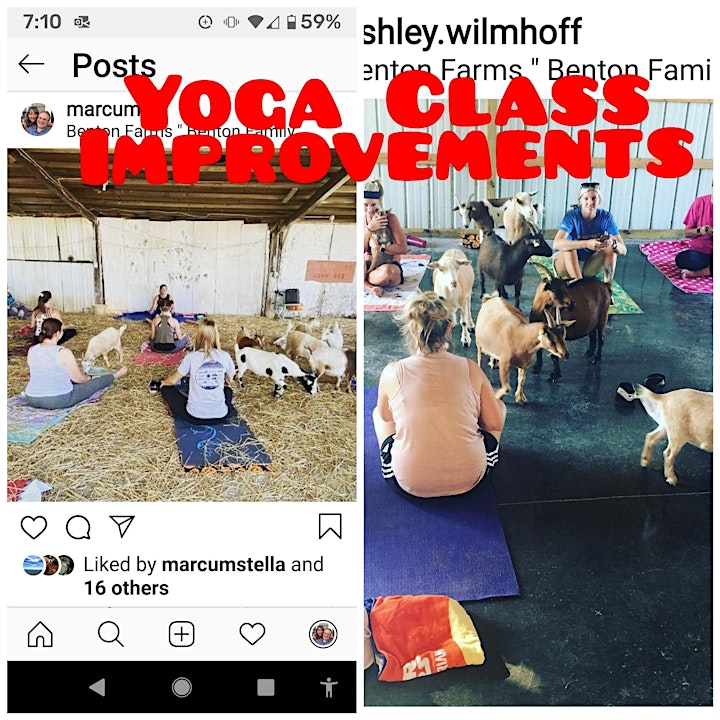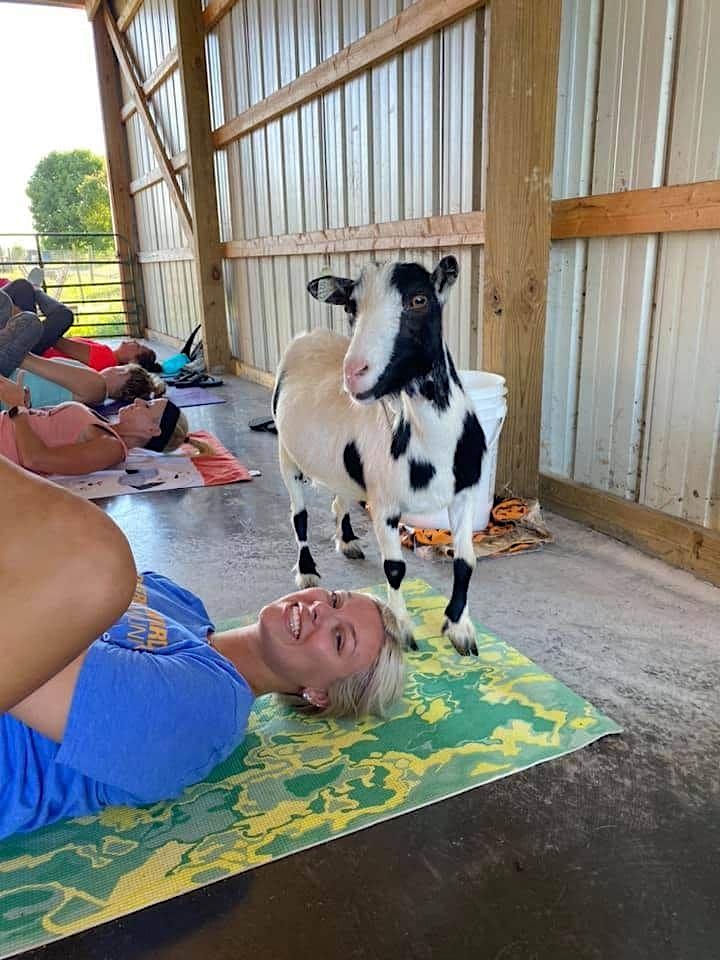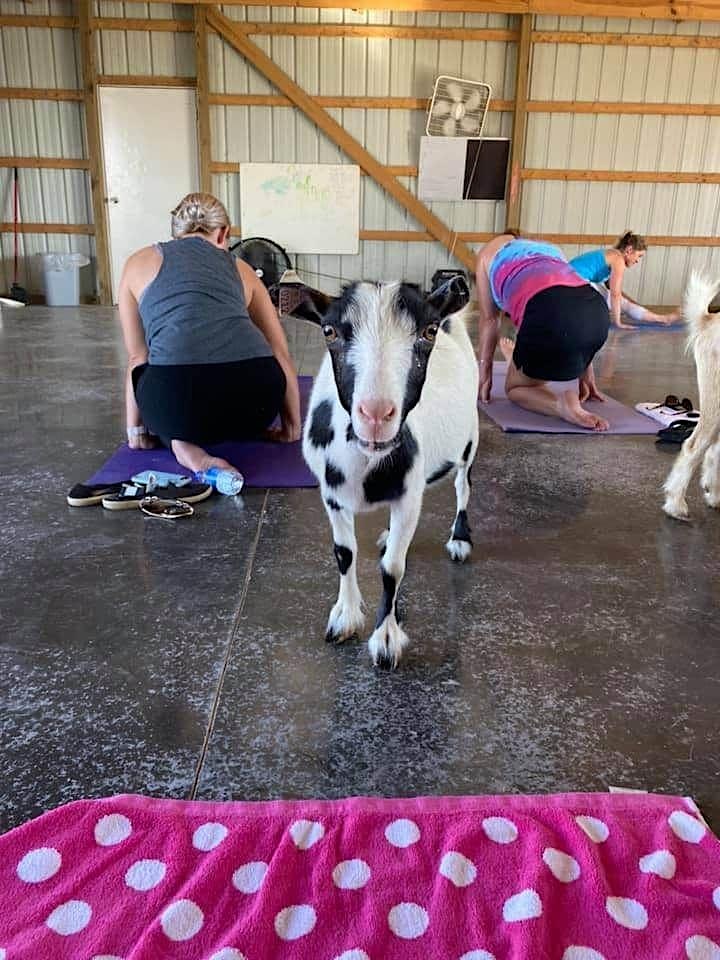 WE LOVE BENTON FARM!
SUPPORT THIS PIECE OF HEAVEN!
SUPPORT THIS NONPROFIT 501 c3