Yoga, Ayurveda and Diet: Transitioning Yoga Practice Into a Way of Life
About this Event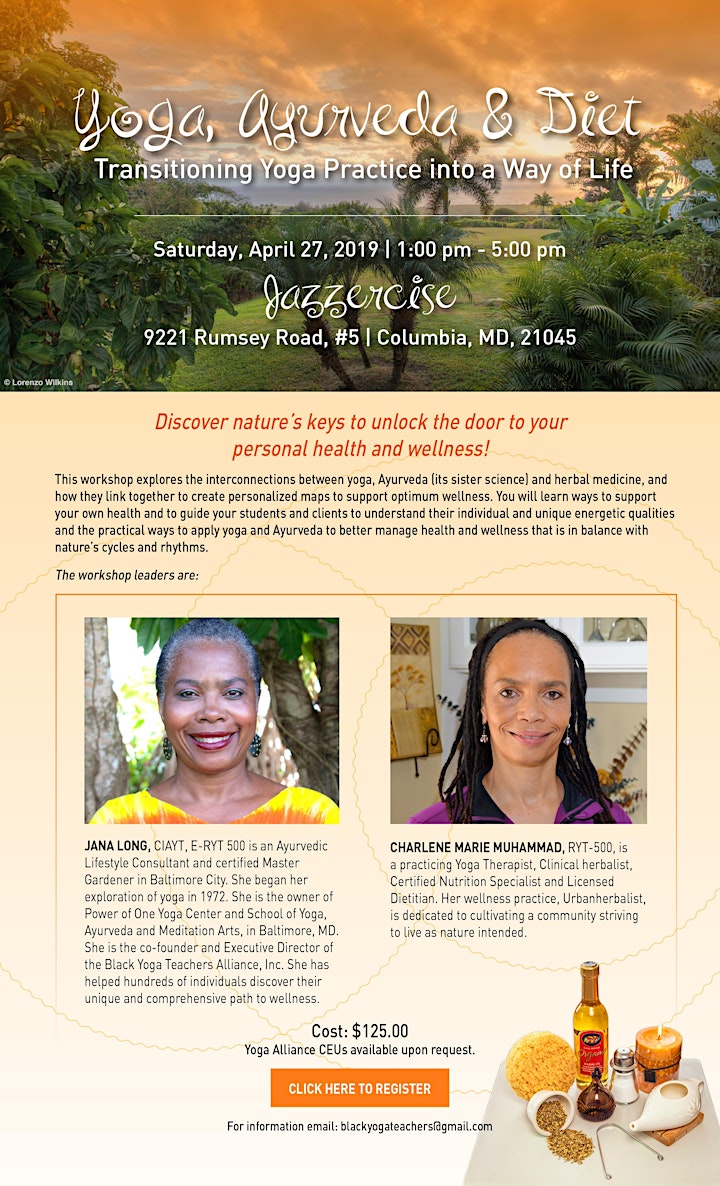 This workshop explores the interconnections between yoga, Ayurveda (its sister science) and herbal medicine, and how they link together to create personalized maps to support optimum wellness. You will learn ways to support your own health and to guide your students and clients to understand their individual and unique energetic qualities and the practical ways to apply yoga and Ayurveda to better manage health and wellness that is in balance with nature's cycles and rhythms.
Yoga Alliance CEUs available upon request.
The workshop leaders are:
Jana Long, CIAYT, E-RYT 500 is an Ayurvedic Lifestyle Consultant and certified Master Gardener in Baltimore City. She began her exploration of yoga in 1972. She is the owner of Power of One Yoga Center and School of Yoga, Ayurveda and Meditation Arts, in Baltimore, MD. She is the co-founder and Executive Director of the Black Yoga Teachers Alliance, Inc. She has helped hundreds of individuals discover their unique and comprehensive path to wellness.
Charlene Marie Muhammad, RYT-500, is a practicing Yoga Therapist, Clinical herbalist, Certified Nutrition Specialist and Licensed Dietitian. Her wellness practice, Urbanherbalist, is dedicated to cultivating a community striving to live as nature intended. . Her knowledge of pathophysiology and the creative use of modifications are strengths she offers her students as well as keen observations of a student's anatomy and physiological movements. Charlene's yoga therapy practice includes: yoga interventionist (teacher) for the National Institute of Arthritis and Musculoskeletal and Skin Disease (NIAMS) clinical study Yoga as self-care for arthritis in minority communities; and Certified Yoga 4 Arthritis teacher and mentor.
For more information contact: blackyogateachers@gmail.com