Location
Silver Leaf Gardens by the Bay
18 Marina Gardens Drive
Singapore, 018953
Singapore
Refund policy
Contact the organiser to request a refund.
Eventbrite's fee is nonrefundable.
Sales Have Ended
Ticket sales have ended
Notice for tickets purchased with membership promo codes: you may be required to show your membership at the door.
Surrounded by the lush greenery of Gardens By The Bay, join us for a yoga session with the accompaniment of enchanting live music
About this event
As we celebrate Singapore's 57th Birthday, some sessions will see participants collectively do 57 Sun Salutations and some will feature live music.
100% of the gross proceeds raised from the sale of tickets will be donated to Children's Cancer Foundation.
Come join us for a good cause and workout. We look forward to hosting you!
Additional Infomation
ActiveSG members may use promo code activesg for a $2 discount.
All participants will get a $20 Manduka voucher* and all registrations stand a chance to win prizes from Manduka!
Find out more about our fundraising for charity, Children's Cancer Foundation
This is a rain or shine event.
All Yoga sessions are 1 hour in duration.
Participants are encouraged to bring their own Yoga mats.
50 Yoga mats from our Supporting Partner, Manduka, are available for loan on a first come first served basis.
Prevailing Safe Management Measures will apply.
Frequently Asked Questions
How do I know if my registration is confirmed?
How do I prepare for the Yoga?
Yoga mat
A refillable water bottle
Comfy attire and footwear
Who do I contact for any inquiries about the event?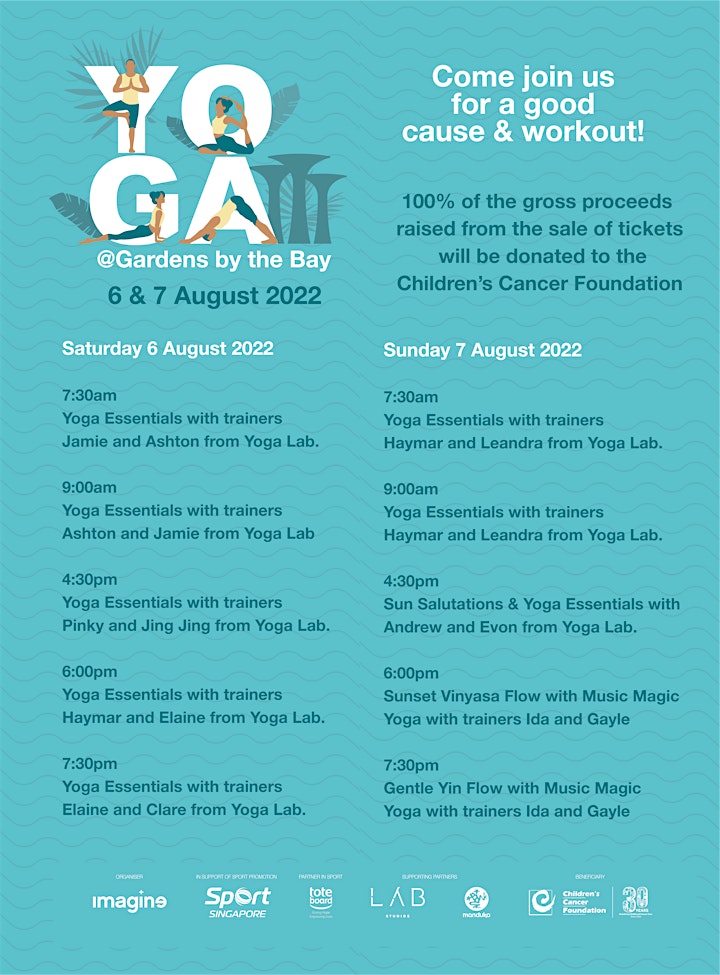 (Sessions 1-8) Yoga Essentials
Not up for a sweaty Dynamic Flow but want a little more? Essentials is the class for you. This is the ultimate feel good flow that focuses on form and alignment. Perfect for days when you want to move mindfully with your breath, conditioning your body and encouraging resilience, discipline and mental focus. This class will provide you with the opportunity to refine your fundamental technique – a great option for beginners looking to take your practice to the next level.
BEGINNER FRIENDLY
Sweat : 2/5
Strength: 2/5
Restorative: 3/5
Our Trainers - Yoga Lab
Ashton
Ashton is the oldest sibling of 5, and has the personality of a cat - most comfortable in a corner but once she's warmed up she can keep talking forever. Her classes are focused on feel good flows, with shapes that students can recreate after. When not on the mat, you can find her hanging out with her cats, or catching some sun by the pool or the beach.
Jamie
An Ironman triathlete with a British accent and the dour humour to boot, Jamie loves all things outdoorsy, including climbing mountains and diving. When not scaling new heights, you can find him teaching classes that empowers his students with the knowledge to learn new things and to challenge themselves, whilst at the same time working up a good sweat. Outside of his constant and consistent exercise regime, Jamie loves dark chocolate and talking to his three cats.
Haymar
Haymar is a curious child as heart, embarking on a progressive journey of growth and mindfulness. Her classes are as easy-going and fun as her personality, with ample encouragement and reminders to be kind to yourself, to move mindfully and feel empowered with your yoga journey. A registered nurse, she's dedicated to creating a safe haven for her students. When not at her day job or teaching on the mat, she spends her time meditating, catching up with friends over wine or a coffee, or stalking her 3 cats.
Elaine
The practice of yoga has amazing benefits – it helps to calm the mind and strengthen the body. Elaine thinks that one shouldn't be intimidated by yoga terminology and fancy complicated poses. To her, the hardest part is arriving on the mat, and in her class, Elaine shares her love of yoga – by guiding students into a pose, breaking down the transitions and offering modifications so that yoga is assessable for everybody. She believes that by moving mindfully, with lots of loving kindness, we can all enjoy our beautiful practice together.
Pinky
Pinky is an avid hot yoga practitioner and discovered yoga 18 years ago in Hong Kong where she lived then. She believes in the healing power of the practice and have more than a story or two on how Yoga continues to physically, mentally and emotionally heal her. She became a teacher because of her desire to share the many benefits of the discipline and it's asana practice. She credits yoga for her mindfulness training and her continued youthful looks and dynamic energy. She is a proud mother of two amazing beings and is a seasoned media and hospitality executive. She is loyal, generous, joyful and one of the friendliest yoga Teacher Trainees you'd meet.
Jing Lee
Jing is approachable, pretty reliable and occasionally a little mischievous - just enough to put a smile on your face. When Jing's not at her full time job in the Food industry, she enjoys a good sweat through hot yoga or being on a rom-com marathon sipping her fav drink that has a dash (or two, and more) of alcohol in it.
Clare
Clare used to sing opera, and has two moles on the soles of her feet. Her classes are focused on making sure her students have a good stretch, a good sweat and come away learning something new each time. Off the mat, she works as a film director and loves watching films, pole-dancing, and printmaking.
Leandra
Like a YuanYuang drink – Leandra is some parts calm, some parts fiery, some parts emo, all parts delicious. A Capricorn Sun, Aries Rising and Cancer Moon, she avoids routine, never settles and always contemplates. Her classes aim to instil in her students the belief that they are enough and are dedicated to facilitating their journey of self-exploration and self-acceptance, whilst ensuring they emerge, stronger, fitter, and more functional than before. Outside the studio, she can be found reading tarot cards or whipping up cocktails like her favourite Long Island Iced Tea.
Andrew
Don't be fooled by his serious demeanor, Andrew is easy going with a passion for teaching and sharing his knowledge with others. With his encouragement, nothing is too tough - so long as you put your mind to it and try, with every little success being something to celebrate. Away from the mat, Andrew loves long runs and the beach, and his secret talent lies in guzzling beer faster than you'd think.
Evon
Evon may look and sound gentle - but give her a beer and you'll soon find out that looks can be deceiving! Her classes are fun and focused on celebrating her student's achievements, both big and small. Off the mat, Evon loves a good day out at the beach, baking under the sun with an ice cold beer - preferably a Guinness!
(Sessions 9 & 10) Freedom Flow & Music Magic
This practice is for anyone looking to re-center and reconnect deeply with the intuitive wisdom in our bones and inner child within our hearts. Letting go of the analytical mind, and enjoy free playful exploration of our body to release and renew, all while held by the hands of our collective spirit & community.
Freedom Flow is a practice that opens up space in the body and mind through yoga flow and embodied movement exploration. Rediscovering what it truly means to feel safe and free in the body, as we embrace our raw uninhibited Self.
Following our movement practice, we slow down into gentler postures and a restful Savasana, accompanied with the healing magic of music, vocals & sound.
 All are welcome, no movement or meditation experience is required!
Our Trainers - Freedom Flow & Music Magic
Gayle
Drawing inspiration from all things, people, nature, successes and failures, Gayle Nerva believes that the only limitations in life are the ones we put on ourselves – we are boundless, filled with magic and potential.
Being a singer-songwriter and musician, Gayle believes in the healing powers of sound, and always looks forward to sharing this music medicine with others.
Her teaching style is fun-loving, lighthearted, and grounded in compassion and curiosity. She enjoys many styles of movement, from the stable alignment-based holds of a Hatha practice, to the dynamic flowing movements of Vinyasa, Dance, Martial Arts and Gymnastics.
For Gayle, Yoga and Self Care extends beyond the physical; it is in choosing to meet all sides of herself with openness, as well as seeing the goodness in others. It is learning to meet resistance with kindness, and taking the time to celebrate all the little things that we may take for granted. It is remembering to be patient with herself on bad days, and being brave to begin over, and over again.
Ida
Ida is passionate about helping you deepen your connection to your mind, body and soul, creating space for you to be your full, beautiful, imperfect yet perfect human self.
Through song, expressive writing, spoken word poetry and movement, she creates space for you to express your wholeness. Even the parts you may shy away from. It is safe to be seen. It is safe to be heard.
Her work is very much informed and inspired by her own life journey. She uses this depth of experience to guide people back to themselves, through presence, expression and community.
She is a strength coach and yoga teacher who also loves singing and writing poetry. Whether it's a private gym session, group yoga class, or song/poetry circle, you will sense her natural ability to make people feel at home, welcomed and empowered at the same time.
Rules and Regulations
Completion of online registration, confirms the Participant's agreement to abide by the relevant rules and regulations.
Whilst every reasonable precaution will be taken by the Organizer to ensure the Participants' safety, Participants take part at their own risk and the Organizer will not be responsible or held liable for any loss or damage, personal or otherwise, injury or death, howsoever arising during participation in the event.
Participants are strongly encouraged to go for a medical examination and/or consult their medical practitioner prior to registration and before the actual event day.
All participants are responsible for their own safety during the event.
The Organizer reserves the right to use any photographs (including those of Participants), motion pictures, recordings, or any other media records of Yoga at Gardens by the Bay, for any legitimate purpose, including commercial advertising and distribution to sponsors and partners.
The Organizer reserves the right to limit and/or refuse entries without giving any reason.
The Organizer will not entertain nor be in any way responsible for any disputes arising from incomplete registration details.
Once registration has been duly processed, there will be no fee refund for participants who do not eventually take part in the event, for whatever reason.
Session category and entry are strictly non-transferable.
In the event of inclement weather, the Organizers reserve the right to delay the commencement of the session. Should the inclement weather persist after delay, the Organizer reserves the right to cancel the event.
The organizer reserves the right to modify and/ or substitute any of these rules and regulations and the Privacy Policy without prior notice.
Wet Weather Plan
As we aim to enjoy the beauty of the Gardens by the Bay and the lush outdoor surroundings, there will not be shelters at the event. In the case of inclement weather, the following steps will be taken.
In the event of wet weather, the organizer will enact the following safety measures, which will help keep participants safe. The session will only be delayed or shortened where necessary and cancellation will be the last resort. Please check the event's Facebook or Instagram accounts for the latest updates.
In case of inclement weather:
Start timings will be revised with (maximum delay for 30 minutes) the intention to complete all sessions.
In the case of lightning, all activities will cease and participants are encouraged to seek shelter.
Participants affected will be entitled to a transfer to any of the remaining sessions.