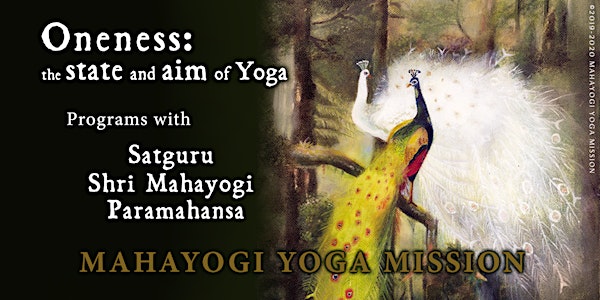 Yoga and Meditation Practice with Satguru Shri Mahayogi Paramahansa: NYC De...
Location
Still Mind Zendo
37 West 17th Street
#6W
New York, NY 10011
Sales Have Ended
Registrations are closed
You can still attend and pay at the door. Advance registration time has ended.
Description
Satguru Shri Mahayogi Paramahansa
in NYC December 2019 to March 2020
Yoga Sadhana Classes Directed by the Master
An opportunity to learn and practice asana (yogic postures) and meditation for the aim of Enlightenment.
Satguru Shri Mahayogi Paramahansa spontaneously attained Enlightenment at the young age of 8. Without any external instruction or guidance, Shri Mahayogi then came to master both asana (yogic postures) and meditation during his teenage years, unveiling how to precisely use both as tools for reaching Enlightenment.
The asana in this program comes directly from the way Shri Mahayogi practiced, and emphasizes the secret of the breath that was revealed to him.
The practice of asana cultivates the concentration needed to bring the mind under control, which in turn leads one to enter into meditation and experience the Essence within. Its practice also strengthens the power of the mind to work towards living life with steadiness and ease. No prior experience is necessary.
---
NOTES:
Online Registration closes 48 hours before each class whether the class is full or not.
To register at the door, please email info@mahayogiyogamission.org first to check space availability.
Ticket cancellation is possible up to 48 hours prior to class only. After that, it is non-refundable.
---
Direct Guidance from
SATGURU SHRI MAHAYOGI PARAMAHANSA
From the physical practice of asana to the most subtle inner workings of the mind, Shri Mahayogi guides seekers from all backgrounds and faiths from his own direct experience of the Eternal Existence within one and all. His teaching provides a unique opportunity for seekers to experience the essence of Yoga for themselves.
Weekly Sunday Dates:
- December 15, 22, 29
- January 2019 - 5, 12, 19, 26
- February 2, 9, 16, 23
- March 1


Time: 3-5 PM
First time joiners: Please arrive at 2:30PM to register.


Price: $65 paid 48 hours before class: On Eventbrite or in-person.
Or $75 paid at the door.




- ADVANCE REGISTRATION:
1. In Person: Paid in cash or Check only before or after class at Still Mind Zendo in NYC
2. Online: Credit of Debit Card through this page - additional processing fees apply.


FEE NOTICE:
Advance Registration fees are Non-Refundable, Non-Transferable to others,
and will not be credited toward future dates, unless natural disasters or medical emergencies prevent participation.

By registering, you are committing to attend the class.
Mahayogi Yoga Mission is a non-profit spiritual organization. All contributions above the amount of the registration fee are welcome and encouraged. Contributions are tax-deductible to the extent allowable by law.
LOCATION:

Still Mind Zendo
37 W. 17th Street, #6W, Manhattan
NOTE:
Please bring your own mat or towel.
Do not eat 2 hours prior to class time.
Arrive at least 15 minutes before the event.
Wear loose comfortable clothes.
No food and drink in class, unless medically required.
No cameras, recorders or any other electronic devices allowed.
Printed ticket is not required.

Find out more information on regular class locations and schedule