YNA Trip to the Ledges & Abbott's Glen

Friday, August 15, 2014 at 5:00 PM

-

Sunday, August 17, 2014 at 5:00 PM (PDT)
Event Details
**UPDATES** : The YNA van rental is canceled. If you're in need of a ride, contact us or use our Facebook event wall.
We'll also have a yoga class with Beth Nolan on Sunday at 11am at Abbott's Glen! Class is by donation so if you enjoy it please show your appreciation with a small donation. And don't forget your yoga mat :) 
This August YNA is going to make their very first trip to The Ledges in Wilmington, VT! "The Ledges" is a clothing-optional swimming area located on the Harriman Reservoir. Nude swimming and sunbathing have been enjoyed there for decades. With clean water, stunning views, and undeveloped land, this area is known for its natural breath-taking beauty.
Nude use is also not just tradition here, but completely legal, as Vermont does not have any state laws against simple nudity in public. This allows many people in VT to enjoy skinny dipping, free hiking, and being in nature as nature intended, without having to worry about legal repercussions. (Of course this doesn't mean you can go naked anywhere in VT — towns can make their own laws to override this, so always check local laws and do your research.)
It's a popular place, and as many as 400 people can be found there on a nice day. There are people of all ages.
Getting there
Directions: The Ledges is about 3.5 -4 hour drive from NYC. To get there you need to get to Rt 100 and from there turn onto Boyd Hill Road. Follow this road down til you get to the parking lot (at Wards Beach Access Rd). There you'll park and then follow an easy trail to the right (wear comfortable shoes; it's a little rocky). About a half mile up you'll see a sign indicating the start of the nude section, and little bit further is the main beach area. Here is a small map below. For your GPS, you can try using an intersection: Boyd Hill Road and Rt 100, or Boyd Hill Road and Riley Boyd Rd – Wilmington, VT. If you know a good GPS address for The Ledges, please tell us in the comments below!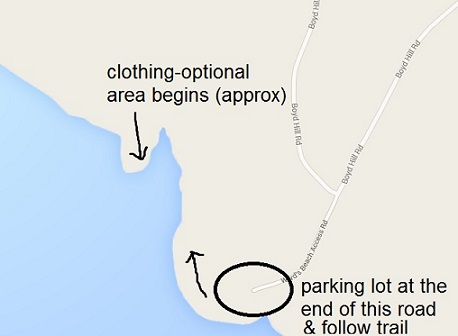 Carpooling:  
Due to a lack of interest, we have canceled the van rental. If you're in need of a ride, contact us or use our Facebook event wall.
Accommodations
We also have arranged for a discount camping at Abbott's Glen, a clothing-optional inn nearby. We will have a tenting area set aside for YNA. Space is limited for tenting, so don't wait to register! Abbott's Glen also has rooms as another overnight option. Contact them directly to book a room: 802-368-2525 or email aglenvt@earthlink.net
Cost
There is no entry fee to get into The Ledges.
For visiting or camping at Abbott's Glen, you'll need to register with us here online. The fee is $5 for YNA members and $10 for non-members. (You only need to pay this fee if you are joining us at AG.)
Then you'll pay the following rates at Abbott's Glen:
Weekend camping rate: $50 for singles, $70 for couples
One night camping rate: $25 for singles, $35 for couples
What to Bring to The Ledges
Towel, sunblock, sneakers / sandals, snacks and lunch, beverages, and water. Trash is carry in, carry out. From what we hear, there are porta-potties at the picnic area near the parking lot. No restrooms at the swimming area, so keep that mind.
The Schedule
We plan to spend the day at The Ledges on Saturday. There is also a place to rent kayaks and canoes on the reservoir, so we may take advantage of that on Saturday.
People are welcome to camp overnight at Abbott's Glen Friday and Saturday night or just join us at The Ledges on Saturday. On Friday nights there is usually a bonfire at Abbott's Glen, and on Saturday night there will be dancing in their Club Sugar Shack. On Sunday we will spend some time hanging out at Abbott's Glen before heading home. Abbott's Glen has a nicely landscaped property for sunbathing and a pond for swimming.
Food
Please bring your own lunch and beverages for the Ledges. For other meals as a group we will likely go out to local restaurants together, or bring back food to eat together at the inn.
Abbott's Glen also offers fine dining options for breakfast and dinner. On Saturday night they are having an Italian dinner for $89/couple. If you'd like to partake in the dinner, please call them to make a dinner reservation: 802-368-2525
Learn more about Abbott's Glen at: http://www.abbottsglen.com/
When & Where

The Ledges
1 Ward's Beach Access Road
Wilmington, VT


Friday, August 15, 2014 at 5:00 PM

-

Sunday, August 17, 2014 at 5:00 PM (PDT)
Add to my calendar
Organizer
Young Naturists & Nudists America (YNA)
Young Naturists & Nudists America (YNA) is a young nudist organization founded in 2010. We are based in NYC & NJ with an active chapter on the west coast as well called YNA SoCal.
Our naturist organization is continually growing, and we hope to bring nudism to all of mainstream America! We welcome everyone to join us and to try social nudity before deciding if it is for you or not. We accept people from all walks of life, regardless of race, color, sexual orientation, tattoos, and piercings. Through naturism/ social nudity, we advocate for body acceptance, positive body image and seeing people for who they are as human beings, rather than what they look like.
The nudist movement, and nudism as an ideal, used to be about acceptance, so we say - back to the basics!
Read more about us on our website and join us at our next "Nude Night Out" party or naked event to experience social nudity & other meet like-minded people!
~YNA
YNA Trip to the Ledges & Abbott's Glen