Description
Please join the Youth Law Center at our 20th Annual Unsung Heroes Awards on Friday, February 7th, 2020 at Salesforce in San Francisco to celebrate YLC's advocacy for children and youth in the foster care and juvenile justice systems.
The Unsung Heroes Awards celebrate the everyday champions who rarely receive the public recognition they deserve but who make a tremendous difference in the lives of our nation's most vulnerable children and youth.
Admission is complimentary, but limited. Advance tickets are required! Please reserve your tickets through this site.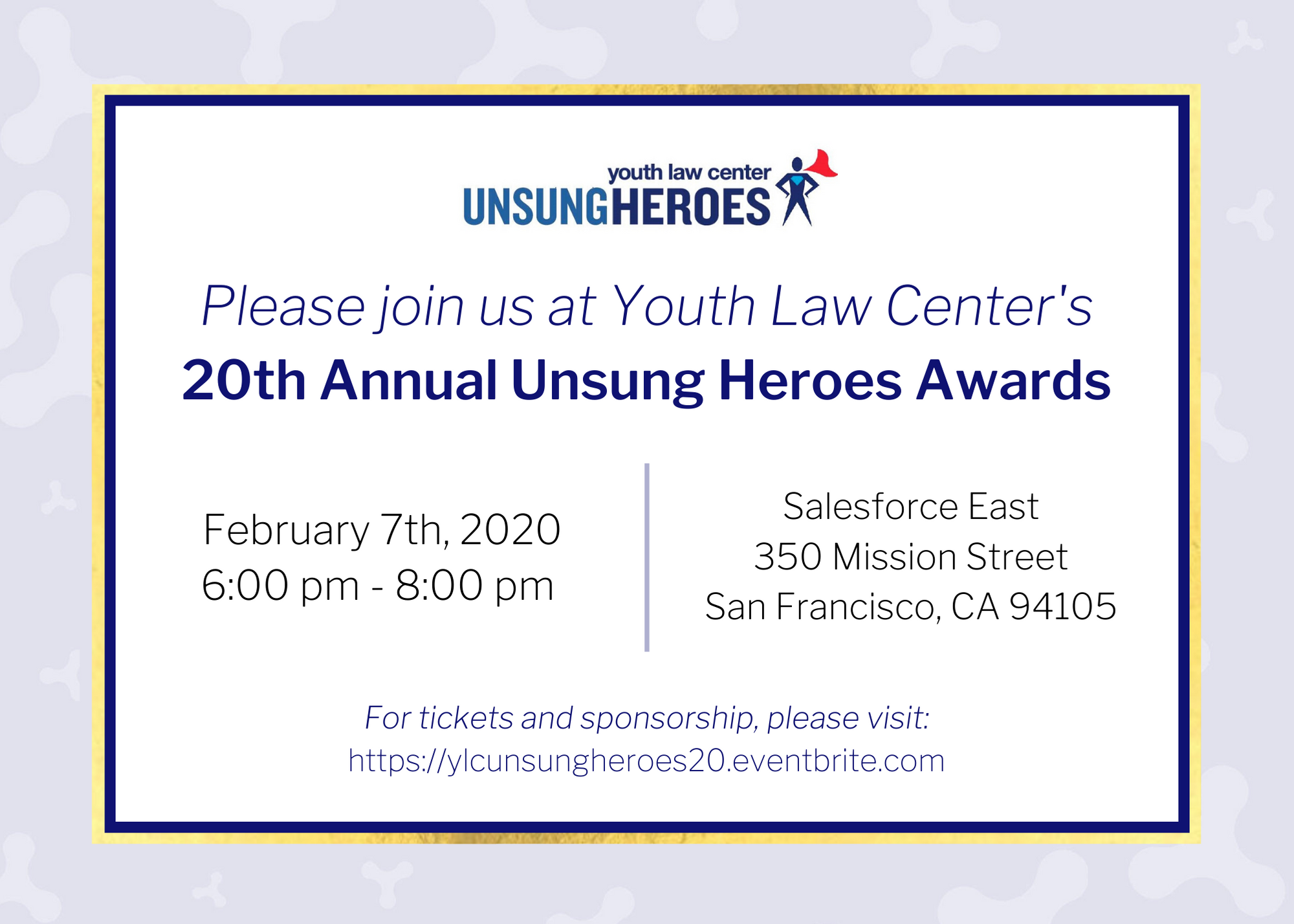 Over our 41 years, YLC has transformed the lives of tens of thousands of children across the nation by forging systemic and sustained change within the foster care and juvenile justice systems. Our goal is justice for children through ending harmful practices, ensuring effective parenting and nurturing healthy childhoods and successful adulthoods.
Join us in honoring our 2020 Unsung Heroes!
To be announced soon!
Become an official 2020 Unsung Heroes Sponsor!
Your fully tax deductible sponsorship of this event is a way to pay tribute to our champions and our organization by providing critical unrestricted support to sustain and advance our advocacy for vulnerable children. When you become an Unsung Heroes sponsor, you are investing in a shared vision of a world where our most vulnerable children have the childhoods they deserve. Your generous financial support will allow YLC to extend our reach, deepen our impact and amplify our voice. Together, we are redefining justice for children as love, nurturing and opportunity.
Sponsorship starts at just $500 and can be made through this site. If you prefer to mail your gift, checks should be payable to Youth Law Center and mailed to 832 Folsom Street, Suite 700, San Francisco, CA 94107.
For sponsorship recognition in the program booklet, reply by January 27th, 2020. If you would like additional information, contact Selina Weiss at sweiss@ylc.org or (415) 543-3379 ext. 0.
Thank you so much to our early bird sponsors!
Howard and Carol Fine
Mehrzad Khajenoori
Moon and Matthew Gemello
Tomar Mason
Angela Eaton

Visit www.ylc.org to learn more about the Youth Law Center.