The annual YLC Holiday Party is BACK! Join us December 9th at the Minneapolis Club to celebrate a wonderful year among friends.
About this event
The Young Leaders Council invites you to join us for our 2021 holiday celebration on Thursday, December 9th. There will be drinks, appetizers, a DJ, raffle, photo booth, games, prizes and more! All are welcome to get dressed up and join us in the beautiful and newly renovated Mayfair Room at the Minneapolis Club. We'll even have the Vikings game on TV in case they still have a few fans left by December.
Tickets: Early Bird tickets are $20. Price goes up to $30 after Thanksgiving. Each ticket comes with a drink and appetizers.
If you're 39 or younger and interested in joining the Young Leaders Council, join our mailing list here for a discounted ticket!
Questions? Contact Kathryn at Events@AmericanExperiment.org or (612) 428-7005.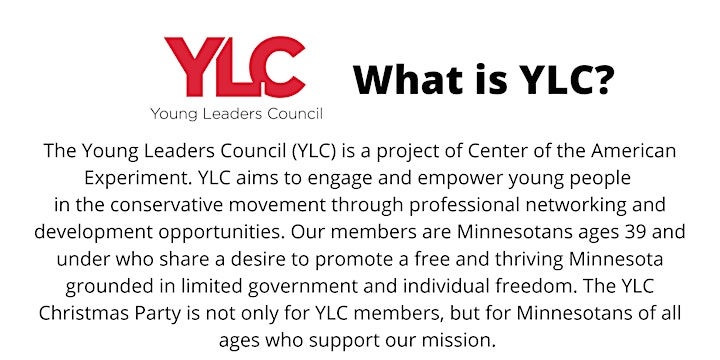 Organizer of YLC Holiday Party
Center of the American Experiment's mission is to build a culture of prosperity for Minnesota and the nation. Our daily pursuit is a free and thriving Minnesota whose cultural and intellectual center of gravity is grounded in free enterprise, limited government, individual freedom, and other time-tested American virtues. As a 501 (c)3 educational organization, contributions to American Experiment are tax deductible.