Description
TWO-DAY WORKSHOP: September 28 and 29 (Saturday & Sunday) @ 1:00-5:00 pm each day
This workshop is for all levels of yoga ability (including beginners) and uses vibratory sound instruments to provide nourishment for the nervous system and promote deep mental and physical relaxation. You'll come away with tools to help you deal with whatever life throws at you.
We live much of our awake time in a yang state – active, restless, and dominant. Too much yang energy can make you feel imbalanced, stressed, and anxious. This workshop will focus on the yin energies of stillness, surrender, and inner awareness to teach you how to bring your body, heart, mind, and spirit back into balance and wellness.
Yin Yoga and Sound Therapy practitioner Diana Osberg will lead you through a series of Yin yoga poses (asanas), sound therapy work, and mindful breathing (Pranayama) to progressively open and balance your chakras, remove energy blocks, facilitate connection to body, heart, mind, and spirit, and help you feel more energized and rejuvenated.
We'll be working with the 7 major chakras (located along the spine from your tailbone to the crown of your head) and a handful of the 21 minor chakras. Chakras are spiritual energy centers in your body that govern your life force energy (Prana) and are connected to your organs and glands through energy channels called meridians.
Yin yoga combines traditional Chinese medicine, mindfulness, and modified Hatha yoga floor poses (asanas) in a passive practice of placing gentle stress on the connective tissues to move energy and fluid through the tissues and stimulate healing at the cellular level. The asanas are held for 3-5 minutes, with the muscles relaxed, to slowly stretch the fascia and connective tissues around the muscles and joints. The intention is to increase circulation and flexibility in the joints and bones and to regulate the flow of energy. Yin asanas open the energetic channels to promote balance and move you into a meditative state.
A regular practice of Yin yoga elongates and lubricates the deep connective tissues and lessens the impact of aging on the pelvis, hips, lower back, and spine. This practice can release deep layers of trauma and stress held in your fascia and connective tissue and reduce joint stiffness, increase mobility, and quiet the mind and nervous system to promote a more centered, grounded, and energized sense of renewal.
Yin yoga promotes a focused awareness by finding stillness at the edge of discomfort, resting with "what is" and learning to become open to and accepting of any sensations that may surface. The practice invites us into a felt experience in the physical body and helps us create space within a shape to shift us into a more relaxed mental and emotional state.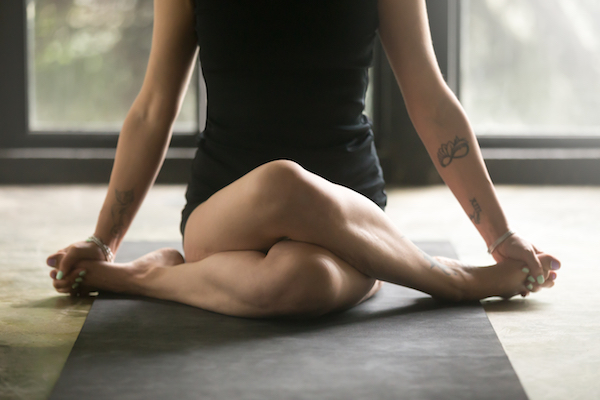 Diana will use singing bowls, crystal pyramids, tuning forks, and other therapeutic sound instruments to complement and enhance our chakra work. The workshop will conclude on day two with a long, blissful soundbath to help you achieve a Theta state where deep healing can occur. You'll rest on the edge of the veil – that dreamlike state right before you fall asleep.
Sound Therapy helps you re-balance and recharge the flow of vital lifeforce energy, so you can feel more relaxed, centered, and alive. Our bodies are vibrational energy that gets "out of tune" through physical and emotional trauma in our daily lives. The ancient modality of using vibratory sound for healing effects changes on the cellular level to remove energetic blocks, releases emotional trauma, promotes deep meditation, improves concentration, and helps your brain drop into a Theta state where healing can take place.
Develop the tools you need to heal yourself.
Learn to:
- Use your breath to calm the "fight or flight" nervous system and stimulate the parasympathetic nervous system (rest and digest);
- Use Yin asanas to calm your nervous system, quiet your mind, and gently release muscle and connective tissue around bones, ligaments, and joints;
- Use mindfulness to connect with any sensations that arise in the body;
- Create space in a mindful practice to promote balance and healing in body, heart, mind, and spirit; and
- Cultivate a more harmonious inner landscape through physical stillness in a Yin pose.
****************
Advance registration is required.
WHAT TO BRING: A yoga mat and reusable water bottle.
PLEASE ARRIVE 10-15 minutes early to get settled in on your mat.
****************
Contraindications for Sound Therapy:
- You should not have had any surgery in the past 3 months
- Sound Therapy will not be performed on a pregnant woman
- A Soundbath will not be given to a pregnant woman in the first trimester of pregnancy
- See the full list of contraindications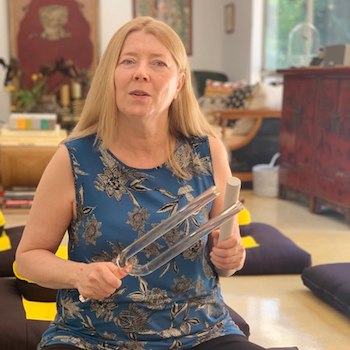 ABOUT DIANA OSBERG:
Diana Osberg is a certified sound therapy facilitator, soundbath practitioner, and Yin and Restorative yoga teacher, with over a decade as a yoga practitioner, and is trained in conscious breathing techniques. Under the name Inner Story Retreats, she facilitates events, workshops, and retreats to help people recognize and release self-limiting stories, connect to their inner wisdom, and develop tools to deal with whatever life throws at them. She provides private sound therapy for individuals and couples by appointment through her company Sound 4 Wellness.
Diana is certified as a Yin and Restorative yoga and sound healing medicine teacher under the internationally celebrated facilitators Kali Basman, Alessandra Montana, and Beto Cuevas Machorro, focusing on Chinese medicine meridians, nervous system response, anatomy, and alignment. She is certified as a soundbath practitioner by Jamie Bechtold at the Soundbath Center in Los Angeles. She studied Sudarshan Kriya Yoga (SKY) breathing at Sri Sri Ravi Shankar's The Art of Living Center in Los Angeles.