Description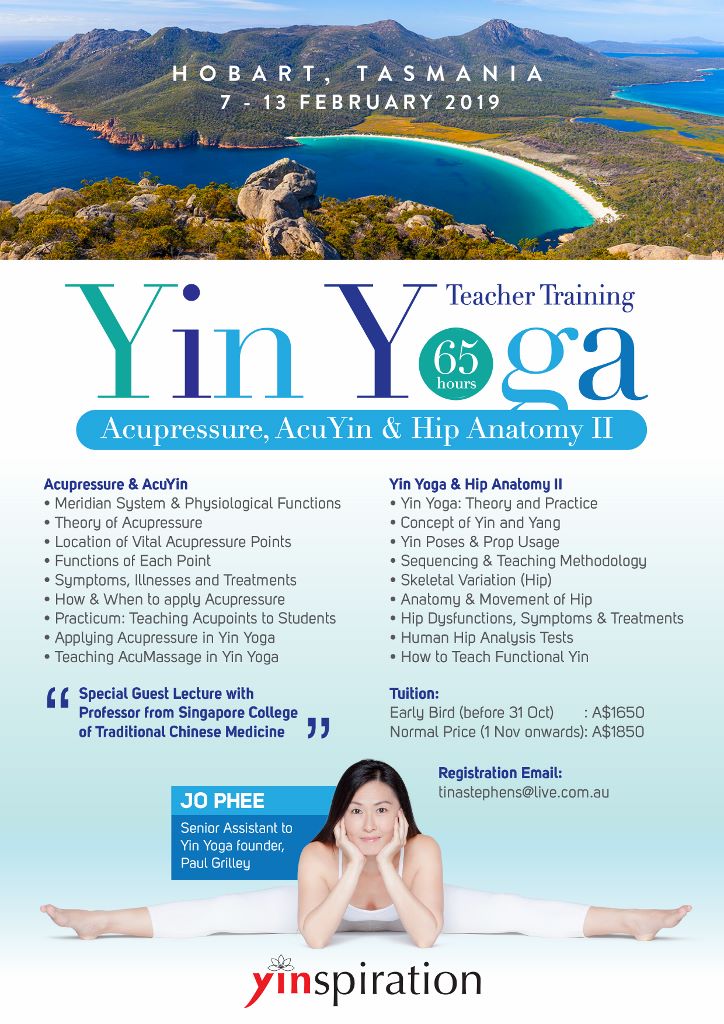 REFUND POLICY
100% refund 90 days before 7th Feb 2019, less
$150
admin fee.
50% refund 31- 90 days before 7th Feb 2019
0% refund 30-0 days before 7th Feb 2019
Biography - Yoga Alliance (USA) E-RYT 500 Trainer
Jo Phee is a senior trainer for Yin Yoga teachers around the world. She is the senior teaching assistant to Yin Yoga founder Paul Grilley and teaches his curriculum worldwide. Jo is the first generation of Yin Yoga teachers trained by both Paul Grilley and Sarah Powers 13 years ago, having at least 2500 hours of apprenticeship with them. She was personally tutored by Paul to teach his entire teacher training curriculum. With 18 years of yoga experience, Jo has accumulated more than 10,000 hours of teaching public Yin classes in the past decade in Singapore before she became a full time travelling teacher.
Brought up with Traditional Chinese Medicine (TCM) from childhood by her Taoist parents, all of Jo's initial education on TCM was based on practical knowledge passed down from generations in her Chinese family. To add theoretical basis to her personal experience, Jo went on to study at the Singapore College of Traditional Chinese Medicine and the Academy of Traditional Chinese Medicine. She studied Acupuncture Meridians with Dr Susan Stumpf and Medical Qigong with Master Tan Soo Kong.
Jo graduated from the Bihar School of Yoga (Satyananda Yoga Academy) where she took rigorous examination to teach the original Yoga Nidra practice developed by Swami Satyananda of the Bihar School. Her formal education in this practice and her knowledge of the Chinese Meridian system inspired her to develop a systematic and detailed outline of a new practice - Meridian Nidra. Jo was the first Yin Yoga teacher to introduce a comprehensive Chinese Medicine module, "Guasha" treatment, Acupressure and Myofascial Release into Yin Yoga teacher training programs worldwide.
Driven by a profound interest in functional anatomy and fascia studies, Jo has been attending human cadaver dissection labs every year in the United States and Europe and has clocked 500 hours of dissection in the labs. She has performed numerous full body dissections, including a dedicated neuroanatomical dissection of the brain and spinal cord, and has had the opportunity to study up to 40 cadaver specimens to date. Jo studied Anatomy and Kinesiology at Marquette University in Wisconsin and Myofascial Release at the John Barnes MFR Institute. She has attended fascia school at Ulm University Germany and the Anatomical Institute of Leipzig University. She is a founding member of the Fascia Research Society and is currently involved with the world's first fascial plastination project in Guben, Germany.
Jo's teachings are a blend of the science of Western Anatomy fused with Eastern Medicine and Philosophy. She resides in Singapore but spends majority of the year traveling the world delivering Yin Yoga Teacher Training programs. She has taught more than 70 Yin Yoga Teacher Trainings around the world. All her trainings are endorsed by Paul Grilley and Sarah Powers.
Instagram: @yinspirationyinyoga & @jopheeyinyoga
Facebook: Yinspiration Yin Yoga & Jo Phee Yin Yoga
Website: www.yinspiration.org