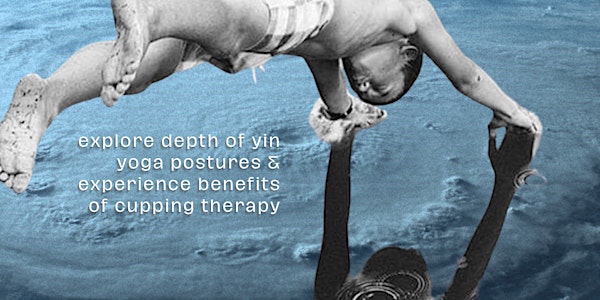 Yin + Cupping Therapy
In this class, students will explore the depth of yin yoga postures while experiencing the benefits of cupping therapy.
When and where
Location
Baby Cobra Yoga 47 Thames Street #206 Brooklyn, NY 11237
Refund Policy
Contact the organizer to request a refund.
Eventbrite's fee is nonrefundable.
About this event
Cups will be placed on the back during each pose and left stagnant for 1 to 4 minutes. Benefits include increased circulation, reduced tension and adhesions in addition to mindfulness and Yin practice. If you have questions, feel free to reach out to veronicadyeLMT@gmail.com.
All attendees must fill out a this waiver prior to the event.
What to wear:
Loose tank or t-shirt, where access to shoulders and lower back is easy.
Sports bra okay
Comfortable shorts or leggings
What is cupping?
Cupping is a technique that uses plastic/silicone/glass cups as suction devices that are placed on the skin to disperse and break up stagnation and congestion by drawing congested blood, energy and toxins to the surface. Cupping therapy can be used for many different ailments, but is most commonly sought out for the treatment of pain and tension.
Cupping for this class can be classified as "massage cupping" and I will be using plastic, manual suction cups.
For safety purposes of this class, all cupping will be done on the back.
*Disclaimer*
Coloration from cupping marks may last as short as a few hours to up to 2 weeks. Coloration is not bruising and does not hurt, rather it is blood rising to the surface of the muscle. The marks left on the skin after cupping are not bruises, hickeys or burns. They are called "petechia". They are painless and can be a range of colors from pale to dark purple, depending on the degree of stagnation in the body. Many people comment that cupping is similar to a "deep tissue massage" and find the experience blissfully relaxing.
For more info on cupping therapy, click here.
What is Yin Yoga?
Yin Yoga is an inward practice designed to build awareness, non-attachment, equanimity and contentment. Yin Yoga targets the deep fascia of our muscles and even our connective tissues, such as the ligaments, bones, and joints. These are parts of the body that are not exercised very much in a more active style of yoga practice. Unlike a moving vinyasa practice, Yin poses are held for 3 to 8 minutes. Going into the deeper fascia of our tissues needs the combination of time, stillness, and steady pressure to release fascial restrictions.
About Veronica:
Veronica is a licensed massage therapist and registered yoga teacher, and has been practicing cupping therapy for 5 years. She teaches Yin Yoga on Thursday nights at 9pm at Baby Cobra Yoga.