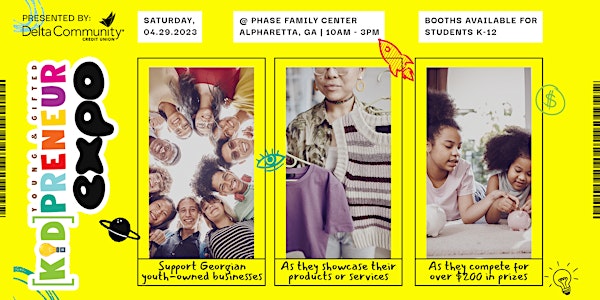 #YGKidpreneur Expo & business Competition - Spring 2023
The #YGKidpreneur Expo is a "marketplace" to support & shed light on Georgia's entrepreneurial youth.
When and where
Location
Phase Family Center 12150 Morris Road Alpharetta, GA 30005
About this event
Presented by our IPO Partner, Delta Community Credit Union, the #YGKidpreneur Expo gives youth grades K - 12 the opportunity to sell their products or services to the community, while marketing their business. The purpose of the event is to bring together Georgian kidpreneurs and the community that supports them.
This is a family event, all are welcome! View highlights from previous expos here.
Calling all KIDPRENEURS! Want to showcase your product or service?
Vending is open to students grades K - 12. Register today and you'll receive an email with further instructions to complete your business profile.

Each vending kidpreneur is responsible for setup, sales, and customer interaction and will be entered into the business competition for a chance to to win up to $200!!
Visit ygkidpreneur.com/events or email hello@ygkidpreneur.com with any questions.
------------------
Young & Gifted Kidpreneur is on a mission to assist students with dreams of owning a business by encouraging them to lead confidently, think critically and creatively, develop a growth mindset and understand the value of self-sustainability through exploring entrepreneurship.

Join our IPO Partner, Delta Community Credit Union in engage with the brightest in our community including:
Parents & Families
Educators
CEOs & Founders
Business Owners
Directors
Marketing Executives
Financial Advisors
Product Managers
Social Workers
Medical Professionals
Engineers and more!
With sponsorship, our business expo becomes a platform for local youth to shine. For our audience, parents, students, teachers, school other members of the community, we're able to provide countless conveniences, better value and immersive and interactive experiences.
Sponsor the #YGKidpreneur Expo today: https://bit.ly/ygkidpreneur-partner