YesPlus Workshop @ MIT (Mar 14 - Mar 18)

Friday, March 14, 2014 at 6:30 PM

-

Tuesday, March 18, 2014 at 6:00 PM (EDT)
Event Details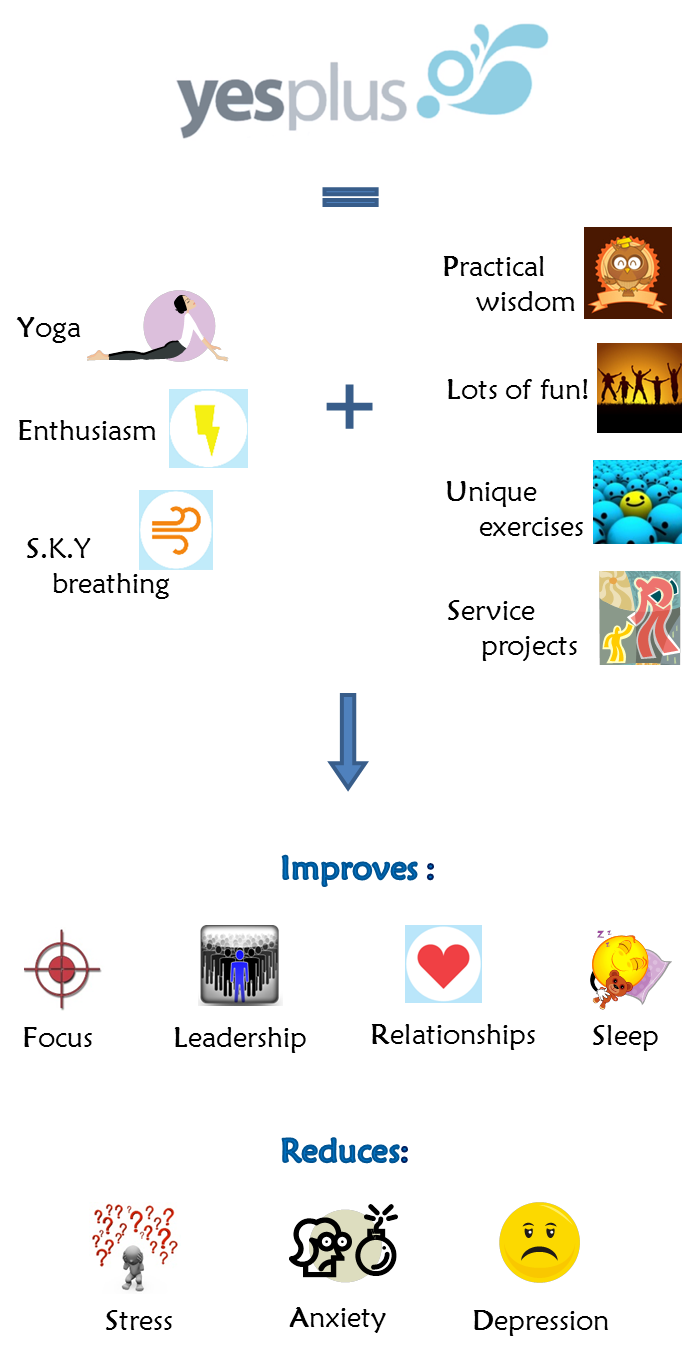 Organized by the Art of Living Club at MIT and the Art of Living Foundation (AOLF) 
EVENT SUMMARY
Dates:
  
Mar 14 - Mar 18 (Fri - Tue) 


Timings:
   


Weekdays: 7 pm-10 pm


Weekends: 10 am - 5 pm


Venue:


4-261 (Room 261, Building 4), MIT
77 Massachusetts Avenue, Cambridge, MA


Fees:  


                     MIT                   Non-MIT 


Student

       $250                    $250


Repeater

     

$40                      $40




Other

          

$250                    $395

 
NOTE: Attendance at all sessions is mandatory because each participant contributes to the experience of everyone else.  
REGISTRATION
All participants first PAY on this page. 
After payment participants will receive an email about the procedure for compeleting registration on the Art of Living Foundation's registration page for this workshop.
EVENT INFO
What is yesplus?
Yesplus is a one-of-a-kind stress-management and happiness workshop that combines powerful breathing techniques like the Sudarshan Kriya Yoga (S.K.Y) with light physical yoga,  meditation, practical wisdom, action, service, and interactive group-exercises.  It's fun and rejuvenating, almost like a retreat that is totally focused on your current and future well-being. 
The techniques and exercises in the workshop are designed to enable participants to relax and de-stress the body and mind in a very deep way. 
Around 24 hours long, the workshop is spread over 5 days for participants to easily learn and apply the techniques in their lives, even with busy schedules.
Once learnt, the techniques are one's own, and so can be taken home and applied throughout one's life. 
Why yesplus? 
The yesplus workshop can help you to:
Become happier and more joyful

Reduce stress, fear & anxiety

Be a better leader

Sleep better

Do more with less time

Improve your relationships

Take on more responsbilities
Relevance to MIT: 
Let's face the facts: MIT is a very stressful and demanding place. Doing less may not always be an option. However, expanding one's ability to handle stress _is_. And yesplus can help you do that.
Who teaches the yesplus workshop?

The yesplus workshop is conducted by trained and experienced faculty from the international non-profit the Art of Living Foundation (AOLF). Yesplus and its sister workshops have made a difference to over 25 million people across 150 countries, and have been held at progressive companies and institutions like Google and the World Bank.
The upcoming workshop at MIT is being hosted by the 'Art of Living at MIT' club for the benefit of MIT students, staff and faculty, as well as members of the local community.
Is there research being done on these techniques?
Yes! See this Harvard Mental Health Letter for a snapshot.
Testimonials
"Life-Changing..."                                                                  - Mira, YesPlus@MIT, Jan '12
"A course that pushes you to look inward and see the best of you, and share that with people..."                                                                                - Aya, YesPlus@MIT, Jan '12
"After this course, I feel so different.. like a lake; life might inflict ripples, but in my depths, I'm still calm. I mean, sometimes I forget, but then the realization keeps coming back!  Doing yogic breathing practices and meditation every morning helps me feel really centered, and able to take on work more creatively and effectively. And I feel much more giving to others, in time and appreciation, because meditation helps me peel back layers of stress that wear us down.  Actually, doing yesplus enabled me to become a GRT - I felt my capacity had expanded, and that I could make a difference."  - Alison, Art of Living @ MIT Tresaurer
"The best decision of my life was registering for my first YesPlus course in 2009 at IIT Bombay. I was stressed out as hell in my 1st year at the most competitive undergrad university in the world and this workshop immediately helped me deal with stress. But more importantly, it opened my life to amazing new possiblities. And like grapes maturing into sweet wine, my life since the workshop became more and more beautiful with time.. "  
                                                                     - Kishor Nayar, Art of Living @ MIT President
MORE INFO
Meditation
With a little help, anyone can meditate
When people hear about meditation, they almost always say either they've never tried it, or they weren't able to do it. Someone may have told you that thoughts were supposed to go away, but when you closed your eyes, more thoughts came up than ever. With Sudarshan Kriya, meditation can happen effortlessly.

Sudarshan Kriya
Breathing that takes you into meditation
An incredible breathing technique, which takes you into a deep state of meditation, whether or not you have any previous experience with meditation. Most people feel deeply relaxed and renewed, as if a weight has been lifted. And anyone can do it. Sudarshan Kriya is the highlight of a series of yoga and meditation techniques you learn in yesplus to give you more energy, greater peace of mind, and better focus.
Knowledge
A little self knowledge goes a long way. On yesplus you get a lot.
It's amazing what we don't notice about ourselves day in and day out. We get stuck in the same patterns, and we often miss simple truths. For example have you noticed that you often remember an insult more than a compliment? How about the fact that you feel so good after being sick? Sure, on some level we've noticed all these things, but with a little awareness and wisdom, we can look deeper into these patterns of the mind and become freer and more relaxed, better able to enjoy the present. Yesplus brings us to a whole new level of understanding of patterns we've only been vaguely aware of in the past.

Action
YesPlus gives you the strength to do great things in the world.
Sometimes we have an idea that people who meditate just sit around and don't do a whole lot. They are very peaceful, but what about people who have a lot of ambition, who want to do great things in the world? yesplus is as much about action as it is about meditation. Just like to shoot an arrow forward, we must first pull the string back, to really engage in dynamic action we need deep rest. Meditation gives us this rest. Once the mind is clear, and once we are strong in our mind and emotions, then we will have the courage and confidence to take on big endeavors, and make a difference in the world.
More about the international Art of Living Foundation:
Visit:  http://www.artofliving.org/us-en/overview-aolf-usa 
When & Where

4-261 (Room 261, Building 4), MIT
77 Massachusetts Avenue
Cambridge, MA 02142


Friday, March 14, 2014 at 6:30 PM

-

Tuesday, March 18, 2014 at 6:00 PM (EDT)
Add to my calendar
Organizer
MIT Organizer:
   Kishor Nayar (President, Art of Living at MIT)
   artofliving-officers@mit.edu | (617)-320-4826
Art of Living Faculty:
   Richa Bhatnagar
   richab@artofliving.org | (978)-505-3542
Neha Saxena
neha.saxena@artofliving.org | (781)-206-4008