Yes You Can Inspired to Achieve Empowerment Weekend 2019

Saturday, February 2, 2019 at 8:00 AM

-

Sunday, February 3, 2019 at 8:00 PM (GMT)
Event Details


Yes You Can "Inspired to Achieve"  Empowerment Weekend
SATURDAY 2nd - 3rd FEBRUARY 2019 | ILEC EARLS COURT LONDON | 9AM - 8PM
It's Your Time to Take You Your Brand and Your Business To The Next Level
Extraordinary Personal Development and Business Transformation Event Packed Into Three Days of Empowerment
WITH OVER 2000 PEOPLE ATTENIDNG THIS EVENT 
ITS THE START TO THE YEAR THAT YOU HAVE BEEN WAITING FOR 
Multi Millionaire Speakers | Transformational Leaders | Business | Growth Coaching | Aspiring Speakers | Business Coaches | Business Funding | Mindset Coaching | Branding | Book Publishing | Speaker | Leadership | Networking
And Meet The Yes You Can Inspired to Achieve Dragon Investors
Empowerment
You will experience a empowerment that will ignite your passion to help you accelerate your business, life and career.
Inspiration
You will become inspired beyond your imagination taking immediate action within yourself and your ability to learn and grow your skills.
Transformation
You will transform yourself and your life with amazing outcomes. The impact from the speakers educators you will learn from is priceless.


What You Will Learn From Our World Leading Speakers and Educators
During The Business and Empowerment Event You Will Become The Best Version of Yourself. You Will Become Inspired to Achieve Ultimate Success in Your Business and Attract Abundance Into Your Life. You will have the opportunity to network with over 2000 guests that will be attending our two day event.
Day 1 - Empowering Line up of international multi millionaire empowerment, inspiration and transformation experts
Day 2 - Inspirational Line up of international multi millionaire empowerment, inspiration and transformation experts
On both days we have mini trade/ exhibition stands for all of our speakers as well as our show sponsors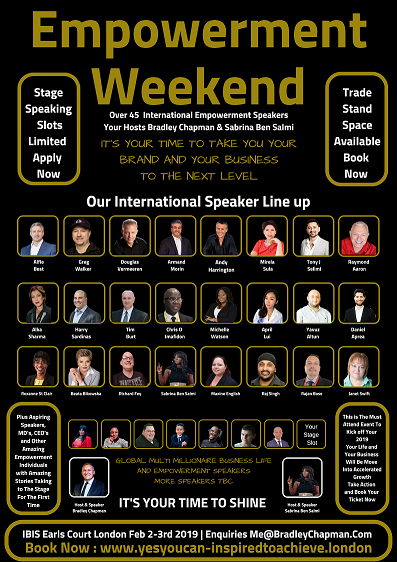 With Great Excitement and Anticipation We Are honoured to Announce our Yes You Can "Inspired to Achieve" London Speakers Collective
Yes You Can Inspired to Achieve (LONDON) presents the widest range of inspirational, motivational, educational and empowering business and life transformational speakers ever seen on one stage in LONDON
Our speakers, educators and leaders have been carefully chosen for their experiences, their skill sector and more importantly what they will teach you during the event

WATCH OUR AMAZING EVENT VIDEO 
Alfie Best 
Millionaire Entrepreneur UK
Andy Harrington 
The Jet Set Speaker UK 
Douglas Vermeeren  
Leadership and Wealth CANADA
Greg Walker 
The Big Dreamer USA
Tony J Selimi
Cognition Expert UK
Harry Sardinas

Motivational Speaker Trainer UK
Raymond Aaron 

Branding|Book Expert CANADA
Sabrina Ben Salmi
Mumpreneur |Author|Co Host  UK
Bradley Chapman (Event Organiser) 

Business and Motivation Coach|Show Host| UK
Arman Morin 

World's #1 Internet Marketing Expert 
USA
Mirela Sula
Editor in Chief Global Woman Magazine
Dave Lynch 
Leadership Texas USA 
Alka Sharma
Alkas Total Fitness CANADA
Tim Burt 
Tim Burt Media USA 
Yavuz Altun 
Multi Millionaire TURKEY 
Prof Chris O Imafidon
Professsor and Royal Advisor UK
Author Michelle Watson 
Award Winning Speaker and Coach UK


April Lui 
Award Winning Speaker and Semi Permanent Make up Artist UK

Daniel Aprea
Business Coach and Crypocurrency Expert UK
Roxanne St Clair 
Executive Coach and Event Co Host 
And Mant More Amazing Speakers 
The Event Format Over Two Days 
Business Trade Stands

Event Networking

Meet The Sponsors

Live Music

Breakout Coaching

One2One Speaker Photographs

Live Stream Broadcast

Event Photographers

Kid and Teenpreneur Stories

Interview The Speakers

Mindset Coaching
Business Coaching

Leadership Training

Public Speaker Coaching

Health and Wellness Coaching

Lifestyle and Abundance Talks

Cognition Experts

Motivational Speakers

+ Aspiring Speakers (5 Minutes of Fame)

+ Amazing Kid Preneurs

+ Inspired Teen Preneurs  
Aspiring Speakers "5 Minutes of Fame"
We are so excited to help you share your story on stage and launch your speaking career. 12 Hand picked aspiring speakers will secure their opportunity to speak on our stage next to our Global Multi Millionaire Speakers and infront of an audience of 3000 motivated and inspired delegates. 
We are also sooooo very excited to announce that we will be making 12 Teenpreneur Speakers speaker slots available for Kidpreneur and Teenpreneur aspiring speakers that have an Inspired to Achieve Story. Meet the Ben Salmi "Famous 5" Lashai, Tray, Paolo, Jasmine and Amir. This amazing group of kid and teenpreneurs will be sharing their story during the event. Please contact Bradley Chapman directly via email at me@bradleychapman.com and tell him about your children.
TO FIND OUT MORE VISIT OUR MAIN COMPANY WEBSITE 
EVENT SITE www.yesyoucan-inspiredtoachieve.london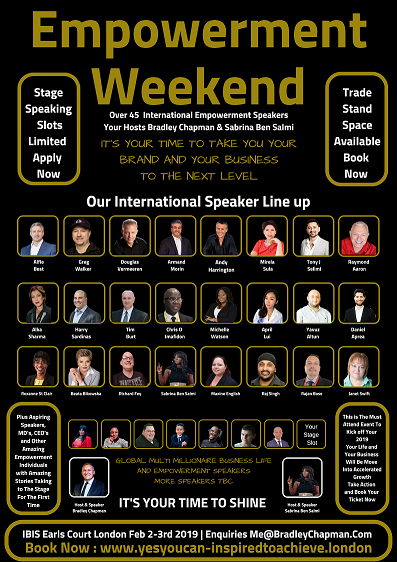 Save This Event
When & Where

ILEC
47 Lillie Rd
Fulham
SW6 1UD London
United Kingdom


Saturday, February 2, 2019 at 8:00 AM

-

Sunday, February 3, 2019 at 8:00 PM (GMT)
Add to my calendar
Organizer
Bradley Chapman is the founder and creator of The Diamond Experience Business Development Programs and Yes You Can Inspired Inspired to Achieve Events.
He is a published author, radio show host and broadcaster, motivational and inspirational public speaker, business coach and business networking specialist. Bradley has interviewed, worked with and supplied High Profile Entrepreneurs, business owners and companies across the globe. He has created a platform to help Entrepreneurs Grow their businesses.
In 1988 at the age of eighteen years of age he started my first business. It is through this amazing journey of learning and continually developing himself that his Diamond knowledge of life and business has been crafted.
His new book Get Up Show up Shine up and The Diamond Experience with Bradley Chapman is just the start of his journey in helping, coaching and supporting people to discover the Diamond within them. Bradley's mission is help as many people that he can to discover the diamond within themselves and then the most fabulous and exhilarating work starts as you start to shape and polish you stone into the Brightest Shinning Diamond that You can be.
Bradley's inspiration and passion to help business owners increase their own personal skill knowledge and attitudes as we as inspiring his client's teams and businesses is a totally inspirational story of never giving up!
Company Page Visit 
yesyoucan-inspiredtoachieve.com 
About Bradley 
bradleychapman.com