Description
When it comes to aging and living a happy and healthy life there's an overload of health & wellness information out there. Wherever we turn there's someone telling us how we should eat, feel, think, move and show up in the world.
It's easy to get paralyzed into overwhelm when there are too many choices and too many voices.
That's why we've put together a magical and transformative weekend to help you get out of stuck-ness and back into ACTION.
Would you like to feel more alive in your body?

Are you sick and tired of feeling sick and tired?

Are you ready to reclaim your healthy and happy mojo?
If this is you, then it's time to find some 'A-ha!" lightbulb moments that have you saying "Yes, this is for me!" on your path back to yourself.
JOIN US FOR A FUN AND EMPOWERING WOMEN'S RETREAT,OCTOBER 13-15 ON THE BEAUTIFUL OREGON COAST.
We've planned a magical weekend at the Beehive in Nehalem, OR, an adorable little retreat space complete with saunas, foot jacuzzis, rooftop deck and a warm, inviting inside space for group work.

This retreat is not simply about teaching you more self-care techniques that you can later feel guilty about not doing. It's about getting unstuck with grace and ease. It's about getting to actually experience what wellness feels like for you, and then helping you create a customized roadmap so you can get there whenever you choose.
It's about learning to pay closer attention to those "Yes, THIS!" moments as you move through life.
You'll leave feeling inspired, renewed, recharged, transformed and EMPOWERED in Body, Mind & Spirit.

Over the weekend we will:
- Help you navigate the overwhelm with ease and teach you some awesome tools to tune in to your body and your soul.
- Tell you the #1 thing you can do to start feeling better and lighter in your body and your mind - and show you some ways to actually do it.
- Connect with like-minded women, clear out some mind-clutter, create a vision for the future, plan some next steps, eat good food, drink good tea, laugh (and maybe even cry) and lots more.
- Have a sh*tload of fun in the process.
Things happen on retreat that don't happen in 1:1 sessions or on the phone. Humans are ultimately a tribal bunch and there is real power in community and a nod of "me, too."
HERE'S A SNAPSHOT OF THE WEEKEND:
Friday 5:30-9PM: Declare your intentions. We'll get to know each other with some exercises that will be opening, fun and relaxing, setting the stage for more transformational work the following day. There will be room for group work and 1:1. We will do some writing, some yoga (Restorative poses that require no previous yoga experience), and a few surprises. Heavy appetizers and snacks will be provided.
Saturday 9:30 AM-5:30 PM: Get down to the nitty-gritty. How can you Pay Attention to what your body (and the Universe!) is trying to tell you as you move through your life and towards ultimate wellness? We will talk about what's been holding you back and share several different things you can to about it. We have lots of fun exercises and experiences lined up, culminating in some visioning to help you move forward with clarity, focus and confidence. Louise will teach TRE (Trauma/Tension Release Exercises that are the bomb!) and there will be optional sauna time in the Beehive's lovely sauna as well as reflexology and foot soaks with essential oils. You'll be free to reflect on the day during dinner on your own or with new friends, and we will provide you with some local options.

Sunday 9:30-4:00 Moving forward. We wind up our time together with some reflection, some group visioning and sharing next steps. You'll leave empowered with a plan and a new community to support you as you move forward on your path of wellness.
Lodging not included but there are lots of options on Airbnb and VRBO, including places in nearby beautiful Manzanita beach. We will provide heavy snacks and appetizers on Friday, a delicious family-style lunch on Saturday and our fabulous version of a continental breakfast on Saturday and Sunday.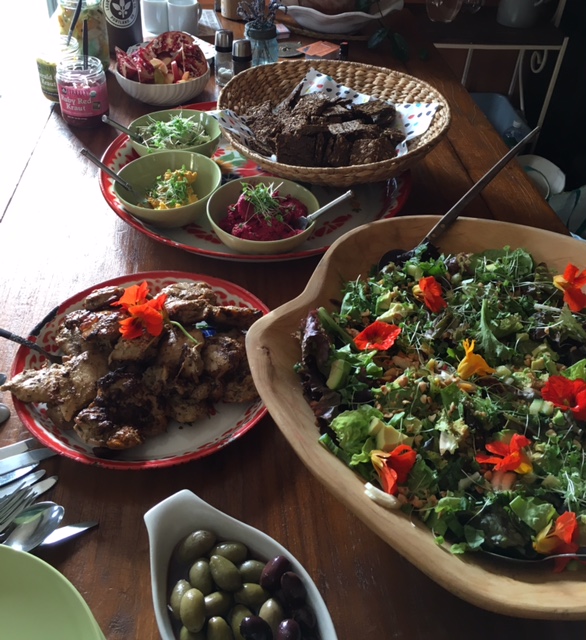 FAQs
Are there ID requirements or an age limit to enter the event?
Adults only
What can/can't I bring to the event?
Bring an open mind, a yoga mat, and an appetite for life.
What if I have special dietary needs?
We've got you covered! Let us know beforehand and we can likely accomodate you.
Where can I contact the organizer with any questions?
dr.rose@rosecabinetmedicine.com
Is my registration/ticket transferrable?
No