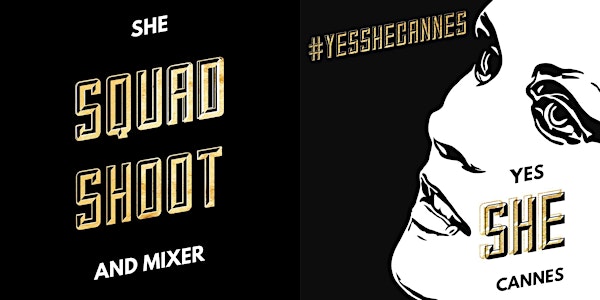 'Yes She Cannes' Beach Photoshoot & Mixer- Cannes Film Festival
When and where
Location
Palais des Festivals Esplanade du President, Pompidou Cannes France
Description
YES SHE CANNES celebrtes it's second year of empowering & celebrating women in film with another FREE photoshoot & mixer event.
Open to both women, and men who support them, join us for a mass photoshoot showing support of YES SHE CANNES on the Beach (behind the Amiercan Pavillion- access through the Am Pav, if you have a pass, or by the beach entrance just a few doors down from the Am Pav) for a fun beach phooshoot with special guest, internationally acclaimed award winning art and fashion and film photographer Erica Bergsmeds.
This years theme is "worth your weight in GOLD", so please wear anything gold and sparkly to reflect how precious and valuable you truly are!
Meet us at 1pm sharp for the photoshoot, you are welcome to stay after the photoshoot to mix and mingle.
*Please note you MUST have a badge for Festival de Cannes to gain entry to this event*
Choose from a FREE RSVP ticket option to join us for the event or choose the "Yes She Cannes Necklace Purchase" option to RSVP and purchase a necklace.
We will have complimentary pin badges available for attendees (limited stock so arrive early to ensure you get one) and also our limited edition 'Yes She Cannes' necklaces in solid silver 925 and 18ct gold plated solid silver will be available for purchase.