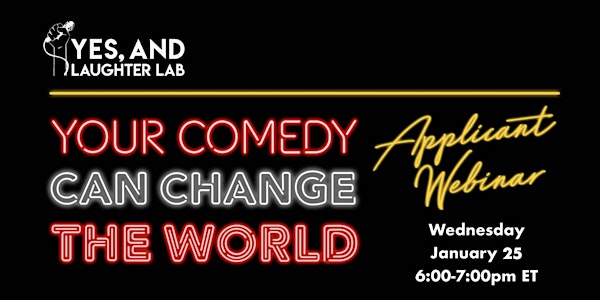 Yes, And... Laughter Lab - 2023 Applicant Webinar
Thinking of applying to the Yes, And... Laughter Lab? Attend our applicant webinar to learn more about what to expect and how to prepare!
About this event
The Yes, And... Laughter Lab (YALL) invites all comedy creators to apply for a chance to receive some training, some money, and a chance to pitch their project to a room full of potential allies and partners. YALL is a pipeline for the best comedy projects that address pressing social issues.
Join us for our webinar where the YALL team answers questions from interested applicants and explains more about the application and selection processes, what it means to be selected as a pitch winner, and what to expect along the way.
Learn more about the program by visiting yesandlaughterlab.com.Follow us on Twitter and Instagram @YALLcomedy.