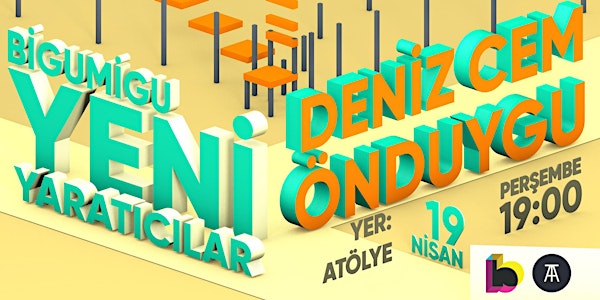 Yeni Yaratıcılar: Deniz Cem Önduygu
When and where
Location
ATÖLYE Tarihi Bomonti Bira Fabrikası Silahşör Cad. Birahane Sok. No: 1 Şişli, Istanbul, Turkey Istanbul 34381 Turkey
Description
Yeni Yaratıcılar'ın 3. buluşmasında Deniz Cem Önduygu'yu ağırlıyoruz. Deniz Cem Önduygu; kendi hayatı, popüler kültür, sanat ve felsefe tarihi gibi çok çeşitli noktalardan topladığı verileri görselleştiriyor. Kendisiyle veri toplama ve tasarım süreci üzerine konuşup küçük detaylardan nasıl etkileyici görselleştirmeler yarattığını öğreneceğiz.
Yeni Yaratıcılar sohbetleri, sanat ve teknolojinin kesişiminde dolaşan yaratıcıları, sınırlı sayıdaki katılımcıyla samimi bir ortamda bir araya getiriyor. Ayda bir kez düzenlediğimiz Yeni Yaratıcılar etkinlikleri, sanatçılara çalışmalarını anlatma ve katılımcılara da sanatçılarla tanışma için yeni bir alan yaratıyor.
*Etkinlik ücretsiz ve Türkçe gerçekleşecektir.
//
We are hosting Deniz Cem Önduygu in the 3rd meeting of New Creators, which will take place on Thursday, April 19th. Deniz Cem Önduygu visualizes the data he collects from various sources such as his own life, popular culture, art history, and philosophy. We will talk about data collection and its design process, and how he creates impressive visualizations from minor details. You can register for the free event with limited capacity from here!


The New Creators talks bring together creators who explore the intersections between art and technology with a limited number of participants in an intimate environment. Organized once a month, The New Creators event creates a new space for artists to talk about their works, and for participants to get to know the artists.

*The event is free and held in Turkish.