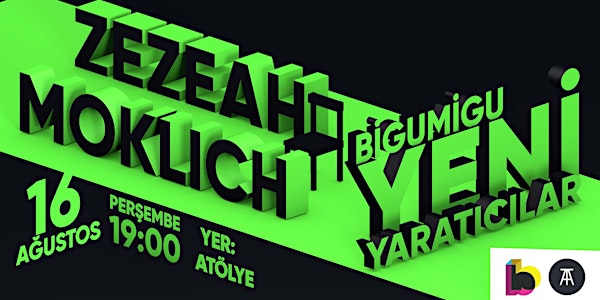 Yeni Yaratıcılar #7: Zezeah ve Moklich
When and where
Location
ATÖLYE Tarihi Bomonti Bira Fabrikası Silahşör Cad. Birahane Sok. No: 1 Şişli, Istanbul, Turkey Istanbul 34381 Turkey
Description
ATÖLYE ve Bigumigu iş birliğinde gerçekleşen Yeni Yaratıcılar'ın 7. edisyonunda bu ayki konuklarımız Big Baboli Print House kurucuları Zezeah ve Moklich. Farklı ve niş bir üretim yapan Big Baboli Print House, 5 yılı aşkın süredir müzik grupları için afiş tasarımları yapıyor ve bu tasarımları edisyonlu olarak serigrafi baskı ile üretiyor. Zezeah ve Moklich'in işlerini, serigrafi baskı kültürünü, serigrafi baskı kültürünün dijital dünyadaki algısı ve karşılığı üzerine konuşacağız.
*Etkinlik ücretsiz ve dili Türkçe'dir.
//
In the 7th edition of the New Creators, organized by ATÖLYE and Bigumigu, we're hosting the founders of Big Baboli Print House, Zezeah and Moklich. Big Baboli Print House, a diverse and niche printing company, designs banners for various music bands and produces these designs with silk screen and has been using this technique for over 5 years. We will talk about the works of Zezeah and Moklich, the serigraphy printing culture and its perception in the digital world.
*The event is free and will be held in Turkish.