YELLS 10th Anniversary Networking Dinner & Fundraiser
Description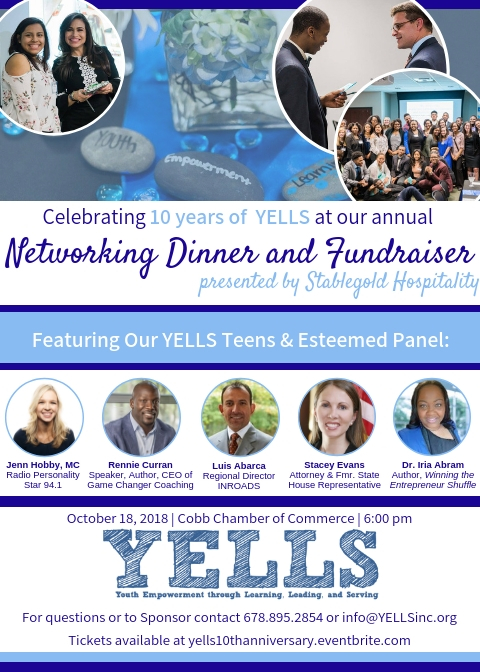 We are so excited to invite you to this extra special event celebrating the Tenth Anniversary of YELLS! This special anniversary will allow us to celebrate our growth and impact, as well as sow seeds for a second powerful decade!
The energetic young change-makers of Franklin Gateway are ready to seize the opportunity to utilize the power of relationship building and networking to impact their world and their lives. The Tenth Anniversary YELLS Networking Dinner and Fundraiser offers the youth of the YELLS Mentoring Program and YELLS Community Action Cafe just that chance through an evening with community, business, and elected leaders.
In the unique YELLS Mentoring Program, high school students ("Bigs") are empowered both as role models for younger children ("Littles") and servant leaders in their communities. Bigs and Littles receive training to work together to develop service projects to impact their community. The Community Action Cafe complements the important work of YELLS Mentoring by equipping youth with on-the-ground leadership and entrepreneurship training as they run their own community hub that nourishes their community and cultivates positive change.
The Tenth Anniversary Networking Dinner gives us a chance to celebrate a landmark year for YELLS as well as empower our Bigs and Café teens to form authentic relationships with community members and practice real-world networking skills with business leaders in attendance—relationships that will be particularly helpful as they work to create change on Franklin Gateway and beyond. Join us for dinner, a dynamic panel discussion, and the chance to share your wisdom and inspire our young change makers.
We hope that those who can will consider sponsoring this special event. Sponsorship levels and sponsor recognition are described below. If you would like to sponsor the event, but the levels below are not accessible, we also enthusiastically welcome individual sponsorships at the $500 level.
Community Champion: $5,000 Presenting Sponsorship: Company name appears in event title, on all promotions and event communications; special recognition during event introduction; company logo on YELLS website for one year; 8 event tickets
Thank you Stablegold Hospitality!

Bridge Builders: $2,500 Sponsorship: Company name appears on table and on all promotional material for event; special recognition during event introduction; company logo on YELLS website for six months; 4 event tickets

Servant Leaders: $1,000 Table Sponsorship: Company name appears on table and in event slide show; 2 event tickets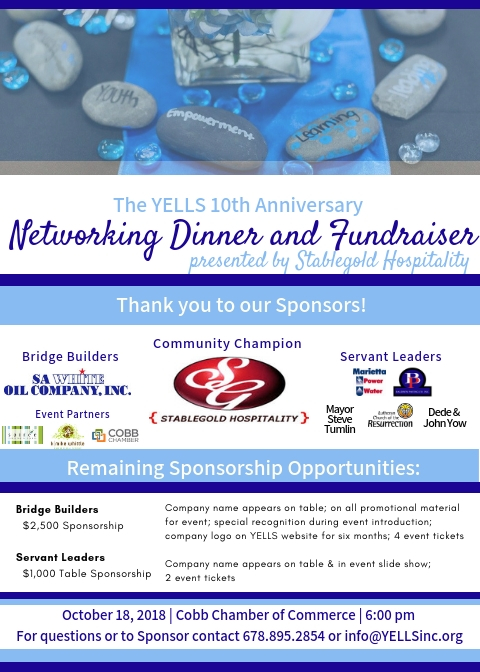 We hope, with your help, to make this dinner both a door-opening opportunity for our youth, a successful fundraiser, and a terrific welcome to new supporters. Feel free to share this event, and we hope you can make it!
Cheers,
The YELLS Family