Description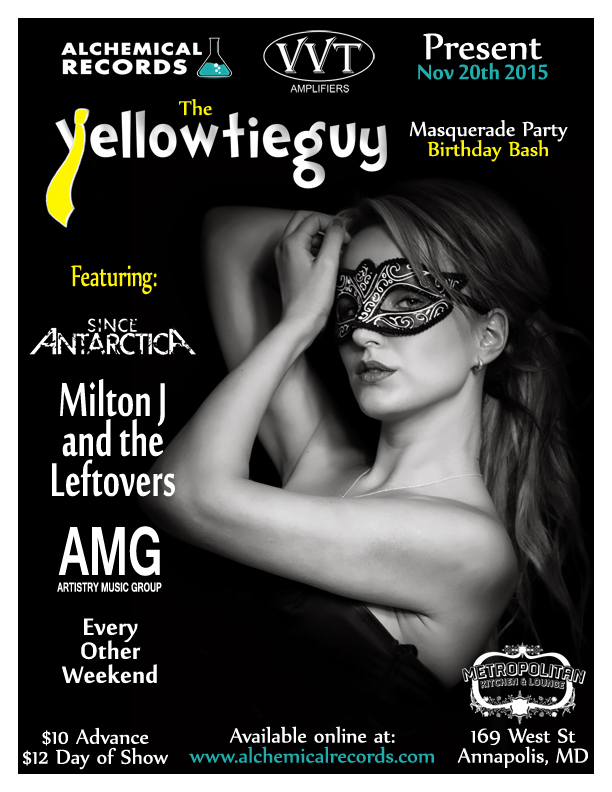 www.yellowtieguy.us
YellowTieGuy is a nationally touring band from Waldorf, Maryland. We are proud to be a part of the amazing music scene in the greater Washington DC area, and our fans are the best in the world. So there.
YellowTieGuy is currently recording their second album slated to be called, "Play on Words"
www.sinceantarctica.com
Since Antarctica emerged on the D.C.-area alt-rock scene ready, willing, and able to rock your face off. Their high-energy shows rivet audiences with musically sophisticated original songs performed with passion, virtuosity, and fun. Their debut EP, Aurorae made its release to a sold-out audience in February 2012, and garnered the band nominations for the Washington Area Music Association's 2012 Debut Recording and Modern Rock Recording Wammie Awards.
www.miltonjmusic.com
The style that MiltonJ has grown into is vast and undefined, however MiltonJ's composition can be described as a deep combination of alternative rap, rock, acoustic rock, and various other genres. His lyrics are about life, with its struggles that come from time, love, hate, success, defeat, and his experiences growing into adulthood. He is a well-rounded artist that produces, writes, and records all of his own music.
www.artistrymusicgroup.com
Artistry is a Maryland based producer, musician, and lyricist. Art started out playing bass and guitar in bands at a young age. He met Spacific in 1999 and the two instantly started writing lyrics for various projects. Recording demos at local studios sparked his interest in engineering and production. Art and Spacific started playing shows around the DMV area. Over the years, theyhave been working relentlessly on numerous projects including albums and shows. They have put together Artistry Music Group with the intention of creating a better image of hip hop and music altogether.