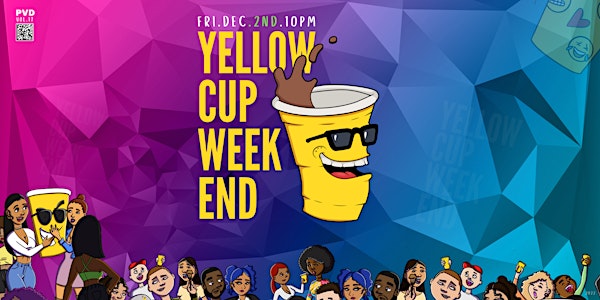 Yellow Cup Weekend
It's going down and you're invited to take part in Yellow cup weekend festival! Games, music, food, art and super cool vibes.
When and where
Location
The Bomes Theater 1017 Broad Street Providence, RI 02905
About this event
21+ event only
Doors close at 12AM
Cash bar (Credit cards accepted as well)
Food menu
Indoor event.
Location will be emailed.
Tickets are non refundable.
No door tickets are available.
Don't forget your ID (You will be denied entry, no way around this).
Typical etiquette for house parties is to write your name on a cup so everyone knows it's yours. We took it up a notch and decided to ditch just a sharpie and added decorating your cup. When guests arrive they can choose from stickers and markers to personalize their cup and sign other cups as well. What's in your cup is in your cup. IT's a dj based experience, So come groove to the sounds of Hip-Hop, R&B, Afro beats, Trap, Soca and Latin music.
Bring a friend, catch a vibe
#YELLOWCUPWEEKEND
By attending Yellow Cup Weekend, photography, audio, and video recording may occur. By entering the event premises, you consent to interview(s), photography, audio recording, video recording and its/their release, publication, exhibition, or reproduction to be used for news, web casts, promotional purposes, advertising, inclusion on websites, social media, or any other purpose by Yellow cup weekend and its affiliates and representatives. Images, photos and/or videos may be used to promote similar Yellow Cup Weekend events in the future, highlight the event and exhibit the capabilities of Yellow Cup Weekend. You release Yellow Cup Weekend, its officers and employees, and each and all persons involved from any liability connected with the taking, recording, digitizing, or publication and use of interviews, photographs, computer images, video and/ or sound recordings.
Act and artist cancellations: In the event an artist cancels a booking Yellow cup weekend will make every attempt to find a suitable replacement. Act cancellations are not grounds for refunds.
FAQ
"I'm not attending anymore can I change the name on my ticket?
Names on the ticket do not need to match the guest. You can give your ticket to whomever you choose as long as they are 21+
"Is the event still going on if it rains?"
Yes the event is completely indoors.
Can I bring my professional camera?
Outside professional photography is not allowed. You may take photos with your mobile device.
I Never received my ticket. Can you please send it to me.
Please check your spam. you may also click here for help. If the ticket is in your name and you have a matching ID we may be able to search by name (This is not guaranteed)